Social media is a networked platform for sharing information and interacting with others. It is different from traditional media in that there are no (or low) barriers to content creation and sharing among participants. For the most part, interested users self-select into a social network.
Business to business marketing has made LinkedIn its prime focus in marketing compared to Facebook and Twitter says a study. According to it 87% of B2B marketers build brand awareness through social media.
Social media usage as a tool is somewhat higher among B2B companies than for B2C, suggesting that social communication with vendors/corporate customers is really taking hold.
The findings in this report are drawn from responses to Useful Social Media's annual 'State of Corporate Social Media' survey. Over 850 respondents contributed to this version of the survey, the majority doing so in December 2012 and January 2013.
Unsurprisingly, marketing and communications are still core focus areas for social media use within business. Social was welcomed into corporations through marketing's door. The ability to communicate in a new, more personable and interactive way led to formidable marketing gains in terms of response rate, loyalty and satisfaction. Certainly, a clear 90% of companies now use social media as part of a broader marcomms (Marketing communication) strategy.
Corporate Adoption And Usage Rates Of
Social Media
It's not so astounding to know that Facebook is used by the vast majority of b2c companies – and is the most popular social network overall for all corporate respondents. It's the largest social network, with the most mature marketing capabilities and plenty of case studies and examples as to how companies can take advantage.Twitter, likewise.
Perhaps the most interesting observation for the b2c business is how few companies now use a corporate blog (51%) – and also the comparative weakness of LinkedIn. Overall, less than 50% of b2c companies use Google+, Foursquare, Pinterest, or Instagram (indeed, less than 40% use Pinterest and only 23% use Instagram – despite the huge buzz around them in 2012).
Most notable is Facebook's total dominance in terms of utility. 65% of b2c companies said it was the most useful network for them, it is unsurprising that 97% of companies use the network.Twitter, from which one would perhaps expect a stronger showing, was the network of choice for only 20% of all corporations. Considering the relative immaturity of the platform in terms of specific functionality for large brands, this is perhaps explained to a certain extent. Twitter's corporate packages are still being rolled out.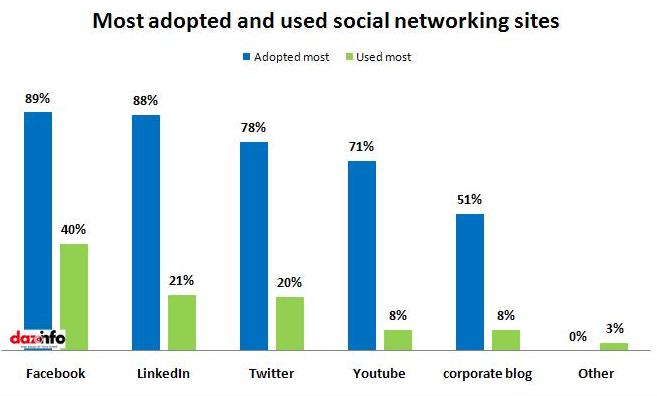 For b2b companies, Facebook is way down in third place – only 17% of companies say it is the most useful network for them. Number one in a far more evenly spread field is LinkedIn, the choice of 37% of respondents. Twitter overtakes Facebook to take 21% of the vote.
Also, the adoption rates of emerging networks is said to be slow. Not only are the big new networks of 2012 (Pinterest and Instagram) still used infrequently and by a low percentage of all respondents, but newer – or simply more global – networks like App.net, VKontakte (Russia's Facebook) and Sina Weibo (China's Twitter) have very poor adoption rates among marketers.
Social Media For Customer Service
Although Marketing has been king of social media, social channels' utility is leading to a growth of its use in other departments. The key beneficiary, according to the report, is Customer Service, with an impressive 53% of surveyed companies adding social media elements to their Customer Service efforts.
For Customer Service, social media can show the company's responsiveness, help share positive and brand-reinforcing stories and help spot issues that are bubbling up.