Samsung and Nokia have almost same strategies of selling smartphones. Indeed, both these companies are currently selling all types of mobile handsets –traditional phones as well smartphones– across the world. As the scenario is changing, global vendors are now looking to make their stronghold in emerging markets, especially in India, China and Brazil. You can't deny with the fact that Nokia has still strong presence in emerging markets, and interestingly, users in some of these markets are still relying on the company's traditional mobile handsets.
This time, there's a need to break out some facts, related to how Samsung is denting Nokia's mobile handset market share in emerging markets. In 2012, the first time in the history Samsung led Nokia in overall mobile handsets, specifically for selling dumb phones in emerging markets. According to a latest survey report, conducted online by Upstream in four developing countries such as India, Brazil and Saudi Arabia, Samsung Electronics Co., Ltd (KRX:005935) has started to flex its mobile muscle in several emerging markets.
Among Emerging Markets, Nokia Still Leads In Nigeria
Of course, a few year ago, Samsung had barely presence in worldwide smartphone market, and that time, Nokia was considered as a big fish. But now, the climax has reversed; Samsung is now the world's largest smartphone vendor, and Nokia has become a struggling vendor. On the other side, the South Korean mobile handset company is now the biggest threat for other smartphone vendors, and more importantly, its growth rate doesn't seem to slow down in coming years. Now, everyone is knowing that emerging markets, such as China, Brazil and India, are going to determine the future of smartphone vendors in 2013. It's true that Nokia has continuously been losing it grip on emerging markets to Samsung, despite it still holds top spot in Nigeria. However, the stat doesn't tell anything about how much users are willing to embrace Samsung mobile handsets.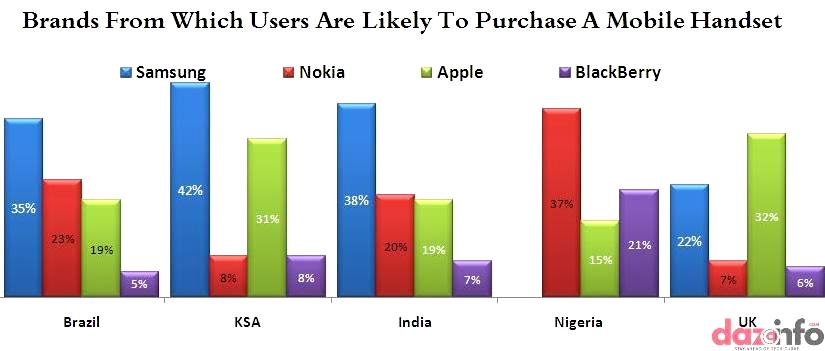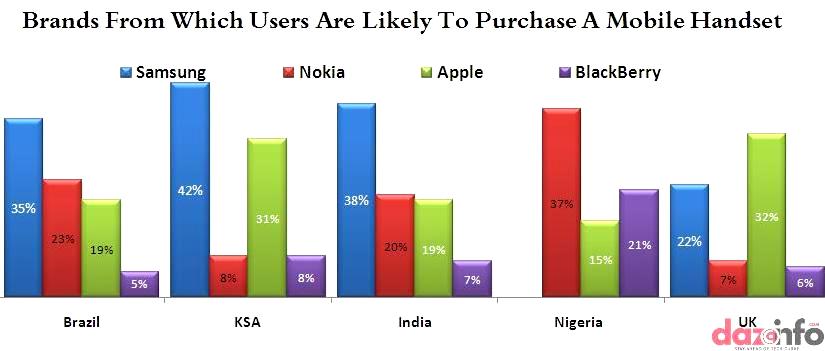 Undoubtedly, Samsung is the biggest player in some of the emerging markets, despite Apple Inc. has also succeeded to extend its markets share in these markets. It's clear from the above graph that Apple has managed to attract 19% of users in India and Brazil, those are willing to get their hand on iPhones, while 32% of people in Saudi Arabia are likely to buy Apple's smartphones. In some of emerging markets, there's still an issue related to steady power supply, and people are willing to purchase a mobile device with a long battery life. This is the reason why a significant number of people in these markets are still stuck with Nokia's traditional phones, those are offering a long battery life.
Users In Emerging Markets Prefer To Buy Low-Priced Mobile Handsets
Pricing is still one of the most determining factors for majority of people in emerging markets. As per the survey report, in the world's second largest mobile market in subscriber base, more than 50% of people are willing to buy mobile handsets costing $100-$300. In the contrary, the proportion of users, those are willing to buy mobile handsets at premium amount, is high in KSA; here, 29% of people, a little more than 26% those are willing to buy mobile handsets at $100-$300, are likely to buy phones that cost $450 or more.