Multi-screening is a well known trend now, especially in Twitter. Twitter users are accepting this site even when they are watching TV. It's true that Twitter is grabbing TV viewers and 'dual screen' are seen extensively nowadays. In addition, TV viewers were 12x more likely to tweet regarding a TV show. And, 66% of its mobile users log in to this site at home while watching TV. Certainly, 60% of Twitter users access the social network while watching TV. It is also said that 40% of all the U.K's Twitter traffic around peak time is about TV.
"The TV industry is dynamic and it was important for us to analyze multiple variables to truly understand Twitter's impact on TV ratings," said Mike Hess, Executive Vice President of Media Analytics for Nielsen. "While our study doesn't prove causality, the correlation we uncovered is significant and we will continue our research to deepen the industry's understanding of this relationship."
Here is a Nielsen's announcement which says, U.S. TV viewers are taking to Twitter to talk about TV, and the digital chatter isn't all about hot air or building steam.
Nielsen analyzed Tweets about live TV programs which confirmed that there is a close association between Twitter and TV ratings.
The study also observed that Twitter is one of three statistically significant variables to align with TV ratings.
Insights from the report
The rise in media consumption across multiple device screens has driven this correlation, says the report.
Its noted that 80% of U.S. tablet and smartphone owners who watch TV use their smartdevices while watching it at least several times a month.
40% of U.S. tablet and smartphone users visit a social network while watching TV.
The recent Nielsen/SocialGuide study confirms that increase in Twitter volume closely associates with the increase in TV ratings for varying age groups, and which reveals a stronger correlation for younger audiences.
A stronger relationship between Twitter and TV for younger audiences is noticed. In users aged between 18 and 34, an 8.5% increase in Twitter volume corresponds to a 1% increase in TV ratings for premiere episodes of a program. This correlates with a report which was recently released where among the respondents polled, 60% of them aged between 16 and 24 said they used a companion device to keep track of social conversations while watching.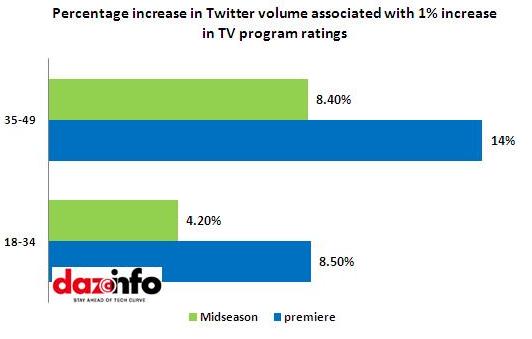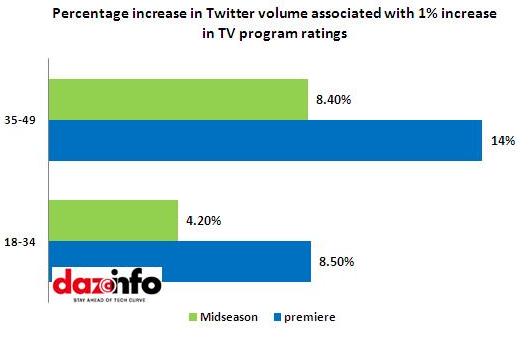 And, 4.2% increase is noticed in the Twitter volume corresponds with a 1% increase in ratings for midseason episodes of TV programs.
 In addition, a 14.0% increase in Twitter volume is associated with a 1% increase in TV program ratings for 35-49 year olds.
The correlation between Tweets and TV ratings strengthens for midseason episodes for both age groups. An increase in Twitter volume of 4.2% and 8.4% is associated with a 1% increase in ratings for 18-34 year olds and 35-49 year olds, respectively. Moreover, by midseason Twitter was responsible for more of the variance in ratings for 18-34 year olds than advertising spend.
On the same note, we had reported recently that the U.K and the U.S. sees sizable decline in the simultaneous engagement, as lower numbers for simultaneous social engagement while watching TV than the global average of 43% was noted. While, in 2010, 39% of viewers from the U.K and 32% from the U.S. said they interacted simultaneously on social media while watching.