Just a few days before  we had reported that Facebook Likes can reveal your gender, relationship status and much more about you, which you actually want to hide.
A similar study about tweets was published in EPJ Data Science, scientists from Royal Holloway University in collaboration with Princeton University delved inside the formation of tribe-like communities on Twitter.
The study basically describes how the researchers analysed 75million tweets sent by 189,000 users. It says language is an extremely imperative and indicates what communities so users belong to, and vice verse. Language used in tweets is an accurate determiner of what users might belong to a particular Twitter community.
The research on Twitter word usage throws up a pattern of behavior that seems to contradict the commonly held belief that users simply want to share everything with everyone.
Few interesting points from the report:
The study notes that the tie between language on Twitter, in terms of grammar, spelling and word choice, not tongue –  can determine user's Twitter "tribes," or communities.
The findings point outs a more precise use of social media where users frequently include keywords in their tweets so that they could engage more effectively with other users of their community/tribe. Just like our ancestors we try to join communities based on our political interests, ethnicity, work and hobbies.
(Note: A "tribe" would be, say, Justin Bieber fans, or people in the social media industry, or authors.)
So, the research suggests that in an analysis of Twitter tweets, who often tweet words that end in "ee," about 80% of those people would be vocal Justin Bieber fans.
Professor Vincent Jansen from Royal Holloway told Phys.org, "Interestingly, just as people have varying regional accents, we also found that communities would misspell words in different ways. The Justin Bieber fans have a habit of ending words in 'ee', as in 'pleasee', while school teachers tend to use long words."
Interestingly, "bhi" and "nahi" (words from language Hindi) were used 106 and 105 times more in a community compared to the regular users in India.
The primary word given for each community is the most significant one in that community. Circles represent communities, with the area of the circle proportional to the number of users (greater than 250 shown).
The widths of the lines between circles represent the numbers of messages (greater than 5,000 shown) between or within community, and the colors of the self-loops represent the proportion of messages that are within users from that group.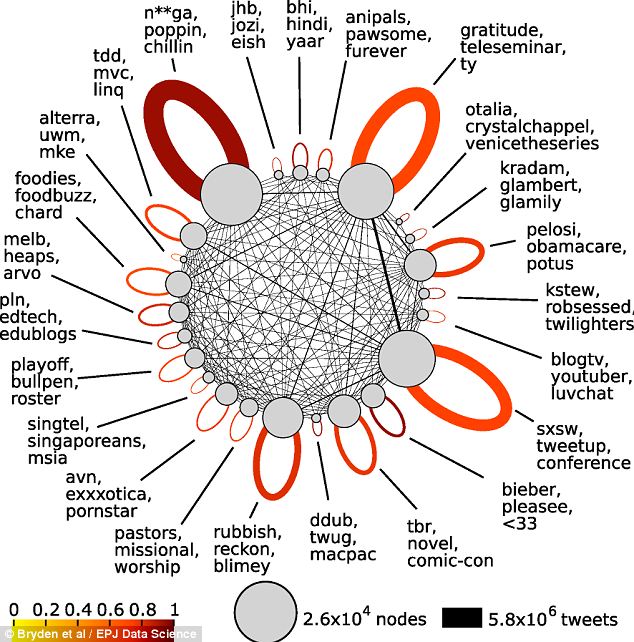 The study also produced a map of communities they found on Twitter, showing their vocation, politics, ethnicities and hobbies in common. A few "tribes" of note: an "anipals" (Animal welfare) group were interested in hosting parties to raise funds for animal welfare, and a growing community interested in the concept of gratitude.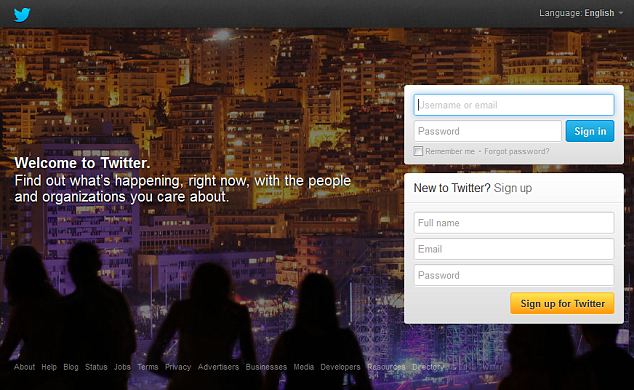 The study also found the best to attract new followers on Twitter. It says that tweets that convey positive messages, clearly written, draws users to re-tweet interesting bits of news.
In addition, researchers from the Georgia Institute of Technology in Atlanta studied half a million tweets by more than 500 Twitter users over 15 months found that; whether posts were positive or negative by looking for 2,800 emotive terms, including common acronyms, like LOL, emoticons and slang and swear words.
Findings showed that the Twitter users who posted the most cheerful messages, whose tweets were the most easily readable and who re-tweeted news gained the most followers.
At last the report highlights that when social media has given the best opportunity to communicate with almost anyone across the globe, we're still using it to communicate mostly with like-minded people or our communities.