Facebook is a all rounder, it is best in every aspect, may it be for brands businesses or helping recruiters get the best employee, it has done its best. The recently added feature —Graph search—  is a new feature embedded in the Facebook which has completed  nearly 3 months now. The Facebook graph Search is doing spectacular job in recruitment process. It even out beats LinkedIn, a professional networking site in terms of recruitment. It is said that 47% of new hires are generated from Facebook while only 41% from LinkedIn.
The new study about Facebook found out two things about Facebook and Facebook friends; Are job leads generated more by talking with close friends or acquaintances? And, what effect does talking with strong ties on Facebook have versus weaker connections during job hunts, commissioned by Moira Burke, a research scientist on Facebook's Data Science Team, and Robert Kraut of Carnegie Mellon's Human-Computer Interaction Institute.
The report studied 3,358 Facebook users (59% of the respondents were said to be women). Participants came from 91 countries where 48% of them were from the U.S. Roughly, 5% reported losing jobs during the three-month study, and 13% of them started new jobs.
Key findings from the study:
The researchers found that traditionally and theoretically, weaker ties (acquaintances) tended to yield better job leads. Since close friends probably know the same people and have many of the same sources as the users, there usually aren't many job opportunities created, whereas people who users don't talk with much on Facebook tend to have different connections.
Talking with strong ties on Facebook seems to be useful in helping people find jobs and feel greater psychological support. But talking with those close friends may also increase feelings of stress.
Facebook users who talked more with close friends regarding job hunts and job opportunities were much more likely to find employment than those who tended to reach out to acquaintances.
Also, talking with close friends shortly after the losing job added to more stress/anxiety, as friends would give unhelpful advice or put too much pressure on unemployed friends to find work.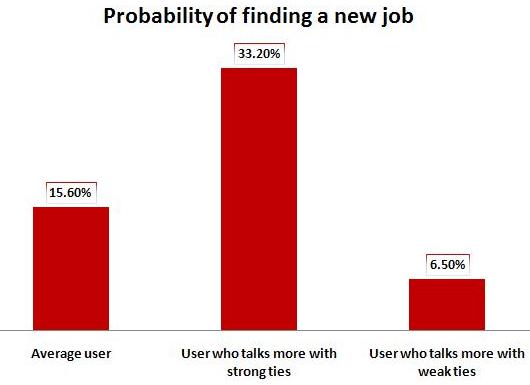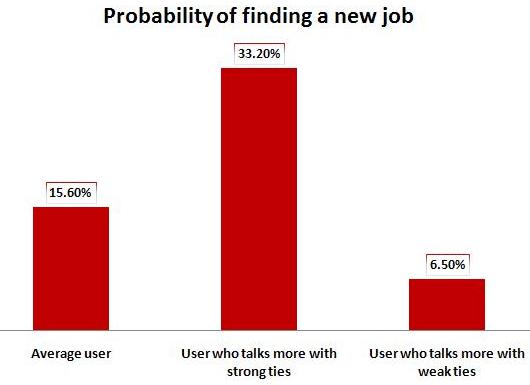 When respondents who had lost their jobs during the study were asked as how they felt while talking with friends about this incident, they found these answers;
"Worse … Everyone wants to know if I got a job already!"
"I feel worse about losing my job when using Facebook. I find it really hard to connect with people who care about me/my life. I get a lot of pity comments on Facebook.
On the contrary, unemployed users (in general) who talked with close friends reported to have lower stress levels, as they gained reassurance and comfort that other people supported their current condition.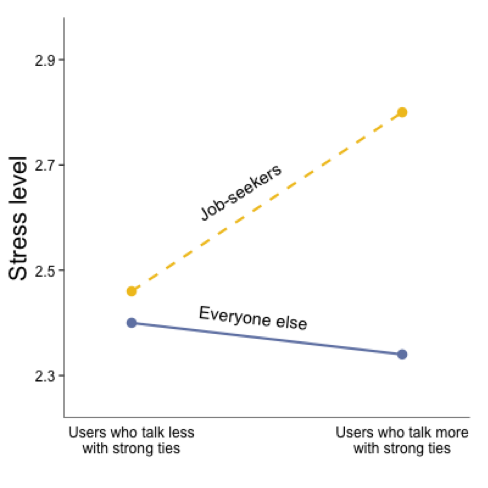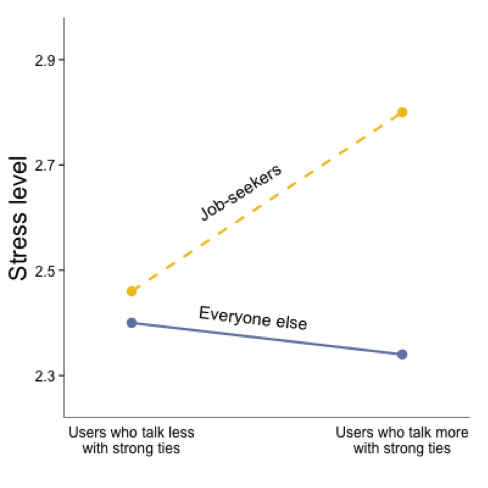 But not everyone agreed that sharing grief about job loss is a good thing. A few users felt that news feed, unlike the newspaper that Co-Founder and CEO Mark Zuckerberg wants it to be, should be more about happy news. Additionally, when friends posted about successes, it made some users in the study feel worse about their own predicaments.
So what we get from the study is, it is important to see who you talk to on Facebook, and different friends provide different support.