As marketers increase use in digital technologies, traditional media undergoes a huge suffering. Traditional media is dumped as it gives marketers a fragmented and dwindling audiences and comparatively cruder metrics. Due to all these drawbacks it is easily losing its ground for digital marketing trends such as Mobile and social media.
Recently in February 2013, the expected size of the traditional marketing downfall reached to 2.7% over the next 12 months. This stats is according to a Duke University Fuqua School of Business survey of US marketers commissioned by the American Marketing Association (AMA).
Social media spending as a percentage of marketing budgets will be more than double over the next five years, according to this survey which consisted of 468 U.S. chief marketing officers (CMO).
The CMOs survey noted that marketers are spending 8.4% of their budgets on social media. Over the next year, that number is expected to increase to 11.5%, and in the next five years it will reach 21.6%.
Digital vs traditional marketing spending
Companies revenues going to marketing spending sees downfall, B2C products category grabbed 9.4%, a major share in marketing spending as of Feb 2013, followed by 9.2%, 8.8% and 7.7% by B2C services, B2B products & services respectively. In addition B2C services saw a major descend of 7% in the spending as of August 2012.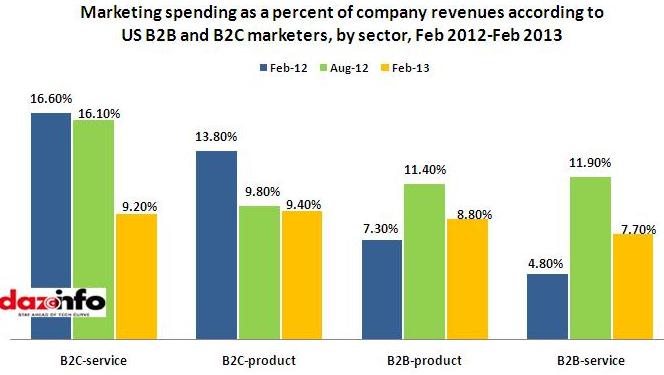 Change in digital and traditional advertising spending
Digital marketing investments to escalates traditional marketing spending. Business-to-consumer (B2C) product category saw the unpredictable increase in digital ad spending, which was expected to see a leap of 14.6% over the 12 months, following February 2013.
While, B2C and B2B businesses see similar increases in digital ad spending.
B2C services were estimated to experience the greatest downfall in traditional media ad spending, plunges 5.4% over the next year.

Note: advertising here refers to media ads not web
Traditional ad spending in next 12 months
The revolution of marketing is so unpredictable, as of August 2011, marketers expected traditional ad spending to increase incrementally over the following year.
But this trend could not stay back for a longer time, by February 2012 it was claimed that that traditional ad budgets would see a meager downfall as marketers were much focused on digital marketing.
However, no one expected that this downfall would almost kill traditional marketing.

Marketing spending in next 12 months
2.7% decline in traditional advertising spend over the next 12 months, after predicting a 1.9% decrease in August 2012, an 0.8% decrease in February 2012, and a 1.3% increase in August 2011.
In contrast, digital marketing spending is forecast to grow by 10.2%, a slower rate than the 11.5% increase forecast in August 2012.
Segregating the responses by company type, the study finds that B2C service firms will pull back on traditional advertising the most (-5.4%), with B2B product companies (-4.1%) also cuts back spending.
budgets relatively flattens across B2B services (-2.2%) and B2C product (-0.6%) companies. Each company type is projecting a double-digit increase in digital marketing spend, save for B2B product companies (+8.2%).
Increased budgets across a number of other areas, CMOs are expecting to spend more on new product (8%, down from 9.4% in August 2012) and service accounts for 5.8%, down from 6.5% introductions, while 8.1% increase in budgets devoted to customer relationship management, down from 9%, and 6.8% more spending on brand building, down from 7.5%.
Overall marketing spending is expected to grow by 6.1% over the next 12 months, slightly slower than the 6.4% growth forecast from August 2012.
As a percentage of overall firm budgets, B2C product companies devote the largest share to marketing (16.3%). B2C services companies had reported 16.8% share of budgets going to marketing in February 2012, but that dropped to 10.9% in the most recent survey.