We are already familiar with the fact that online shopping in the last holiday season reached to all time highest. The trend of increasing online sales trend would be an inspiring factor for online retailers. According to a Forrester's recent report, online retail sales would touch $370 billion figure in the U.S. by 2017, up from $231 billion in 2013. The firm has estimated a 10% compound annual growth rate (CAGR) in online retail sales over the next five years in the country.
Interestingly, despite the global financial instability, Forrester believes that online sales would rise even in European markets. However, the expected growth rate will be fractionally higher, compare to today. More importantly, online retail sales in Europe are estimated to reach €191 billion ($247.1 billion) by 2017, up from €128 billion ($165.6 billion) in 2013. Furthermore, the CAGR in these markets would be little higher (10.5%) than the U.S.
This time, rising influence of online retail stores is considered as one of the biggest threat for traditional physical retail stores. Anyway, we can't deny with the fact how rising number of smartphones and tablets has been boosting online shopping, which is generating more buying opportunities. We have already discussed that consumers are now more likely to use their phones for researches related to products and store options. However, Forrester's report reveals that retail web traffics aren't being generated by just smartphones, but increasing number of tablets are also influencing to the traffics. Interestingly, online retailers have reported that tablet traffics of their sites spike during evening prime hours. Undoubtedly, this is the time when consumers are in more relaxed state .
Now-a-days, we could easily see how traditional retailers are investing heavily in their web divisions, in order to entice significant number of users for online/offline purchases. However, in 2013, the U.S.  e-commerce wouldn't be depended on newbies, which are expected to account for four million in number. The substantial growth in online retail sales is speculated to be driven by existing loyal web shoppers.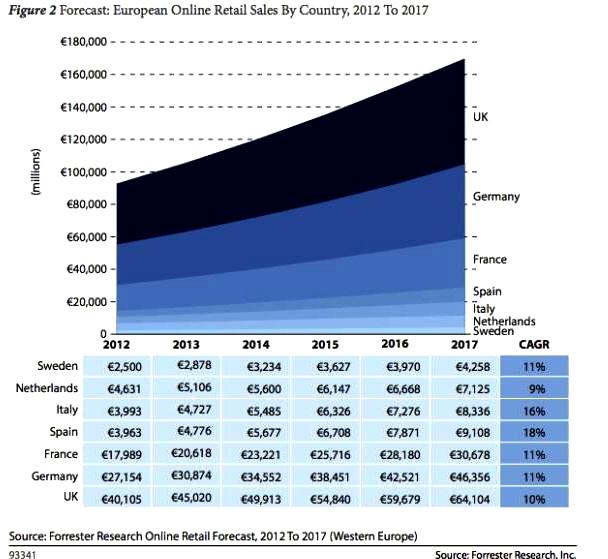 Breaking out to some facts, there're more than 400,000 individuals, those are currently employed by ecommerce companies, in the U.S.. The number is projected to reach 500,000+ by 2017 in the country.
Among European countries, Netherlands is projected to show off a CAGR of 9% in online retail sales from 2012 to 2017, while the CAGR would be little higher in countries such as Spain and Italy, expecting to record 18% and 16% growth respectively. Indeed, there's more fragmentation in European markets, in terms of ecommerce growth, especially between North and South parts. Online shopping in North European regions is more matured, compare to the Southern part. In Northern European markets such as the U.K. and Sweden, online retail sales continues to outstrip physical retails' growth.