Social media and Mobile are the two trending words across the world now. Social media is well known and well used by every one now. May it be teens or top brands every one adore it.
Usage of mobile  to access social networking sites is so common nowadays. Thanks to Smartphones which have made our internet experience so handy.
On the same note we had also discussed about mobile subscriber base (telecom) slipped to 944.81 million in July from 965.52 million in June 2012. India added 4.72 million new wireless subscribers in June, a 0.51% month-over-month growth.
A recent study on social media in India by the Internet and Mobile Association of India (IAMAI) and Indian Market Research Bureau (IMRB) says that by June 2013 there would be 66 million social media users in India. On the other hand, social media users in urban India reached 62 million as of December 2012.
Key findings from the report:
Social networking is considered to be the main Internet activity done on a mobile phone compared to Email, 33% and 32% respectively.
Email dominates the usage in terms of top activities among Indian internet users in India, 80% of them use it followed by Social networking sites (72%), Entertainment (60%), gaming (59%) etc.
There are 80 million active Internet users in Urban India, 72% (58 million individuals) have accessed some form of social networking while using Internet. But it can be accessed via personal computer, laptop or even a mobile device says the report.
Interestingly, the top activities done on Facebook by Indians are using apps (73%), accessing groups (47%) and finding friends (34%).
82% of Mobile Active Internet Users in India access Social Media, compared to 72% of those accessed by the Total Active Internet base.
No doubt why India takes up 3rd position in using Facebook, it is the most accessed website with 97% of  users using it followed by Google+ and LinkedIn. Twitter doesn't seem to drag much users in India.
However, LinkedIn has the highest proportion among women and users aged above 25 years.
84% of Social Media users (among Active Internet users) are "Young Men" in India, they contribute about 35% to the overall urban social networking base of 58 million.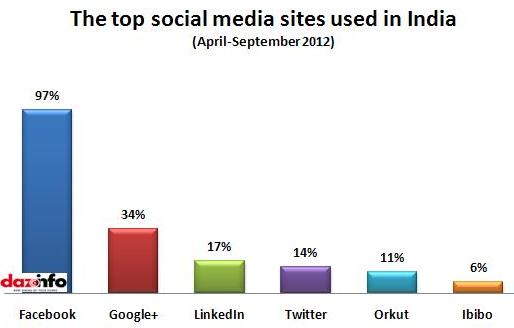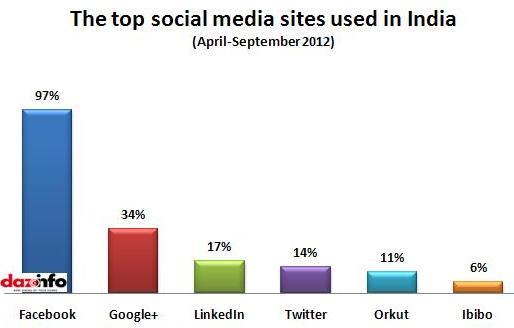 The rise in internet penetration and Smartphones in India is directly proportional to increase in usage of social media sites; it's observed that 74% of all active Internet users in urban India use social media.
The most popularly used mobile apps are of Social Media (81%) and Entertainment (73%).
The potential for mobile social networking applications will remain high in the imminent future; Social Media, Email, Chat/IM, App Store apps & Search based Apps are used on a daily basis by Indian Active Mobile Internet users.
Of the 23.6 Mn Mobile Internet users from the Top 35 cities in India, there were 77% that indulged in social networking followed by Email (83%).
The average time spent by Indian internet users was 29.6 minutes on weekdays as compared to 28.8 minutes on weekend days.