FBX or Facebook Exchange is another media exchange like GDN, AdMeld, RightMedia etc., and an open marketplace where display media ads are bought and sold using RTB (Real Time Bidding).
Facebook is continually working on many features which helps advertisers to improve their business on this platform. Recently, Facebook had launched a new conversion measurement optimization system for direct response marketers to help them measure the ROI of their Facebook Ads. The conversion tool was specifically designed for direct response marketers.
Facebook Exchange (FBX) was debuted in 2012, and in just six month period it has nearly 700 advertisers who run ads on FBX – currently supports more than 1300 advertisers. And, more than half of the 1,300 are currently on exchange. Advertisers embrace it as this is a performance oriented. Also, with the time its becoming an essential part of comprehensive retargeting campaign.
And, this is the first time where a real-time bidding platform allows advertisers to buy and serve retargeted impressions on Facebook. For example, when a user clicks on a product on a retailer's website but doesn't purchase, FBX can display an ad for that product on the user's social network page.
AdRoll a retargeting company which is collaborated with FBX had conducted a study at the ending of last year, 2012. The study was conducted to observe the performance of advertisers on this platform by running both online display and FBX retargeting campaigns.
Few interesting insights from the study:
Brands are pushing their campaigns to social networking sites, the study emphasized that Facebook was taking considerable percentage of retargeted impressions.
Facebook accounted for over 66% of retargeted impressions in December 2012, which is a significant rise from 3% in August 2012.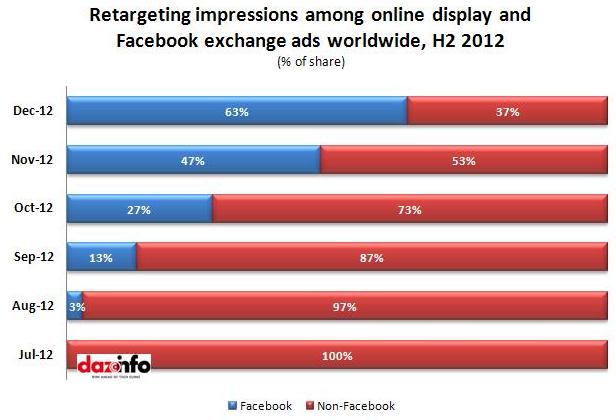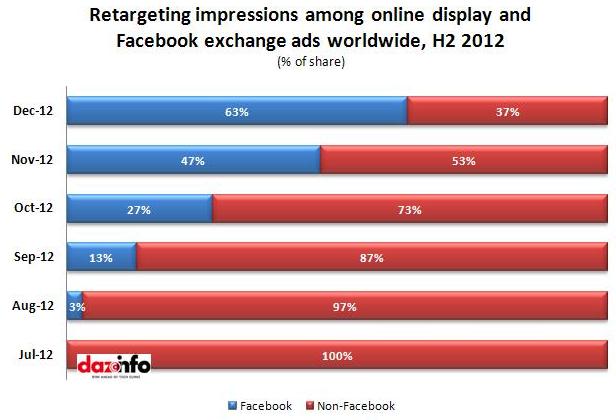 AdRoll highlights that Facebook accounts for more than one fourth of display impressions across the web
Also, as of December, Facebook gained 45% of total retargeted clicks. Other online display retargeting campaigns received the remaining 55% of clicks, despite accounting for only 37% of impressions though.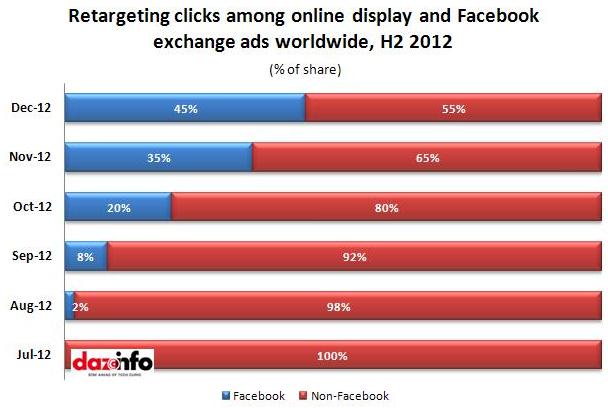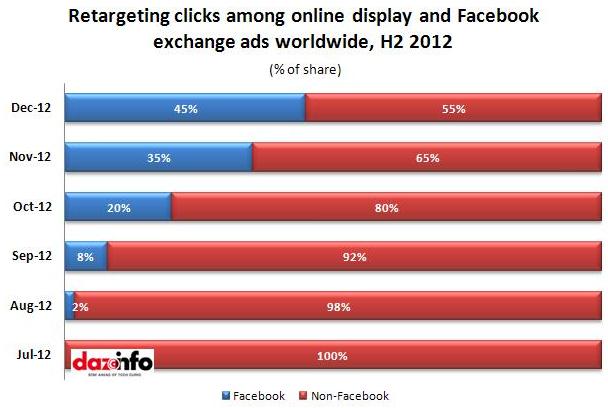 The CTR for FBX ads was 40% lower than for traditional web retargeting ads. And the price per unique click did even better on the web, costing 80% less than on Facebook.
Interestingly, Cost per impression (CPM) and cost per click (CPC) were both significantly lower on Facebook, -82% and -70% respectively.
Throughout the study it was found that web retargeting and Facebook Exchange have their own strengths and are augmented to one another. In addition, advertisers can maximize their return on investment (ROI) by leveraging on both the platforms for retargeting campaigns. On the other hand just leveraging on one platform is mostly like leaving money on the table.
Click on the link for elaborated study on ROI for this year.