As the internet penetration is growing in India, so the job of Google. The search giant claims that the Indian Government made 13 requests a day in 2012 for discloser of user data from Google accounts or services. The number of requests went up by 20% compare to 2011 as Indian government is aggressively trying to control the impact of internet especially via social networking sites like Facebook, twitter and Google+. However, the depth of aggression over users' data by government would definitely be much higher as these figures are only from Google – having lesser market share in social media. There are all the possibilities that Indian government made higher number of requests for discloser of users' data from Facebook too.
India is at the second position in the list of maximum number of such requests placed by countries government following USA which made 16,407 requests in 2012. Countries like France, Germany, UK and Brazil follow India. Interestingly, Google has not revealed similar information about China – a country Google is playing tug-of-war for long.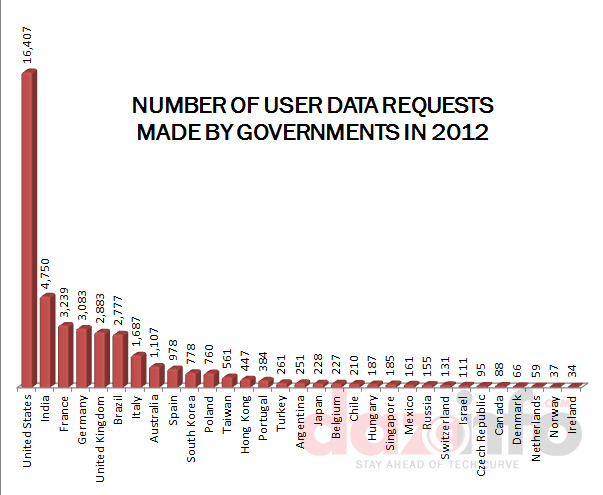 Responding to such requests by Governments, Google managed to respond only to two-third of such requests in India. However, the response rate in the US – base of search giant Google – stood close to 88%. Google produced the information of total 31 countries including Australia, Canada, Japan, Russia, France, Singapore, Belgium and few others.
Bloggers And Videos On Target
Along with users' data requests, Google also exposed information about the link removal requests information during first half of 2012 (ended June 2012). Bloggers remained the main target by court and entities, like executives and police, in whole 2012. Google received 17,757 items removal requests worldwide, majorly from US, UK and Brazil. Shockingly, the number went up by nearly 50% compare to same duration in 2011.
In first half of 2012, 3,725 YouTube videos were requested to remove, following 6510 Web Search links. Related to bloggers 1,175 items were requested to remove by Court and other entities (like Police, executives) via 358 requests to Google making it 3rd most targeted category on the grounds on defamation.
In India 25 requests were made by Court and other entities, targeting bloggers, to remove 101 items to between January 2012 to June 2012. Besides, 32 requests were made, targeting YouTube, to remove 91 videos during the same period. From the Web Search 374 items were requested to remove via 9 requests.