Android is now the most popular smartphone platform in the world, and this is the reason why Google Android devices are being targeted for malware attacks. According to a recent report from security specialists F-Secure, Google Android devices accounted for 79% of all mobile malware in 2012, rose from 66.7% a year ago. However, Google's mobile juggernaut accounted for just 11.25% of malware back in 2010. More importantly, F-secure reported that Android alone accounted for 96% of all mobile malware in Q4 2012, up from 49% in the previous quarter.
On the other side, the participation of Apple's iOS, the world's second most popular mobile platform in terms of shipments, to malware attacks was negligible in Q4 2012, accounting for just 0.7% for the entire last year. In simple words, there's no comparison between Android and iOS platforms in security perspectives.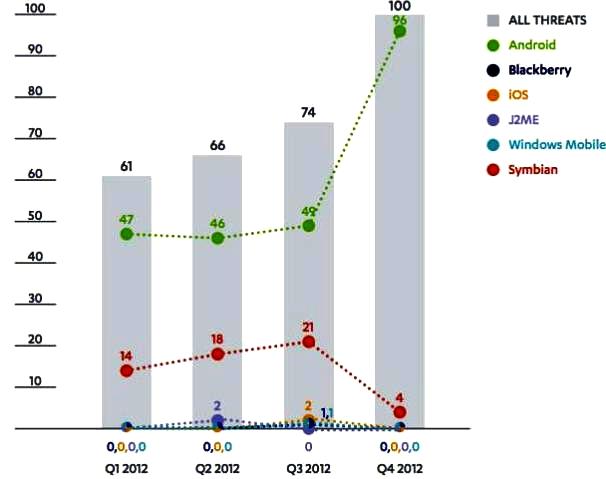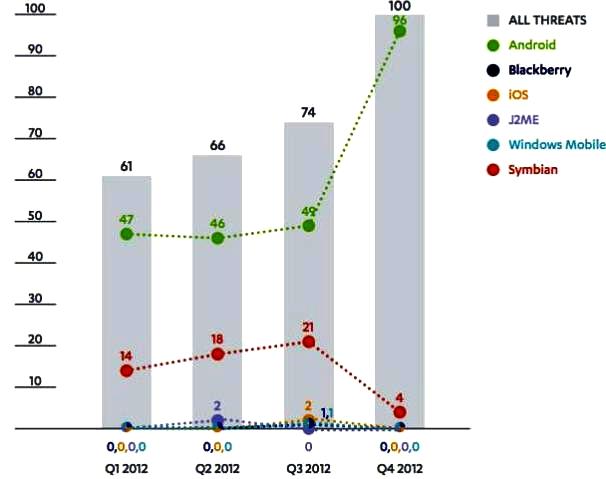 Malware Attacks On Google Android Devices Rose Significantly In 2012
Nokia's Symbian, which has seen a rapid decline in market share, reported 19% of all mobile malware in 2012, down from 62.5% in 2010. Apparently, malware attacks on Symbian platform declined in 2012, as the Finnish handsets manufacture announced to stop working on the platform. It means that there wouldn't be any device on the platform by the end of 2013. And this is the reason why Symbian users are switching from the platform to Google Android devices. Meanwhile, BlackBerry, Windows Mobile and J2ME each accounted for even less than 1% of threat due to malware attacks.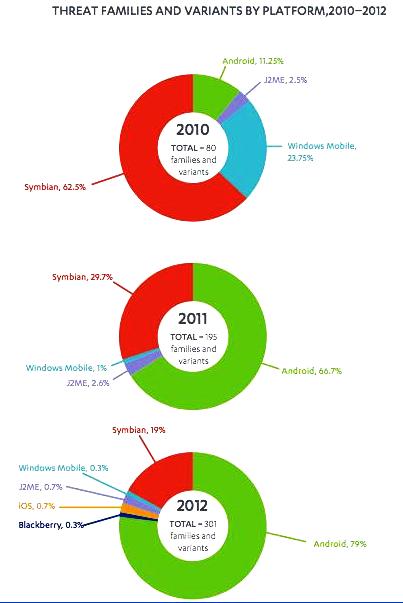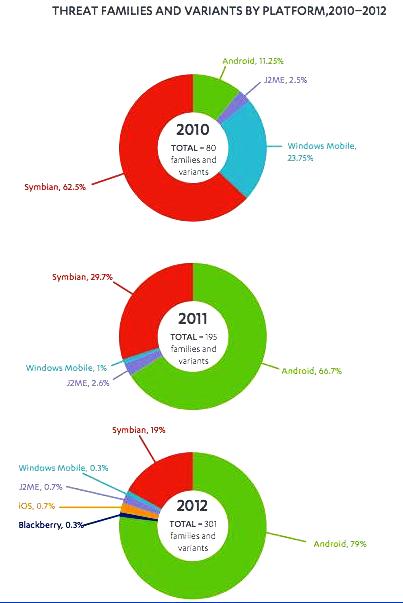 In fact, malware on Google Android devices grew up unprecedentedly in 2012. However, shift in malware attacks, dropping on Symbian and rising on Android, occurred last year because Android was the biggest benefactor of Symbian's decline. It's really interesting to know the major types of mobile threats in 2013. F-Secure reported that among all types of threats, 66% of detection were Trojans, followed by Riskware with 11.2%.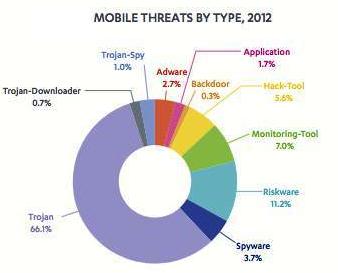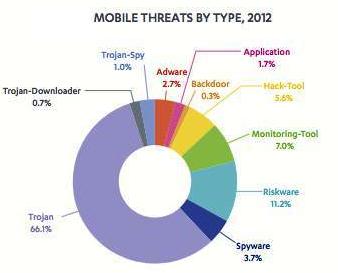 However, this time, Google is quite conscious about Android in security perspectives  The company has just introduced its Android 4.2 variant (Jelly Bean). As per latest update, Android 4.2 Jelly Bean version only accounts for 1.6% of Android's total market share. Majority (44%) of Google Android devices are still running on Gingerbread (Android 2.3.3) version, followed by Ice Cream Sandwich with 28% share.
Last year, the dodgy SMS messages were also one of the major concerns for users, those were holding Google Android devices. F-Secure noted that some 21 out of the 96 Android threats variant came from premium SMS, those encouraged users for downloading. In addition, 'mobile threat motivated by profit' has also been increasing year-over-year.