Yesterday at a press event, Sony officially unveiled its flagship smartphones–Sony Xperia Z and Xperia ZL–in India. Over past few months, Sony has gained popularity in Indian smartphone market with its mid-range and entry-level devices. In Q4 2012, the company succeeded to grab the third position in India with 9.8% market share in terms of smartphone shipments. This time, the company is trying to replicate its success story with the launch of high-end smartphones–Sony Xperia Z and ZL. Of course, the latest high-end smartphones will be one of the biggest bets of the company this year in India.
Specifications Of Sony Xperia Z and Xperia ZL
Sony could easily see opportunities in Indian smartphone market for vendors, and this is the reason why it has opted the country, among some selected countries, for the launch of Sony Xperia Z and ZL; Both the devices have been launched in the country simultaneously. Furthermore, both the devices have almost similar specifications, such as both are featuring a 1.5 GHz quad-core Qualcomm Snapdragon S4 Pro processor, 5-inch 1080p display, 16 GB internal storage (expandable via microSD), 2 GB RAM, a 13 MP rear-facing camera and 2 MP front  facing camera. However, battery capacities of both these devices are different–Sony Xperia Z features 2,330 mAh battery, while Xperia ZL has 2,370 mAh battery.
On the other side, the hardware of both the devices have almost same; the Xperia ZL has a more compact design and dedicated camera button, whereas Xperia Z has been designed beautifully with tempered-glass and it could also resist water and dust.
Pricing:
Undoubtedly, we can't deny the importance of pricing in the success of any device. And of course, the Japanese handset manufacturer understands the fact very-well. That's why, Sony has kept the price of the Xperia Z model at INR Rs 38,990 (~$750), while the Xperia ZL costs a little less INR 36,990 (~$692). In addition, the company has also announced 8 GB free data from Vodafone (valid for 2 months), along with the free access to the Sony Jive music and video streaming applications, for Sony Xperia Z model. Apparently, the prices of these devices seem quite competitive in comparison to the price of HTC One, and Samsung Galaxy S4, which is expected to be unveiled on March 14 this year.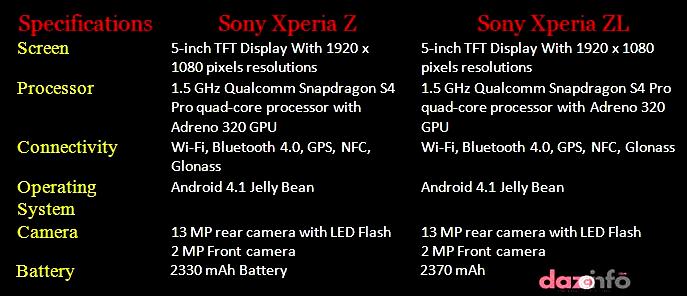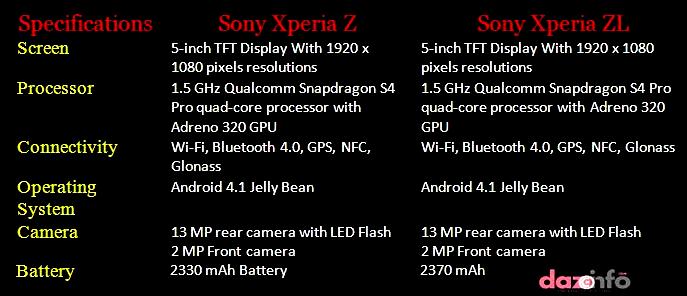 Availability:
Both these smartphones–Sony Xperia Z and Xperia ZL–can be ordered in India from online retail sites like Flipkart. However, users could also get these devices from Sony retail stores from March 12 onward. More importantly, at the event today, Sony also announced about its anticipated Sony Xperia Tablet Z, which would be launched in the country in May this year.  However, the company hasn't told anything about the price and releasing date of its upcoming tablet.
This time, you might be in dilemma whether you should purchase Sony Xperia Z or ZL. Indeed, both the devices are almost same in terms of hardware and software, except in battery backup and pricing. Although the price of Sony Xperia ZL is INR 2,000 lower than its sibling Xperia Z, but the company is offering 8 GB free data from Vodafone and free access of Sony Jive music and video streaming application for two months. In simple words, the company is trying to sell same device with two names at two different price tags. The video (below) might be helpful for you to opt anyone of these two smartphones.