Today Facebook has unveiled the second major change in its 1 Billion+ users' network; The redesigned Facebook News Feed is out. After spending some time with new News feed, by understanding Mark Zuckerberg's fabulous stand, explanation and imagination behind such release, I have got only a statement to make "Great Work Google+"…..no, there is absolute no typo mistake. In fact, this has reminded me the thumb rule – Facebook team forgot, unfortunately – of online communities that it's a disgrace to copy but you could still pay back by crediting it in your work. Alas, Facebook turned its back on both.
Instantly, for few seconds, I visualized the Google+ with a changed blue header and logo. But, that wasn't all true – It was (and is now) Facebook. I am not a great admirer of Google+ in terms of brand positioning and marketing but a great work must be appraised. The simple, elegant and focused object approach of Google+ always kept me engaged, especially on my mobile devices. Google+ existence on mobile device is much more engaged and 'section focused'. Mobile users stay attentive with each updates due to box designed responsive UI, resulting in much more interaction with each update.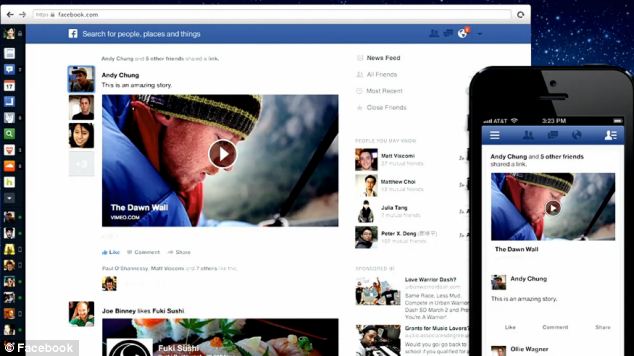 Facebook radically redesigned News feed is focused on 2 approaches:
Presentation of Graphical contents
Consistency and Overwhelming Mobile experience
"One image is equal to 1,000 words." And Julie Zhuo – Facebook's director of design – mugged it up very well, apparently. And, why not; images are the most shared form of contents on Facebook. Almost 50% of items being shared on Facebook are pictures now. More than 10 Billion photos are being uploaded over Facebook every month as on December 2012. And, undoubtedly, graphic are the contents recording the highest number of Shares and Likes across the network.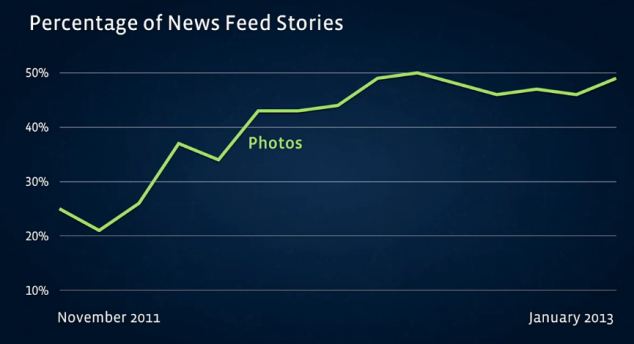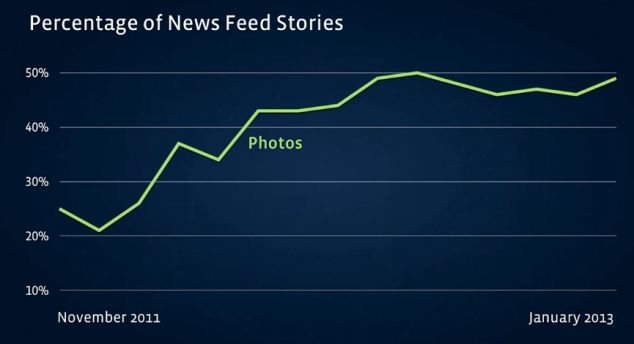 Besides, the biggest challenge for Facebook today is to provide an overwhelming experience to its mobile users increasing aggressively due to platform shift from desktop to mobile devices. In its Q4, 2012 financial report, Facebook exposed that almost 50% users are on mobile. However, only 25% of its total advertisement revenue was mobile originated – despite of that fact that mobile ads on Facebook are much more expensive than desktop. Top of all Mark Zuckerberg is also under immense pressure from investors who are willing to see significant rise in revenue especially from mobile.
Probably, this made Facebook to change its mobile experience strategy to drag more attention of users towards mobile ads, resulting in seamlessly redesigned News Feed. But why only News Feed then? Facebook News Feed section generates 294X more interaction than brand pages. Besides being a landing page, users spend their maximum time on it compare to other sections of the network.
http://www.youtube.com/watch?v=_PW54Sm99ck
Back in April 2012, Facebook acquired Instagram – a mobile photo sharing network. The online social giant shelled out whopping $1 billion to acquire a company that was yet to make its first penny as revenue. It was marked as a strategic investment which is proving now one of the best moves Facebook ever took. A recent report claims Facebook owned Instagram is growing much faster than Facebook. In no time post acquisition, 100 million people across the globe are making best use of Instagram every month.
While introducing the new look of Facebook News Feed Mark Zuckerberg said "News feed is one of the most important services that we build. We want to to give people around the world the best personalized news."
However, not everybody is quite satisfied with the launch. Like me, who are praising Facebook's initiative, and also criticizing it for being copy-cat at the same time, there are many who expected much more from the event. Gartner analyst Brian Blau says one change he would like to see is how many users can control and change updates in News feed coming from Business Pages. Infact, I too believe it's the time when Facebook should explore the possibilities of "Like plus", or even "Like minus" towards business pages' updates. With features like "Like Plus" or "Like Minus" Facebook algorithm could have better understanding of users' take on updates and contents coming from Pages. With such inclusion, the redesigned News Feed could throw much more relevant updates to me only to make News feed more lovable.
Those who like to play with newly redesigned News Feed, this link should help you to register yourself for early access. Facebook has planned to make the roll-out of redesigned News feed in phases as usual and users can expect the same in next few days.