As usual, Google has unveiled the distribution of Android's different versions across the devices for the last month ending March 4, 2013. Unsurprisingly, Gingerbread once again rules Android's versions territory in terms of install base. However, we have already discussed that the market share of Android Ice Cream version reached to its saturation level in January this year.
In simple words, at present, the adoption of Android OS is mainly driven by the latest Jelly Bean version, which has seen 3% jumps as of March 4, 2013, compared to a month before. However, the demand of Android Gingerbread-powered smartphones is still impressive in emerging markets like India. It's really worth noting that Android 4.1 version is commanding almost 15% of Android's overall market share.
On the other side, the adoption rate of Android 4.2 Jelly Bean version is also incredible; the OS version has succeeded to grab 1.6% of Android's overall market share. As expected, the market share of Android Ice Cream Sandwich dropped from 29% last month to 28.6% as of March 4. Interestingly, majority of Android users are still more relying on Gingerbread 2.3.3-2.3.7 versions, accounting for 44% of the Android OS pie.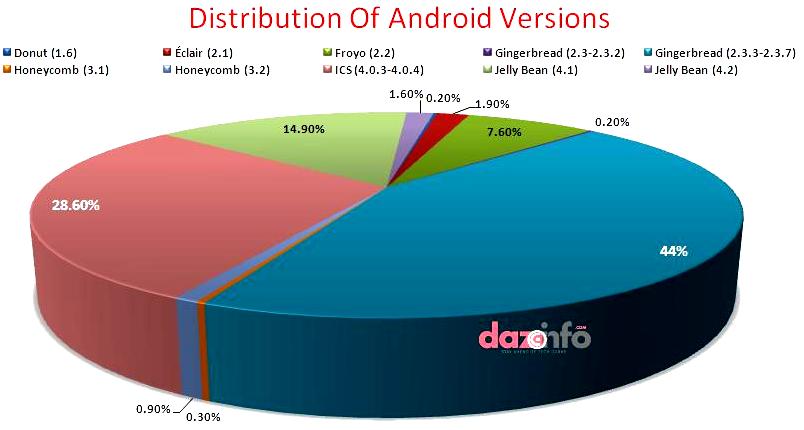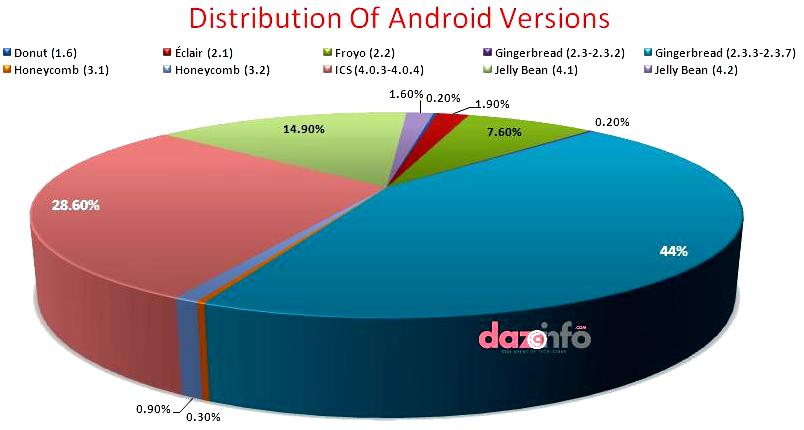 A significant number of Jelly Bean devices are going to be launched later this year. Besides, a considerable number of manufacturers are also gradually updating compatible phones to Jelly Bean. However, most of the updates are currently available for Android 4.1 version.
More importantly, most Nexus devices have been updated to latest Jelly Bean version (Android 4.2). But we could expect more number of devices in coming months running on Android's latest version. Furthermore, there's also a discussion about Google might unveil Android 5.0 Key Lime Pie version at Google I/O event in May this year. However, the Android maker hasn't yet declared anything officially whether they are going to unveil the Android 5.0 version in May this year or not.
It's really matter of consideration that Android users are less willing to update their device with the latest OS version. On the other side, iOS users are more willing to install the latest update of the OS. Are you still using Android Gingerbread-powered devices?