In India, after TRAI's decision to chop off bogus mobile subscriber base in June last year, the number of GSM connections had continuously been declining till the end of December 2012. But it would be great news for every Indian to cheer up that the declining trend of subscriber base came to end by December 2012. In January 2013, GSM subscriber base in India grew up from 657.2 million to 657.56 million, up 0.06% month-over-month. Idea was big gainer during the first month of this year, recorded highest 2.4 million additions, followed by Airtel with 2.29 million additions.


Airtel was at the top with 184.19 million subscriber base in January 2013, followed by Vodafone with 147.70 million and Idea with 116.40 million. On the other side, Videocon and Loop were struggling with 2.26 million and 3.03 million subscribers during the same period.
More importantly, subscriber base of other telcos such as Aircel, Uninor and Videocon declined significantly during January this year. However, the Cellular Operator Association in India (COAI) hasn't yet informed anything about other vendors like BSNL, MTNL and Loop whether their subscriber base rise or fall during January.


In terms of market share, Airtel once again led other vendors in the country. Airtel alone succeeded to hold 28.01% market share in terms of GSM subscriber base, followed by Vodafone and Idea with 22.46% and 17.70% respectively. In the context, Loop and Videocon were struggling with 0.46% and 0.34% respectively in January 2013.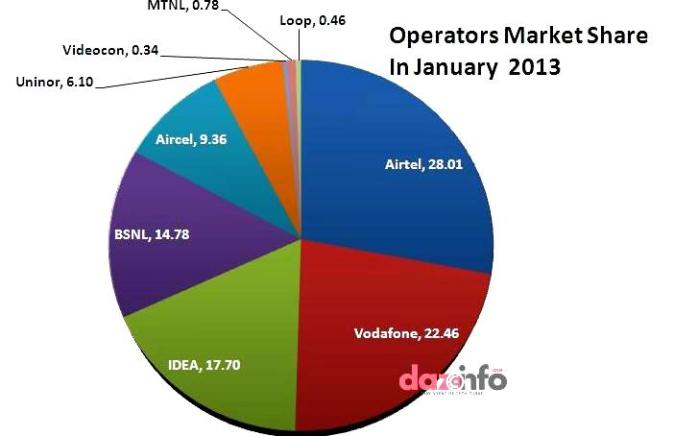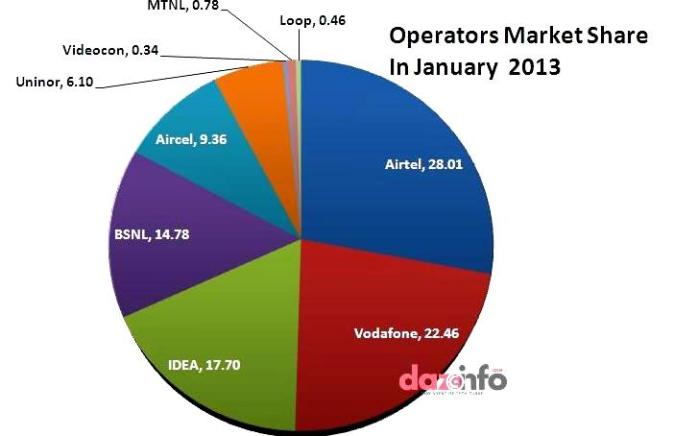 India recorded 657.2 million subscriber base in December 2012, down from 673.6 million figure in August last year. In 2012, Indian regulator decided to cut off  bogus subscribers, those were having multiple SIMs and used to opt the services those suited most to them. Indeed, it was really not a good sort of stuffs for carriers, as their average revenue per user had continuously been declining quarter-over-quarter till the mid of the last year. However, telcos are still stuck with the same issue as the competition in Indian telecom sector has reached to an extreme level.


The Cellular Operator Association of India has also reported GSM subscriber base stats state-wise. In January this year, Orissa recorded highest addition in terms of subscriber base, followed by Rajasthan and Gujarat. Among metros circles, Delhi added highest 75.03 thousands, followed by Chennai with 25 thousands. Meanwhile, other metros such as Kolkata and Mumbai had seen a decline in their mobile subscriber base; Mumbai recorded a 231.24 thousands decline in GSM subscriber base, while Kolkata had seen a decline in 88.92 thousands.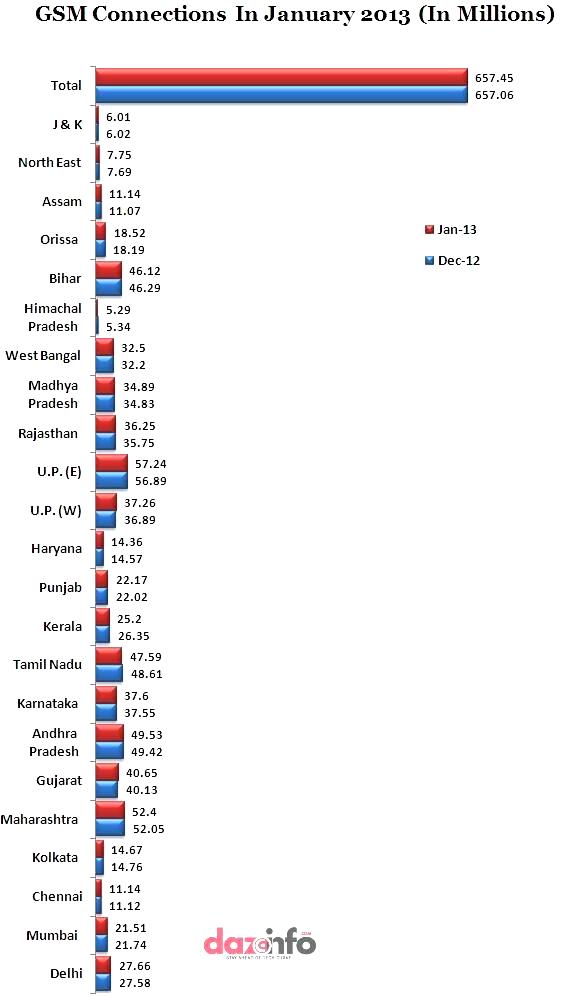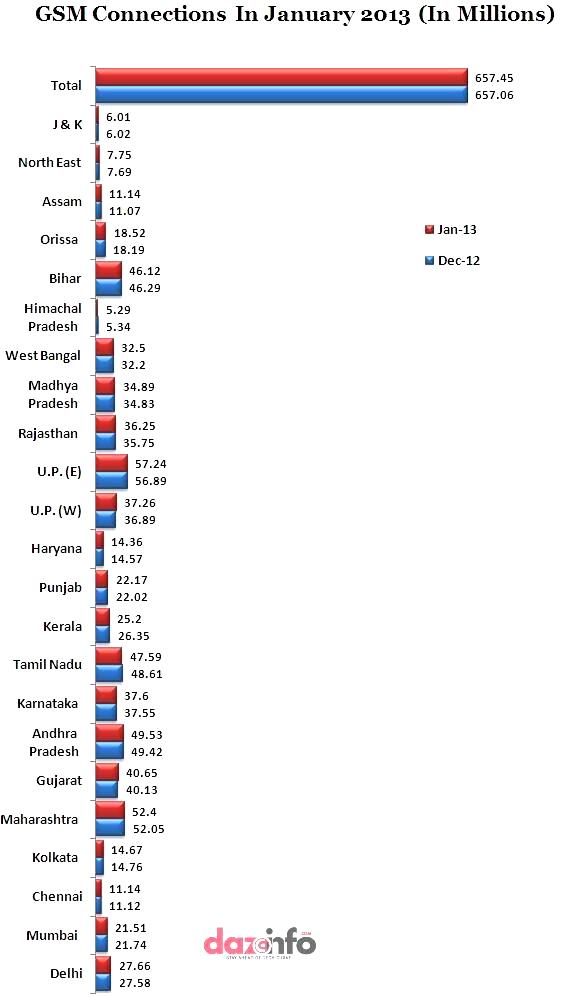 Source: COAI