As brands continue to increase investments in Twitter as a communication increasing opportunities arise to learn from the activity taking place on the and how to better use it to your advantage from a business perspective.
A Brandwatch report, which has studied over 10,000 random tweets has established some key trends that will impact the way we use Twitter and how brands on Twitter use this site in 2013. The study also gives away Twitter business strategies for this year.
The results, which analyzed brand mentions and consumer voice, are especially important for brands to understand Twitter as a communication channel.
Tweet types
As you can see below Twitter is approximately 62% engagement, 38% broadcast. Females are also more likely to retweet than males, but replies were 18% more often authored by males.
Also, it was noticed that TV/Film, Sport and Music are the most popular topics of Twitter conversation.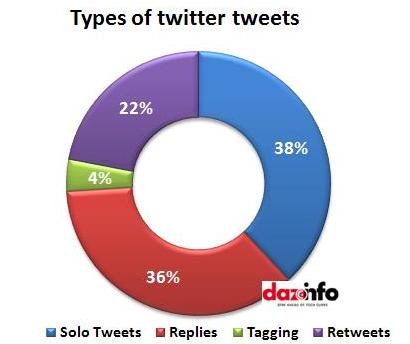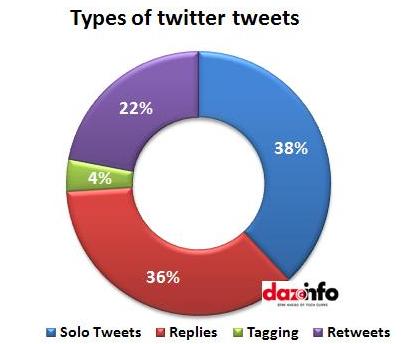 Another interesting statistics was that brands were mentioned more than both music and celebrities – 3.6% of all tweets mention brands, more than the number discussing music or celebrities.
Based on the sample, a staggering 12,600 tweets per minute have a brand mentioned, no surprise here for the impact social media is having on businesses.
Gender analysis
Gender analysis also plays a key part in what users tweets about. Males dominate topics: Sport, Gaming, News & Politics, compared to Women: Television, Work, Education & Music.
Another interesting statistic is that female tweeters are significantly more likely to tweet about personal matters. 89% of females were indulged in conversations related to clothing/accessories and food/drink 73%. This reinforces the notion that twitter is more like an on-the-go network.
Not to surprise, male genders were more dragged to topics such as Technology (80%). Also the dates of analysed corpus greatly co-related to the release of iPhone, which greatly triggered the online buzz too.
However, B2C brands were far more prominent than B2B companies. Additionally the brand landscape of Twitter ranges from large names such as Amazon and Ford to smaller companies like Micro Scooters.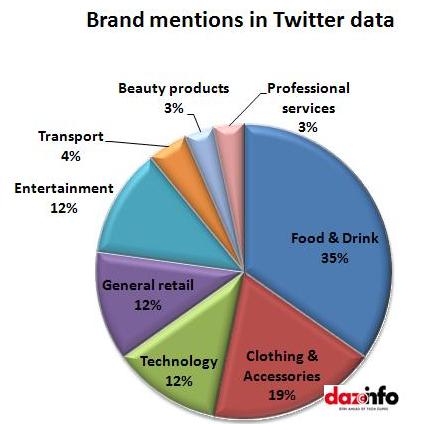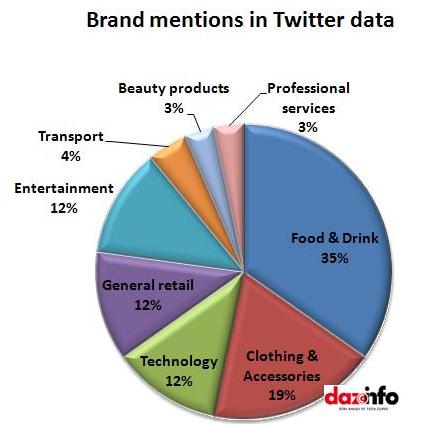 Clear differences in the behavior of males and females encountered when campaigns and measuring brand performance on Twitter were run. According to the report males also complain more frequently, while females talk about purchase experiences.
The most drastic gender difference was seen in those entering competitions via Twitter. The majority of tweets driven by competitions came purely from hollow accounts and were used solely for this purpose.
In the hundreds of tweets about TV/film (3.75% of the total dataset), many expressed opinions about ads, some just passing views, some direct responses to the brands.
So this year brands need to be cautious when comparing the customer service or promotional performance of brands with differing target audiences.
Twitter is a unique source of opinions and experience about brands. so brands need to understood, analyse and act upon in order to develop campaigns for your target audience.
Brands need to engage with Twitter in a similar manner to your audience in order to maximize authenticity and develop a human persona. For example, comment and take part in huge events, and where appropriate, talk personally about experiences and immediate surroundings.
If you want to keep one step ahead of the competition ensure you keep a weekly calendar of any major social events, and keep up-to-date with news worthy content.