On February 28, Facebook has officially announced the acquisition of Atlas – A digital Ad service platform – from Microsoft. Though we saw this coming quite some time back and discussed all pros and cons about possible deal for Facebook, Microsoft and Google, it's interesting to monitor Facebook's next initiative after integrating all its existing data with Atlas. Facebook has not revealed the deal size but the deal is being speculated for nearly $100 Million – making Microsoft to write off $6.2 billion paid to acquire Atlas back in 2007.
The new acquired platform will allow Facebook to extend its reach beyond its own network. And, undoubtedly, this is an another potential threat – and probably the biggest till date – for search giant Google, which has been riding high by enjoying the biggest pie of digital ad revenue for so many years now. The unchallenged dominance of Google in Online display ad market is largely being driven by Double Click – a similar display ad network Google acquired for $3.1 billion back in 2008.
Both DoubleClick and Atlas inherit features that allow comprehensive control of display ads beyond own network – adding thousands of partnered sites to run display ads of signed advertisers to larger exposure.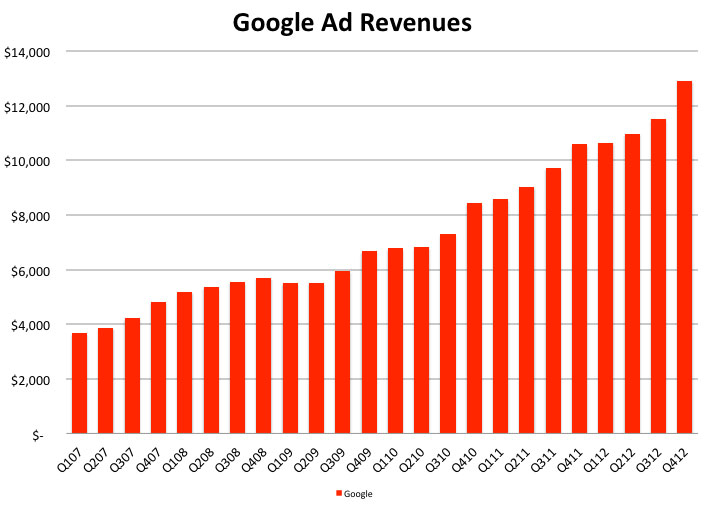 Google generated the highest ever revenue in 2012 by crossing $50 Billion mark – Nearly $46 Billion out of this was accounted as Ad Revenue. The sizable contribution came from Display ad revenue for Google.  The Banner advertising market in US alone has been estimated to worth $10 billion while in India its worth $1 billion. Such revenue share is enough to entice giants like Facebook which is now facing heat from the market and investors to stay aggressive with revenue figures.
For Google, Facebook's latest initiative is just an addition to existing woes. With the explosive growth of mobile across the globe, Google is struggling with mobile ad revenue which was clearly visible in its Q4 2012 financial results. However, the scenario is no different for Facebook too. Almost half of users are accessing the network from mobile devices and social giant doesn't have any rolled-out system to monetize mobile traffic effectively.
Both Google and Facebook are looking to extend its reach by adding more channels and third-party publishers network to extend the reach of their signed-in advertisers. However, constant declining CTC for Google is also a matter of concern. And, this could be challenging for Facebook too.