Social media is tremendously used by recruiters nowadays. A survey of recruiters and executives in North America conducted by recruitment software company Bullhorn says, 98% of recruiters/recruiting professionals made use of social media to find talented employees for their company in 2012. This represents increase from 2011, when 94% of recruiters used social media. This change is primarily driven by increased use of LinkedIn as 93% of the recruiters polled used this site compared to 86% in 2011.
Many of the recruiters surveyed expected to use social channels more effectively in 2013 than ever before. Especially, a whopping 82.6% of them said they planned to use LinkedIn more than they did earlier. Also, 38.3% of recruiters surveyed planned to spend more time on Twitter to look out for employees while 37.4% of them will spend on Facebook. Google+ and blogging are also getting increased attention as about 20% of the respondents said they will increase usage of each sites this year.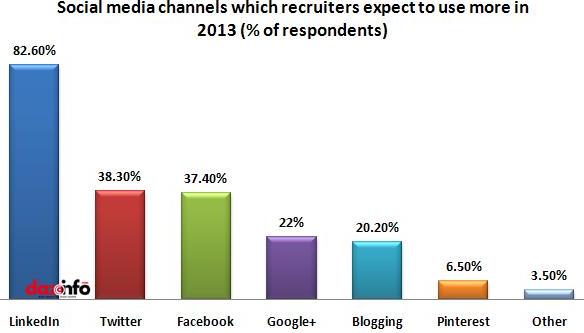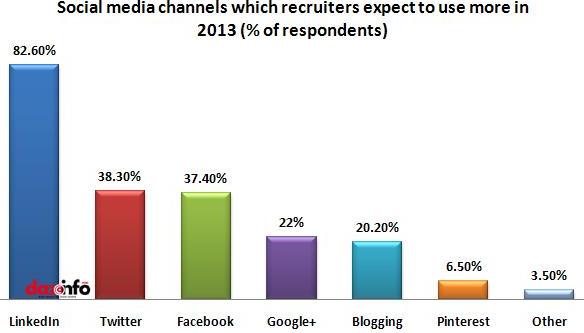 The study also reported that Facebook's usage by recruiters greatly declined in 2012, 51.3% of them used Facebook last year, down from 60.2% in 2011. Twitter also experienced a slight turn down in its popularity among recruiters; just fewer than 51.5% of them continued to use it in 2012. In contrast, more respondents used LinkedIn in 2012 than in 2011.
When respondents were asked which of the services had helped them successfully place candidates, recruiters tremendously cited LinkedIn, last year 93% of the recruiters polled placed an employee using the service.
Facebook stood in a second position with 17%, followed by 13% from Twitter. It's also noted that, Facebook was also the only channel that saw a decline in the percentage of staffing professionals who had successfully placed a candidate through the channel.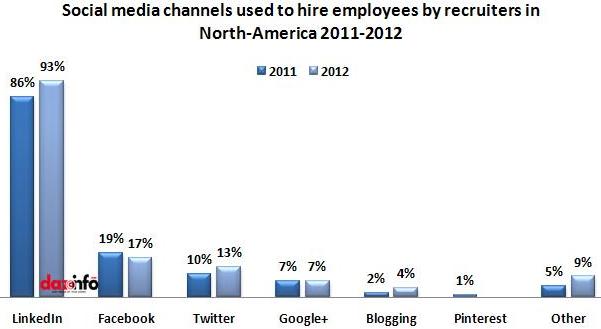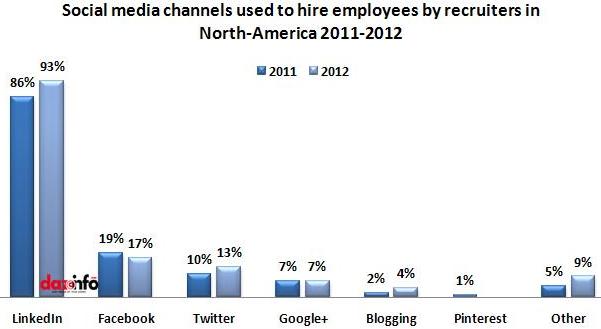 Social networking has made huge jump over the past three years, finally achieving recognition as the best way to obtain new clients. Social networking (50%) stood for the top position with attending networking events (60%), ahead of joining professional groups (59%) and maintaining an online presence (45%) (Example: website, blog).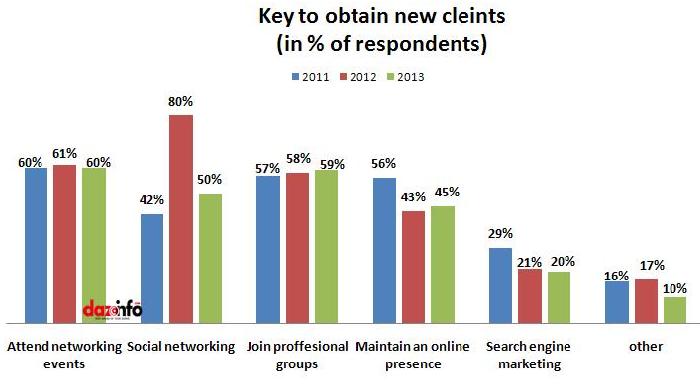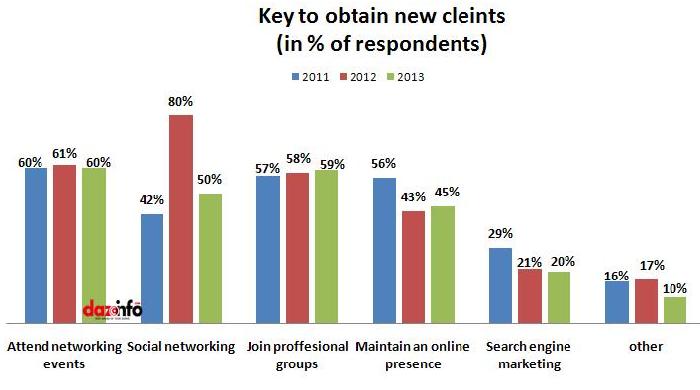 The report also highlights on how executive search firms receive applications per job post: 45% of recruiters reported that, on average, they received between 1 and 9 applications for each job they posted in 2012, with 26.5% receiving 10-19 applications per job post, 12.7% getting 20-29 applications, and a slightly higher percentage receiving 30+ applications (15.8%).Although, 1-9 application average seems low, this includes all industries and types of firms.
The four industries that reported the lowest average number of applications per post were Public Sector, Real Estate, Information Technology, and Healthcare.
Surely this year will be a pivotal year in molding the future of recruitment process. Staffing professionals expect 2013 to be a year of considerable growth for their firms, especially in terms of revenue, global expansion, and personnel.