Movies have played an essential role to entertain our lives. Today, technology has revolutionized the way we watch movies, with the help of their Smartphones and Tablets moviegoers are at the top of the latest movie trends in real time, from the purchase of tickets on-the-go to post their reviews about the movie on social networks before the closing credits roll.
We cannot expect which movie wins the Best Picture award at this year's Oscars until Feb. 24, but Nielsen knows which genre won over the most moviegoers in 2012: action/adventure. According to Nielsen NRG's 2012 American Moviegoing report, about three in five (61%) of U.S. moviegoers indicated that action/adventure movies are the ones they like to see the most in theaters  Comedy brags second position with 50% and sci-fi/fantasy is polled by 42% of respondents and stands at third position.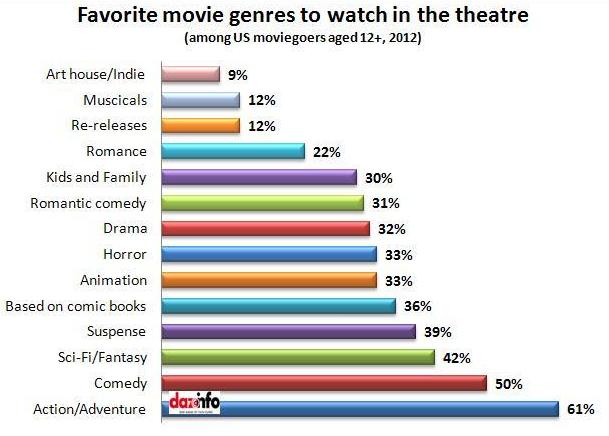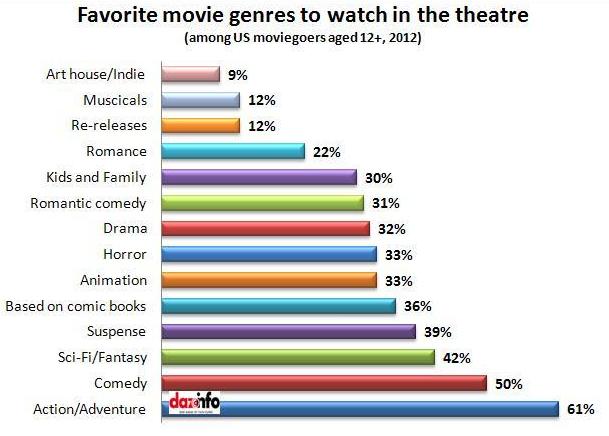 While the best picture nominees span four different genres, only two fall into the action/adventure category: Life of Pi and Django Unchained. The other Best Picture nominees spanned the drama, romantic comedy and musical genres, which were favored among 32, 31 and 12% of moviegoers, respectively.
This year's nominees for best movies are: Life of Pi, Django Unchained for Action/Adventure, Argo, Amour, Beasts of the Southern Wild, Lincoln, Zero Dark Thirty for Drama, Silver Linings Playbook for Romantic Comedy and Les Miserables for Musical.
The report also observed fans by race/ethnicity which noted interesting points based on this year's four Best movies by genres. Action/adventure is the most popular genre across all ethnic groups, especially African-Americans (77%). Hispanic moviegoers love to watch musicals than rest of the segments, 19%.
41% of African Americans identify themselves as drama fans, compared with 33% of Hispanics, 31% of Caucasians and 29% of Asian Americans.
Hispanics and Asians love to watch romantic comedies with 37% and 34% respectively than Caucasians (30%) and African American (25%).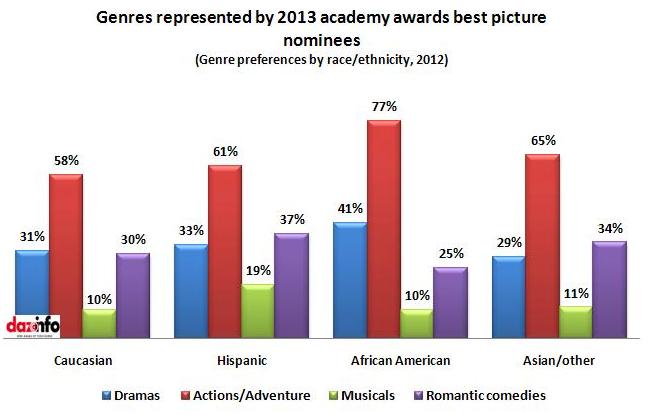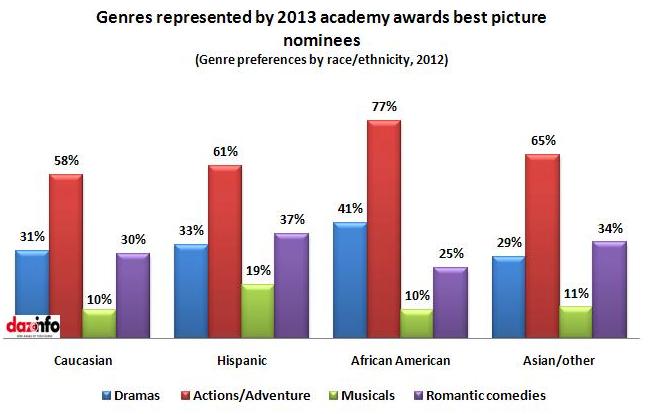 A few days back we presented a report which speaks about, how mobile users are more movie enthusiasts than social media users. The report also highlighted few points such like; mobile-connected moviegoers make use of their device to make decisions regarding movies. Also, moviegoer's aged 35 to 44 watch movies are noticed to be more movie enthusiasts and 30% of them decide to watch a movie on the comments about movies on social networks.