Last year, sales of smartphones and tablets reached to a distinct level. These devices boosted to overall smart connected devices (collectively termed for desktops PCs, portable PCs, Tablets and smartphones) shipments across the world.  According to a IDC's recent report, 367.7 million smart connected devices were shipped in Q4 2012, up 28.3% from the prior year.
More importantly, sales of desktop PCs and portable PCs declined by 4.1% and 3.4% respectively in 2012, compared to the previous year. However, the overall smart connected devices shipments surged to 1.2 billion units last year, up from 0.93 billion in 2011. Tablet shipments experienced highest 78.4% Y/Y growth in 2012; 128.3 million tablets sold during 2012, up from 72 million a year back. On the other side, smartphones recorded a whopping 46.1% Y/Y growth in 2012, and accounted for 60.1% of all smart connected devices shipped during the entire last year.
Apple Inc. Shipped 74.8 Million Smart Connected Devices In Q4 2012
In Q4 2012, Samsung managed to grab the first position with sales of 77.9 million smart connected devices, holding just over 21% of market share. Interestingly, the South Korean company shipped 250 million smart connected devices through the last year, up from 114.0 million devices in 2011. Samsung showed off 119.3% Y/Y growth in terms of smart connected device shipments in 2012. In the context, Apple Inc. managed to hold second position in the terms of smart connected device with 74.8 million units shipments in Q4 2012, up 29.7% Y/Y. The company succeeded to led all other vendors in tablet segment in terms of sales figure. While in terms of 'Portable PCs' and 'desktops PCs' shipments, Apple Inc. was at the eight and fifth positions respectively in 2012.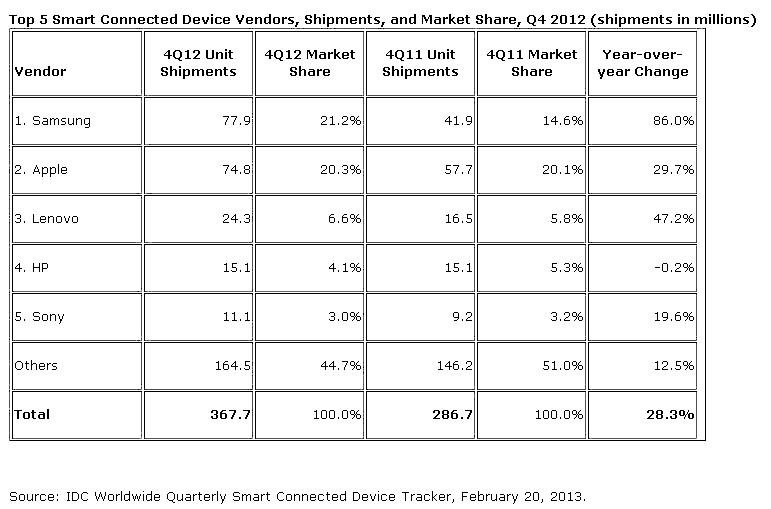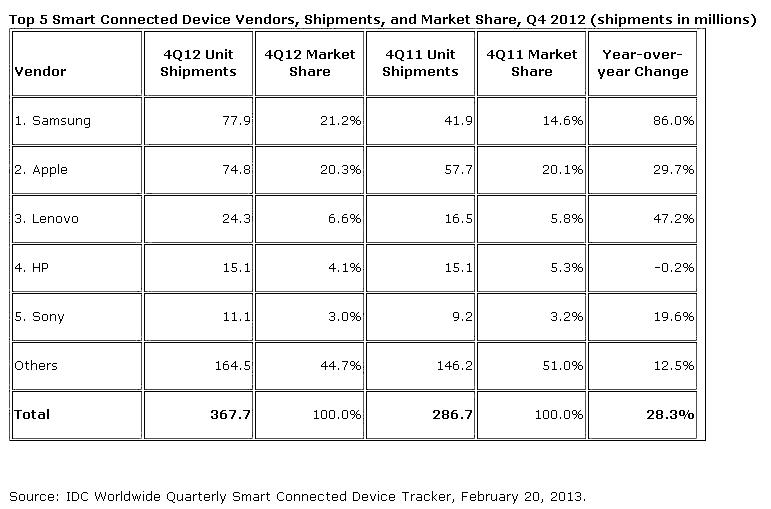 It's pretty much clear that smartphones and tablets are tremendously growing due to price effectiveness. The average selling price (ASP) for a tablet dropped by 15.0% to $461 in 2012, compared to the previous year. On the other side, smartphone recorded lower drop (at $408) in terms of average selling price. However, Lenovo and HP succeeded to make their positions among the top 5 smart connected device vendors in 2012 . Lenovo was at the third position with 24.3% share, followed by HP with 15.1% market share. Lenovo's strong point is its portable PCs business; the company shipped over 30 million units in 2012. In addition, it's also aggressive towards smartphone manufacturing.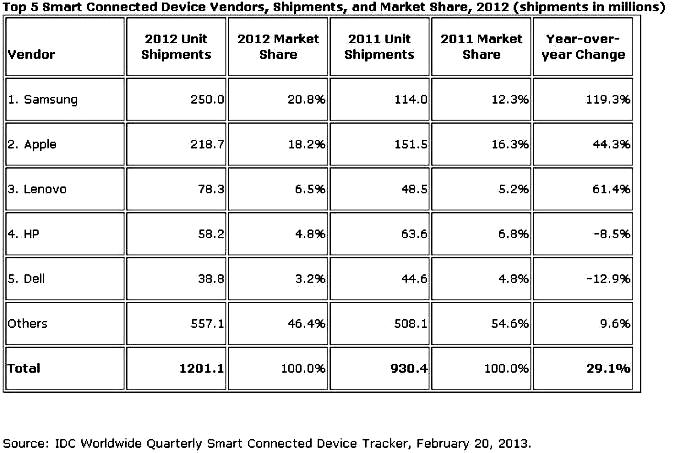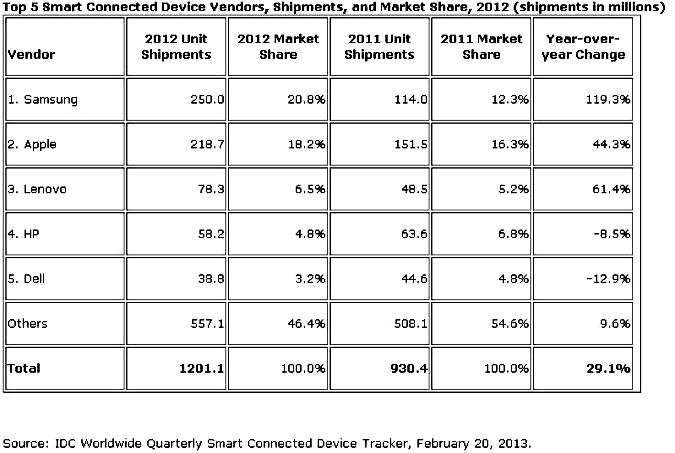 In terms of smartphone shipments, Lenovo demonstrated incredible growth from 3.7 million in 2011 to 23.7 million in 2012. Furthermore, shipments of HP's smart connected devices plunged to 8.5% Y/Y in 2012 due to the lack of smartphone and tablets offerings. Likewise, sales of Dell's smart connected devices declined by 12.9% in 2012, compared to the previous year; the company is also struggling with meager presence in smartphone and tablet markets.
Indeed, the fourth-quarter brought a dramatic resurgence in Apple's smart connected device shipments –thanks to strong shipments of iPhone 5 and iPad Mini.