The explosive growth in network and Smartphone adoption has influenced Indian mobile phone market significantly in last one year. In spite of various benefits and low-price call charges Post-Paid plans are still struggling to reach a sizable market share. In India, mobile users are more inclined towards Pre-paid mobile services compare to other countries like China, Korea, Russia, US, UK or Italy.
According to a latest study, conducted by Nielsen, 84% of Smartphone users prefer pre-paid mobile service compare to 51% in China, 15% in US, 17% in UK or 21% in Australia. The contract plans, bundled with mobile handsets are failing to impress Indian mobile users unlike US and UK. The trend of pre-paid mobile service is further higher among feature phone users in India; 92% such users prefer pre-paid mobile service – the highest among all countries participated in study.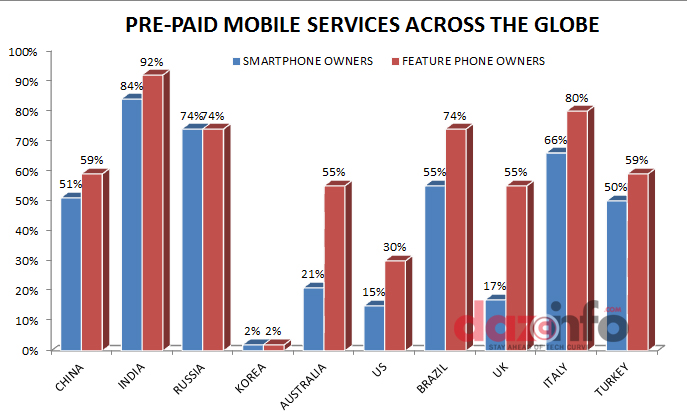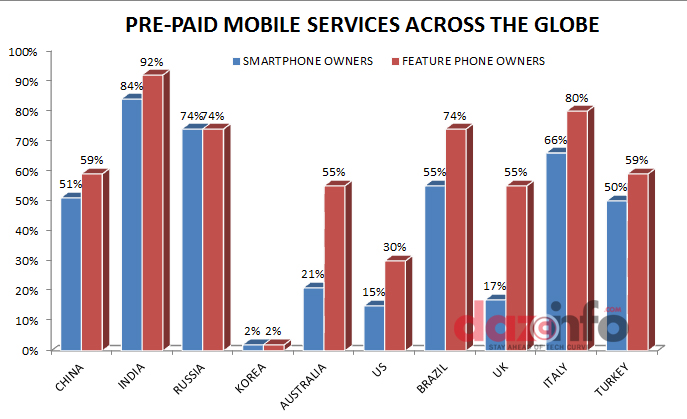 Data Plans Among Smartphone Users
Smartphone penetration in India is still quite low compare to other countries currently, with a projection of 264 million by 2016. While Android is dominating with 62% market share, almost 50% of Smartphone users in India are below 25 years. This could be one of the main reasons behind extensive pre-paid mobile service adoption as young generation stay cost-conscious and in-discipline with their mobile usage habits.
While analyzing the data usage habits of Smartphone users, fixed monthly charge for limited data activities is the most adopted data-plan type across most of the nations including China, India, Australia and UK. Around 42% of Smartphone users in India prefer to stay with fixed monthly charges against 19% users who prefer to opt per day fee for data usage. Mobile users in China and Australia are the most committed towards fixed monthly charges for data with 63%.
Mobile users in developed countries with superior network infrastructure, like Korea and Japan, are heavy users of mobile services, resulting in higher adoption of monthly unlimited data plans. However in countries like India, mobile users are still precautions with data dependency and usage despite of the fact that in first half of 2012, industry witnessed massive tariff drop in 3G service offerings.
Trend of Multiple Mobile Phones
In BRIC nations (Brazil, Russia, India and China) trend of owning more than one mobile handset is on the rise. In India, however, 89% users still prefer to hang with only one mobile phone like US, where 83% mobile users prefer to stay with single handset only. However, countries like Russia and Brazil 2 handsets are the new norms among mobile users. But to surprise all, around 15% mobile users in Brazil maintain 3 or more handsets to satisfy their communication needs.
Multiple OS availability, frequent upgrade and latest technology upgrades are among the few reasons pushing users towards multiple mobile phones. Besides, corporate culture 'a number to every employee' is also being identified as another major reason behind such multi adoption as users prefer to keep their personal number separate to avoid surrender while leaving the company.