Pinterest is the fastest growing site ever in such a less span of time. Few days back we reported how Pinterest is taking E-commerce by storms. The study conducted during Thanksgiving Day observed that visitors from Pinterest are 10% more likely to make a purchase over other major social media sites such as Facebook and Twitter. In fact, the orders tend to be higher; nearly double than Facebook referral orders.
It's also true that 78% of the top 500 internet retailers have adopted Pinterest in 2011 and it is now the third most popular social network in the US in terms of traffic.
The true value of this site is in its Interest Graph, which connects users to each other by what they pin like rather than by their relationships. It can be a great thought for brands to learn about their customers from the way they arrange their pins on their boards.
Reasons why Brands can leverage on Pinterest:
Pinterest is used by 26% B2B marketers.
This social networking site's referrals spend 70% more money than visitors referred from non-social channels.
Total unique visitors of the site is increased by 2,702.2% since May 2011.  In addition, 98 minutes per month is the average time spent by user on this site.
 Out of 17 million brand engagements, 15% occurred on the brand's boards and 85% occurred elsewhere on the site.
According to  Bizrate report, 23% respondents of report actually searched for a specific retailer/brand and 36% of them browsed for pin created by brands.
The below graph clearly explains about why users use Pinterest for. Interestingly, 70% of the users use the site to get inspired on what to buy while, 67% each for those who wants to connect with like minded people interns of style or fashion and to keep up track on new trends.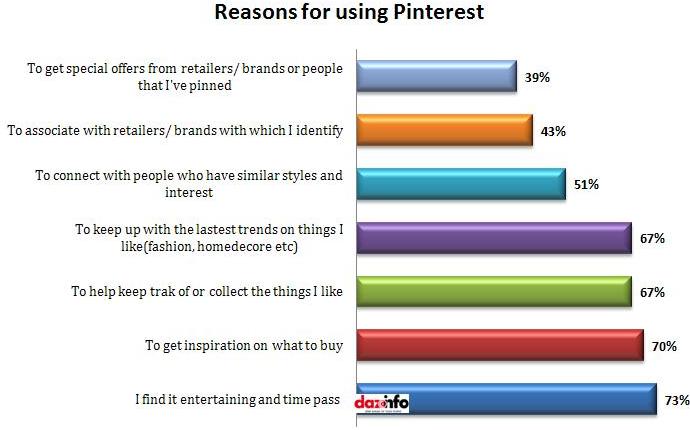 Interestingly, Pinterest lags behind Twitter in customer engagement, though it has lesser retailers compare to Twitter as 70% of brands on Pinterest respond to customers. Furthermore, Jewellery retailer Boticca found that Pinterest users spend more than twice as much as Facebook users ($180 vs. $85), and its recorded to drives higher numbers of new consumers. 86% of visits from Pinterest are new to Boticca.
69% of online consumers who visit this site have found an item they've bought or wanted to buy.
38% of users are aged between 18 and 49 and 23% of Pinterest user's household income is between $50,000-$74,999. Also, 29% of UK users come under the highest income bracket.
According to Experian, in the UK this social network saw a 786% increase in traffic last year from 901,761 visits in September 2011 to 7,985,316 in September 2012. Meanwhile, the U.S. it saw a 15-fold increase to 139 million visits in September 2012 compared to 9.2 million in the same period in 2011.
43% of users agree that they use Pinterest to "associate with retailers or brands with which I identify".
In another study by Simply Measured, Pinterest marked 69% in social network adoption rate adoption rate as of 1st February 2013, up from 63% in November 1st 2012. This increase by 6% in adoption rate is said to be highest than other social giants such as Facebook, Twitter and Google+ etc.
The survey, which interviewed 7,431 online buyers from August 9 to 17 2012, also found that significantly more online consumers agree that Pinterest is a place to "get inspiration on what to buy" and "help keep track of or collect things I like."
 Last year Pinterest drove 2.5 times more traffic to its homepage than Twitter. Similarly, there are 10 times more clicks of the 'Pin-it' button than the 'Tweet This' one.