Are you looking for a new product, just a second, are you one of them who seek for help on internet? According to the new survey, Internet is an important factor to influence greatly on consumer's purchase decision on buying new products. The new products include: electronics (81%), appliances (77%), books (70%) and music (69%).
This new trend is hooking up with consumption categories also, like  food and beverages (62%), personal hygiene (62%), personal health/over-the-counter medicines (61%) and hair care (60%).
Respondents in Asia-Pacific, Latin America and Middle East/Africa are most engaged in online decision-making before they purchase any product.
These findings are from the Nielsen, which surveyed more than 29,000 respondents with Internet access from 58 countries, about new product awareness.
Its said that, Social media is also an integral decision-making tool for consumers who are hunting for new products. Respondents also said they were much more or somewhat likely to purchase a new product after learning about the product through social media (30%), Web ad (29%) or a video posted on a video-sharing website (27%).
However findings reveal that, Asia-Pacific respondents show the greatest propensity to purchase new products in most product categories, which is likely driven by the structural dominance of small sized-sachets in the region and the increased opportunity for purchase occasions. In fact, they demonstrate the highest purchase propensity for buying between 2 and 4 new products in a six-month period in 14 of 20 categories.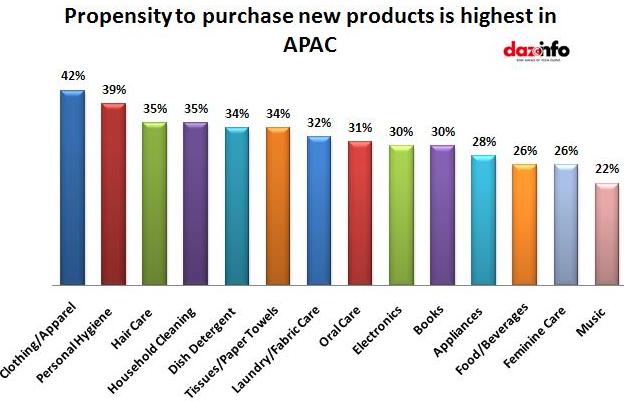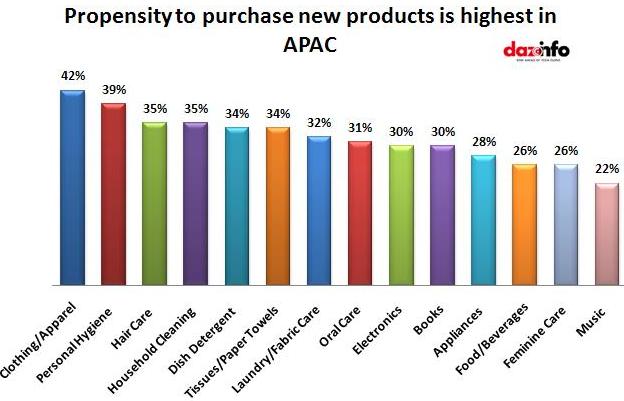 Its also said that 63% of the Asia-pacific respondents wait for new products to prove itself in the market before buying them. Also, 43% of the respondents showed interest to pay premium amount for the product they purchase. In addition, 37% of the respondents are more interested to purchase local brands over global brands in APAC.
More than 50% of all global respondents consider Internet as an important source when it comes to purchasing new clothing (69%) and cars (68%).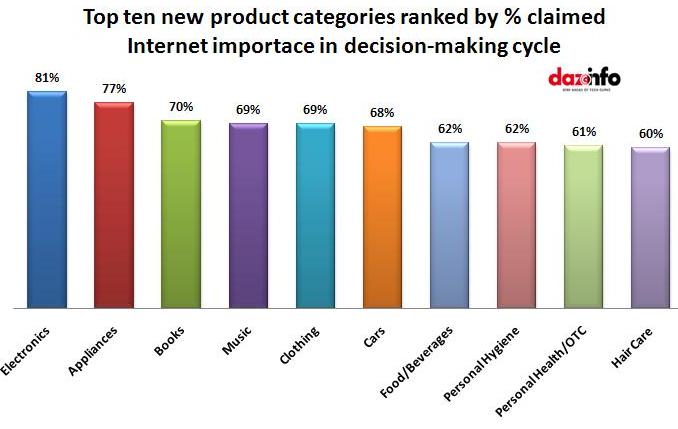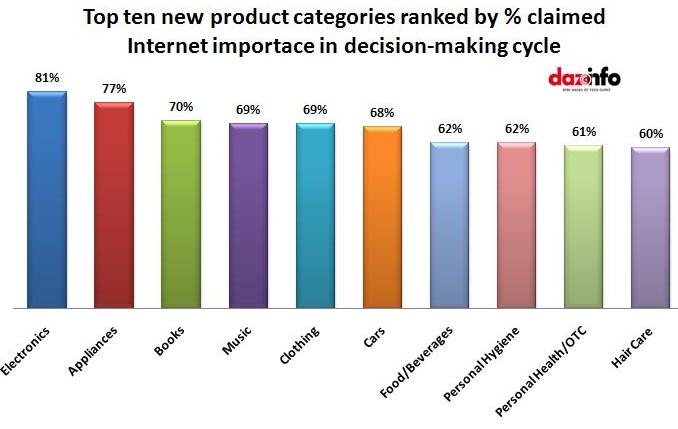 U.S. respondents say the Internet is very/somewhat imperative when making a new product purchase decision for electronics (73%), appliances (63%), cars/auto (62%) and music (59%). Just under 50% of the respondents also consider the Internet's influence on new product decisions for clothing (48%) and cars (68%) are important.
 "Consumers are increasingly finding the Internet and mobile vehicles just as compelling as other more traditional advertising," said Rob Wengel, senior vice president at Nielsen Innovation Analytics. "Social media can also be an effective soundboard to hear about potential issues or to identify future innovation opportunities. As reliance on social media continues to broaden for CPG products, it is especially impactful when used in combination with TV to enhance recall, facilitate one-on-one consumer engagement and dialogue, and listen to what consumers are saying."
Interestingly, in the U.S., 59% of respondents said that they were much more or somewhat more likely to purchase a new product after learning about the product via Internet,  Internet channel (30%), brand/manufacturer's website (45%), or through an article on a regularly visited website (39%).
another report said that, online shopping in last holiday season (November-December 2012) had set a new record this year. The growth of online spending has been consistent over past few years, and eCommerce conceals shares from physical retail stores. ComScore  last year had released its report on holiday e-Commerce which revealed that, for the first 44 days of the November-December 2012 holiday season (from November 3 to December 16), the online spending figure reached to $33.8 billion, up 13% compared to the same period of the last year.
However, on Thanksgiving Day and Black Friday, the participation of social networking sites showed a lackluster performance.  But later Twitter took the prime position in retailers' strategies for the holiday season. Online shopping sites like 'Best Buy' and others, bought number of ads for Twitter users which had encouraged people to do shopping especially on Black Friday. Best Buy's twitter marketing spending had exceeded about 50% last holiday season, compared with 2011.