A new research on social media says that, businesses can no longer adopt a trial-and-error method on social media. The research finds that there is a connection between social media and business metrics such as consumers' probability to purchase or interact with companies through leading social channels.
The study is consists of responses from more than 23,200 U.S. online consumers who have interacted with a company via the companies' social media channel. The study was conducted across more than 100 U.S. brands in six industries: airline, auto, banking, credit card, telecom and utility, from November to December 2012.
The research also measures the overall consumer experience in terms of consumer engagement with companies through their social channels for needs of marketing and servicing. The study spotlights on social media engagement, marketing and servicing. Marketing engagements include connecting with consumers to build brand awareness and likeness, plus to promote coupons and deals. Servicing engagements include answering specific consumer questions or resolving problems.
The study sets up performance benchmarks and industry best practices that provide insights to companies to help them make the most of their social media efforts.
The report also highlights that, companies need to understand how their consumers use social media and then keeping that as a basis they need to develop a strategy to address their usage model.
Social Media Marketing
The study finds that engagement ability changes by age group in social marketing engagements. About 39% of consumers aged 30-49 years and 38% of respondents aged 50+ years interact with a company in a social marketing engagement perspective. But only 23% of consumers aged between 18 and 29 years interact with companies.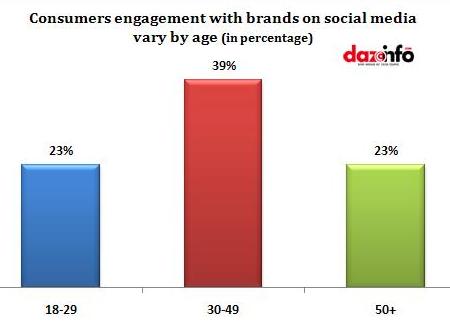 The study finds that the automobile industry is the only industry that performs well in both types of social media engagement.
Social Media Servicing
Companies that throw away discount coupons should not ignore customers who need the service and want the company's help, adds Anderson.
On the contrary to social media engagement, 43% of consumers who are aged between 18 and 29 years use social media for servicing interactions, while 39% of consumers aged 30-49 years use social channels for servicing needs. Only 18% of consumers aged 50+ interact with a company through social networks for a servicing.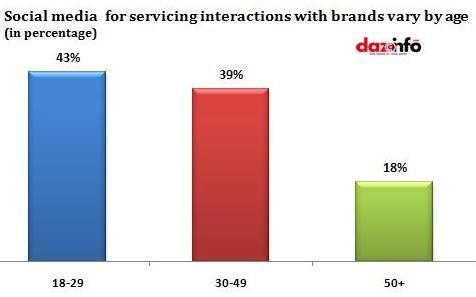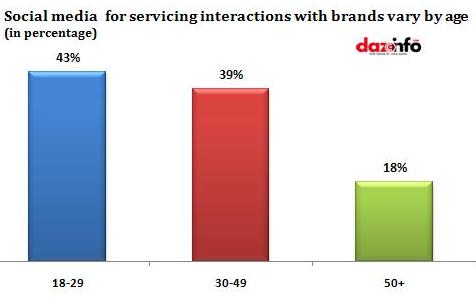 The wireless industry is performing well in social servicing, and the utility industry in social marketing.
Satisfaction Rates:
87% (satisfaction scores of 951 and higher on a 1,000-point scale) indicate that the online social interaction with the company has increased the purchase probability from the company.
On the other hand, 10% (500 out of 1000) of the consumers who are less satisfied consumers show less probability to purchase from that brand/company.
The study unveils that some industries are more effective in applying best practices into social media engagement strategies than others.When looking across industries the only industry which performs well in both marketing and servicing social media interactions is known to be  "auto industry". Other industries performing well are wireless in social servicing interactions and utility in social marketing interactions.