Movies have played an essential role to entertain our lives. Today, technology has revolutionized the way we watch a movies, with the help of their Smartphones and Tablets moviegoers are at the top of the latest movie trends in real time, from the purchase of tickets on-the-go to post their reviews about the movie on social networks before the closing credits roll.
A study from Nielsen NRG's 2012 American Moviegoing report, mobile-connected moviegoers are better movie enthusiasts than the average U.S. moviegoer.  The study was conducted via online, phone, and in-person surveys during August and September 2012 among more than 3,000 Americans aged 12-74, who were nationally representative of the U.S. population of moviegoers by age, gender, and race.  The study also uses the key word "Moviegoer"  which is defined as someone having attended at least one movie in a theater in the past 12 months.
"Viewing previews is the most frequently cited source of online movie information. Marketers still have the ability to substantially shape the messages that audiences are seeing and hearing about their movies," says Kathy Benjamin, SVP, Nielsen NRG. "As mobile connectivity continues to increase, they'll want to take advantage of the great avenue that social networks offer to connect directly with potential moviegoers".
In some demographics, its represented that mobile-connected moviegoers make use of their device to make decisions regarding movies. Also, moviegoers aged 35 to 44 watch movies are noticed to be more movie enthusiasts, 34% in 2012, up from 25% in 2011 and 30% of them decide to watch a movie on the comments about movies on social networks.  Social networking sites discussions have less impact on movie-going decisions on those aged between 18 to 24 than in the prior year, down 5%t to 41%. Interestingly this segment of population is more likely (51%) to text, tweet or post right after seeing a movie compared to 35% of the general movie-going population.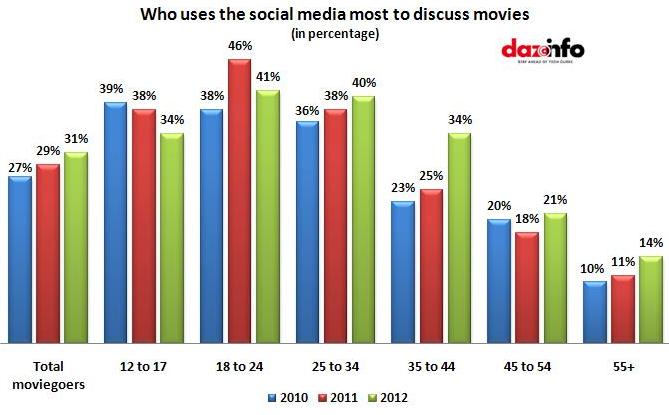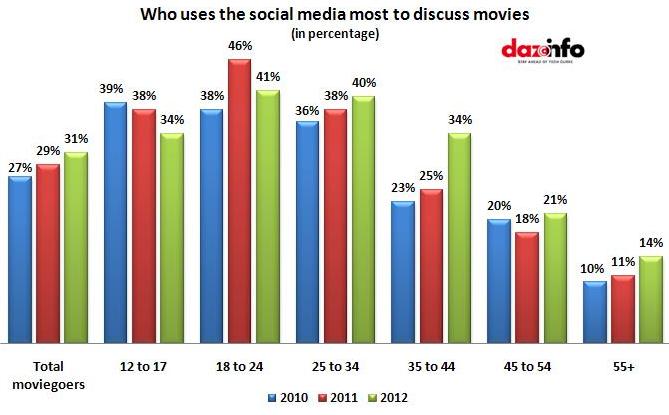 Smartphone (9%) and Tablet (20%) owners are the most moviegoers than average who watched more movies overall in the past year. In addition, there are 69% of moviegoers own a smartphone and 29% own a tablet and 23% owning both devices. Plus, these mobile-connected moviegoers are said to spend more, consume more and also active in the moviegoing process.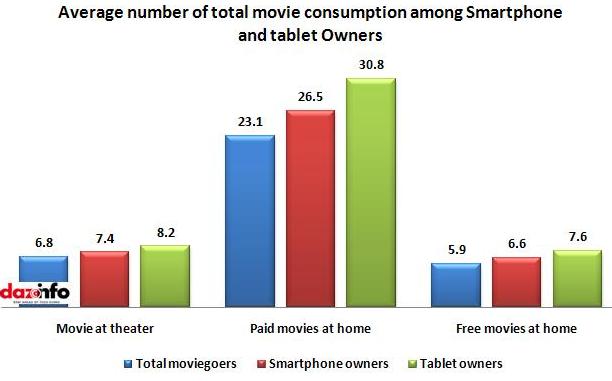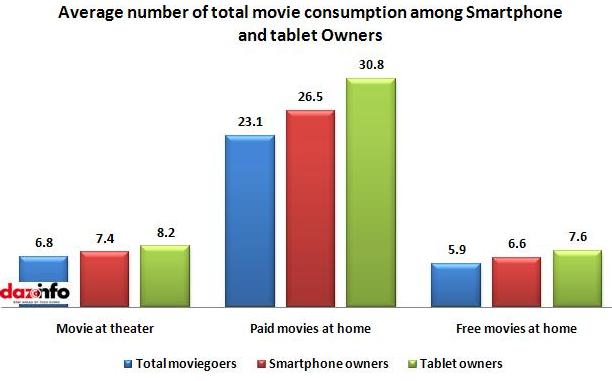 The report says that, moviegoers who own a Tablet are most active across all movie consumption (at theaters and at home) by watching average of about 47 movies over the past year compared to 10 more movies than moviegoers at large. Also, moviegoers who own Tablet spend 35% more on entertainment in a month period than the U.S. average moviegoers do. Astoundingly, they are 27% more likely to watch a movie more than once and 24% more likely to buy their tickets online than non-connected moviegoers, says the report.
Another report said that consumers used Smartphones or Tablets while watching the TV. In the U.S, 27% of Smartphone users wanted to give up TV over Smartphone. However, the percentage was somehow higher in emerging countries like India, where 49% of Smartphone owners wanted to give up TV over mobile devices.
Concluding, it's clear that Smartphones and Tablets today are frequently used by people as second screen in the U.S. Also, considerable Smartphone owners in India are likely to give up their TV over mobile devices, it indicates that they are more interested in their Smart-devices compare to TV.