Global adoption of mobile video is all time high; Thanks to constant improving network infrastructure and lowering data cost. But are video content publishers able to leverage upon such growth for significant gains? Probably not ! A recent study revealed that Apple iOS is controlling nearly 60% of mobile video viewers against 32% by Android. In fact, iOS users always tend to be more data hungry than any other mobile OS users; Apple mobile phone users like to access internet more than Android ones. As a company, Apple is still enjoying the highest market share of Mobile internet, followed by Samsung – predominantly an Android influenced.
CTR And eCPM Is Higher On iOS Devices
One of the biggest factors to increase advertising revenue is CTR (Click Through Rate). With 2.2%, Apple iPad recorded highest CTR than any other mobile OS. Interestingly, iPhone stands at second position with 1.5% CTR, beating Android Tablets and other Android devices recording 0.9% and 1.1% CTR respectively.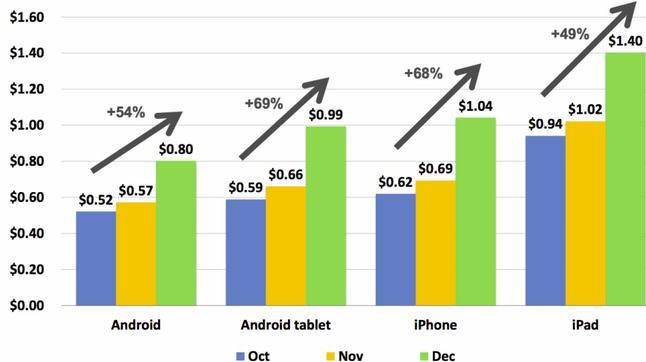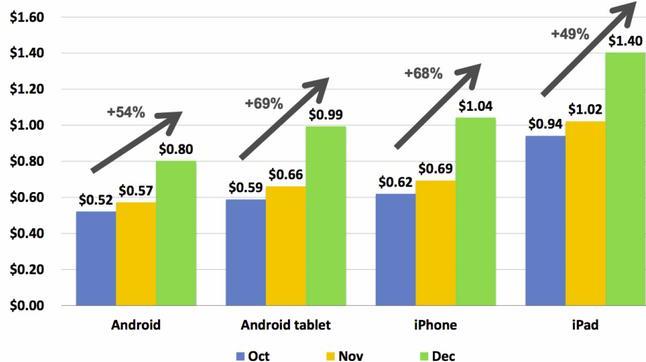 But the story doesn't end here; Overall iOS devices lead in eCPM too. With $1.64 average eCPM, iOS devices offers almost double the revenue than Android.
Social Networks Are Mobile Centric Now
The largest online community online is in the form of social network. With over 1.6 Billion internet users, social networks are enjoying the highest attention and time by internet users worldwide – Facebook controls more than 1 Billion users alone. However, the recent financial report of Facebook reveals that nearly half of its active users are available on mobile devices. Interestingly, the numbers are bound to grow in 2013. Due to the nature of micro-blogging Twitter is always known as the most preferred social network for mobile-oholic users.
Though the overall revenue for Facebook via Android users is higher, compare to the iOS users percentage, revenue generated by iOS devices are higher.
Apple iPad Market 2012: No Competition
In Tablet space, Apple iPad controls the biggest market share. In Q4 2012, iPad swept Tablet market with 43.70% market share beating its nearest competitor Samsung by almost three times.
Besides, its new formed aggressive market strategy to capture world's largest mobile markets – China and India – is also resulting in significant surge in sales. While sales of iPhone and iPad in China is rocketing, iPhone sales in India is up by 400% in last 3 months.
Overall, a perfect combination of mobile OS, eCPM, CTR and market share, as a strategy could make publishers to grab bigger pie of digital advertisement revenue in 2013. And, as the penetration and adoption of mobile device and video contents are bound to grow, publishers could expect sizable surge in their earnings – conditioned to have right strategy and focus for their content monetization.