Although, Android is now quite ahead of Apple in both segments–Smartphone and Tablet– in terms of shipments, but the platform still lags behind the Apple's mobile OS while there's a talk about the mobile web traffic. According to a new study from FreeWheel, a video monetization company, mobile videos market grew to 12% of overall online video watch during the last year, from 2% in 2011. Of course, it would be an impressive year-over-year growth; the key benefactor of this dramatic rise was Apple, whose mobile OS (iOS) accounted for 60% of total mobile videos view during the last quarter. In comparison, Android accounted for almost one-third (32%) of all mobile videos views during the same period.
However, both the platforms (iOS as well as Android) experienced significant gain in terms of overall mobile video viewing, accounted for 30% of growth of online videos viewing on non-PC/Mac devices occurring during Q3 -Q4 2012 alone. Breaking out to the facts, Android dominated over 69%  of smartphone and more than 50% of tablet markets in terms of sales in Q4 2012, despite it couldn't break Apple in terms of mobile video viewing during the quarter.
We have already discussed that Apple's mobile phone users are more willing to access internet on their devices compare to Android users. This is the reason why Apple's iPhone accounted for 30% of overall mobile videos view during the last quarter, followed by iPad with 24% and iPod with 6% of overall share. However, the video monetization company didn't unleash mobile videos views on Android smartphone vs tablet.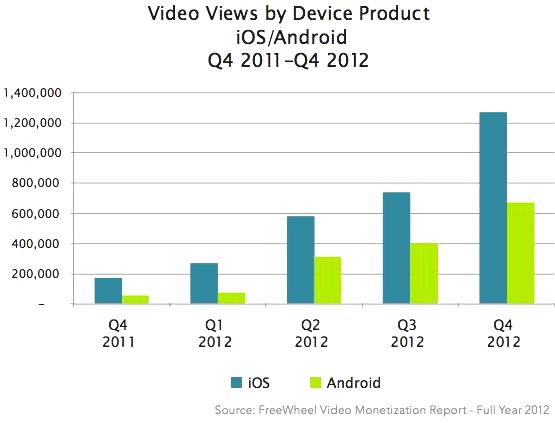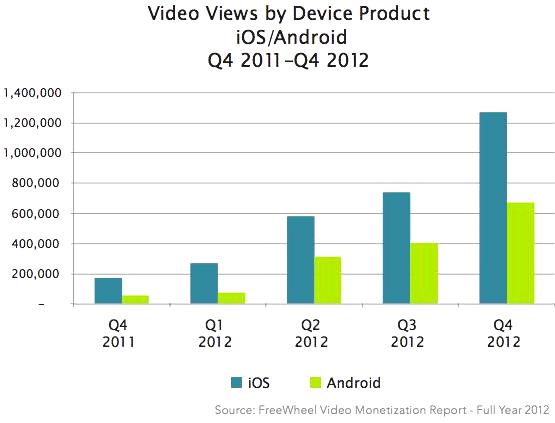 Apple's iOS continued to lead over Google's Android between Q3 2012 and Q4 2012–thanks to stronger sales of iPhone 5, which encouraged device owners to access videos on their device. In addition, we can't deny from the contribution of the new iPad Mini and fourth generation iPad to overall mobile traffic spikes during the last quarter.
More importantly, iPad Mini and iPad 4 were facing issues related to supply constraints during Q4 of the last year. These devices are still selling well across number of markets. In other words, we could expect more share growth in overall mobile videos view in the current quarter this year.
Furthermore, influence of Apple's device on mobile videos views creates more opportunities for developers and advertisers to generate hoard of cash. This is one of the reasons why they are more likely to publish their contents on iOS platform compare to other platforms like Android.
At present, Google really needs to clinch some shares (in terms of mobile videos viewing) away from Apple in order to entice more number of developers and advertisers towards Android platform. However, in tablet space, some Android hardware like Nexus line of devices and Kindle Fire HD have somehow succeeded to crack Apple's dominance in mobile video viewing over the past few months.