Google is an internet search company, and an advertising revenue from AdWords accounts  for almost all of the company's profit. Google is neither a phone company nor targeting to enterprise customers. The company is basically known for developing mind-boggling web-related products such as Chrome, Gmail, Google Docs or Google Map. While on the other side, Apple manufactures a sequence of high-profile products including iPods, iPads, iPhone, Mac lineups and more.
Apple has its own web browser called Safari, but it uses Google as the default search engine on its browser. According to a new report from the analyst firm Morgan Stanley,  Google pays Apple roughly $1 billion every year as per an agreement for making Google as default search engine on the Safari browser for iOS devices. An analyst at Macquarie Capital has estimated that Google was making $1.3 billion in paid search revenue from iOS devices as of March 2012.
There're numbers of questions that anonymously arise in the mind. First, why isn't Apple teaming up with Microsoft for 'Bing' as default search engine instead of Google? There might be an option that Apple would develop its own search engine for Safari Browser. But this time, the company is unwilling to develop any such search engine. In addition, users in the world's largest mobile handset market–China–doesn't care much about Google search engine on their smartphones.  However, inside the country, Google is still going through questionable relationship with the Chinese government.
More importantly, Google is also expected to pay around $300 million this year as traffic acquisition cost to Mozilla for making Google as the default search engine for Firefox. However, for the companies like Google and Apple, $1 billion isn't a big deal; for them, it's just like a drop of water in the ocean. But the question is why Google is so much interested in Apple's iOS devices? Actually, Google leverages on Apple's devices for collecting data what iOS users are searching for, and it uses these information for further improvisation of its search engine. Besides, it also sells these information to advertisers at premium price.  It's believed that Google made 80% of its mobile ad revenues from iOS devices during 2008-11. At present, Google search engine alone accounted for 92% of mobile search share as of June last year.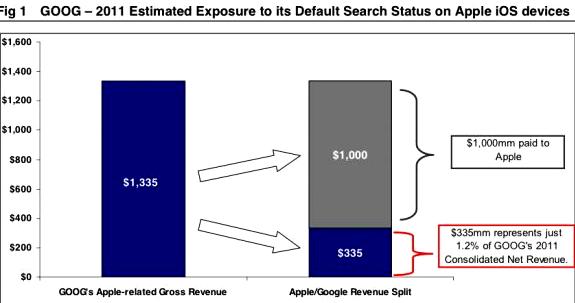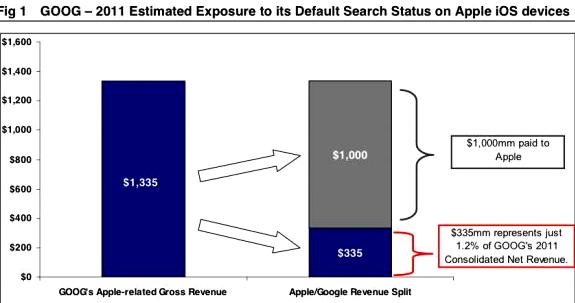 Recently, Google unleashed its Nexus 4 ad during the Grammy event, highlighting voice intelligent based "Google Now" searches. In other words, the company wants to suppress the influence of Apple's voice recognition based searching application (Siri). Watch the below video for better understanding:
httpv://youtu.be/SpaLZOjqMew
Anyway, Apple is currently aggressive not to use Google's any product in its devices. The company is mainly afraid with the data collection, which happens behind the device screen, and this might be one of the reasons why Apple dropped YouTube and Google Map from iOS 6 devices.
In terms of mobile web traffic generation, Apple's iPhone and iPad are currently quite ahead of any Android device. And this is the main reason why Google wants to continue its relationship with Apple on iOS platform. First time, Google and Apple signed up an agreement for the default search engine on the PC version of Safari Browser in 2003. But this time, Apple is endeavoring to make Siri into a full-fledged search engine.
In fact, it's really tough for any new entrant or even existing player to compete with Google in search engine space–either on larger screen device like PC or small screen mobile devices. Microsoft saddled its all efforts on Bing to dwindle Google's halo effect, but upshots came in the favor of Google. Apparently, Apple is knowing the fact that it couldn't defeat Google in search engine space. In addition, it's also generating $1 billion every year from Google. But the company (Apple) is trying to leverage on Siri as an alternative option.