Over the last couple of years, smartphones have seen staggering growth in emerging markets especially in India and China. In India, smartphones have now become one of the dominating trends. Till the end of last year, there were approximately 40 million smartphones in the country. A desire among Indian users to stay connected with social networking sites on their mobile device has boosted to smartphone adoption in the country.
According to a study conducted by Nielsen and Informate Mobile Intelligence–an amalgamation of Nielsen and Informate Mobile Intelligence–on 10,000 consumers between September and October 2012 across 46 major Indian cities to access overall usage and device preference, 93% of smartphone owners are using their device for single source of infotainment on-the-go.
Availability of low-priced smartphones with wide range of features and cheaper data plans being offered by carriers are encouraging consumers to make purchase of the devices. At present, Android is the most popular mobile OS among smartphone users in India; 62% of smartphone mobile OS market share was dominated by Android during Sept-October 2012. It's clear that smartphone users in India are likely to opt the platforms those are open and available across multiple brands with variant price tags. However, Symbian is still second prevalent smartphone OS in the country, despite of Nokia's decision to go with Windows Phone platform.  On the other side, mobile OS platforms such as Windows Phone, BlackBerry and iOS  are still struggling with single-digit market share.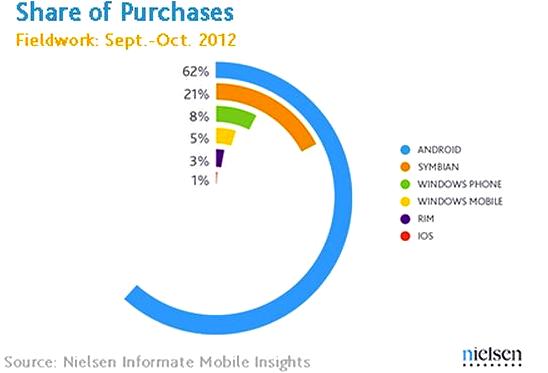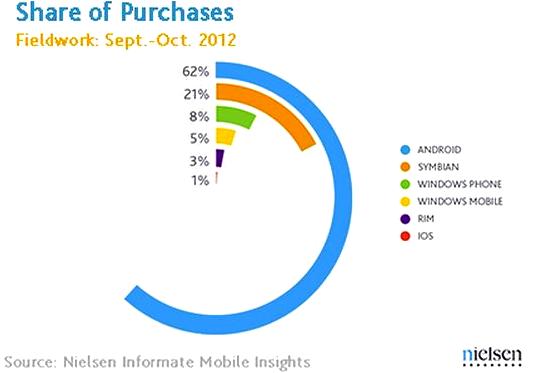 Like smartphone, adoption of tablet in India is also increasing with dizzying pace. We have already mentioned that the country recorded 673% Y/Y growth in Q2 2012—thanks to cheap Android-powered tablets, manufactured by local vendors like Micromax and others, which fueled the device shipments across the country. As per the Nielsen's latest study, consumers interest in tablets is likely to mount up. However, only 3% of respondents (those  participated in the study) owned tablets, but 11% were willing to get their hand on a tablet. It has also been noticed from the study that consumers are spending notably more time (about one hour more) on their tablet compare to their Android smartphones.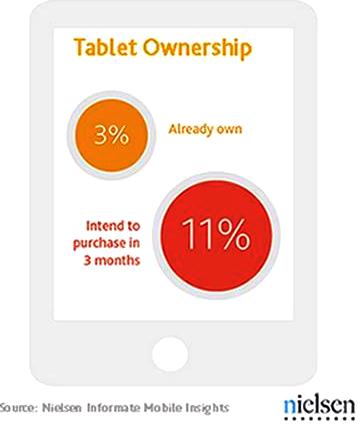 In India, smartphone user are willing to pay for game and chat music apps. Still, voice calls and texting account for 25% of smartphone usage.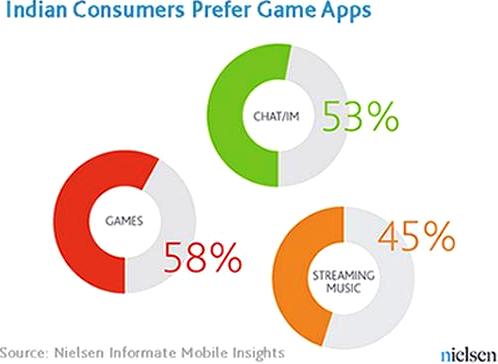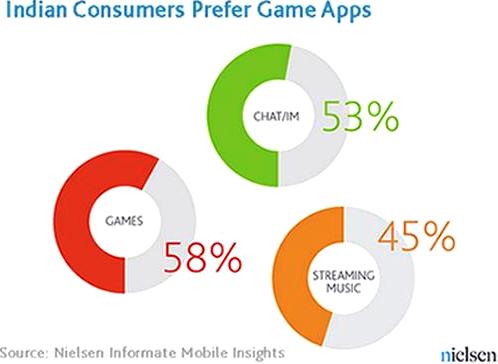 Games is the most popular category among paid apps; nearly three out of five users (58%) are paying for games. Furthermore, chat/instant messaging and streaming music are accounting for 53% and 45% of all popular paid app categories. Breaking out to some  facts, millions of smartphone users still don't have access to mobile internet connectivity. Interestingly, half the number of the smartphone users polled (during Sept-Oct 2012) had active data access on their mobile device. However, the proportion of such users was significantly higher than the proportion of feature phone users.
It's quite worthy to know that Indian youths are very active to adopt data connectivity on their smartphones. The study revealed that more than half of all data users are under 25 years.