India is the second largest mobile handset market in the world, despite the smartphone penetration in the country hasn't reached up-to-the-mark. Smartphone ownership in India shows discrepancy with the income level and age group. According to a recent research report from Octane Marketing Pvt. Ltd, 650 mobile handsets were launched in 2011, out of them, 195 models were of touch screen. At present, there're more than 80 crore (800 million) mobile phone subscribers in the country.
The research study is based on a total 2892 responses from 9 major Indian cities, including New Delhi, Ghaziabad, Hyderabad, Gurgaon, Pune, Chandigarh, Kanpur, Kolkata and Chennai.
Smartphone adoption is gaining momentum day-by-day in India. The  country surpassed 100 million internet users mark in 2011–thanks to social networking websites, which boosted internet usages.
There's a huge opportunity for both carriers and handset manufacturers to expand their business across the country. It has been noticed from the report that smartphone users are more willing to access internet on their device compare to feature phone's owners. 64% of respondents (participated in the research study) had smartphones, and 87% of them were accessing internet on their mobile handsets. In the contrary, 54% of consumers had feature phone. Interestingly, 40% of consumers (respondents) didn't use any 3G services till date.
In India, smartphone penetration is highest among people, whose annual income is INR 25 lakhs or more. It's clear from the report that smartphone adoption mounts up as income of people increases. In addition, age is also playing pivotal role in the country; smartphone penetration is maximal among age group 21-34 years.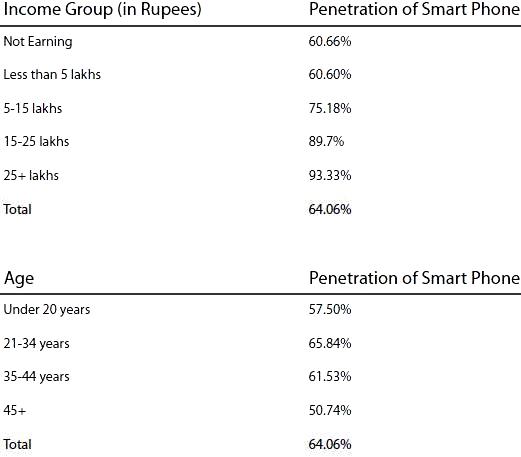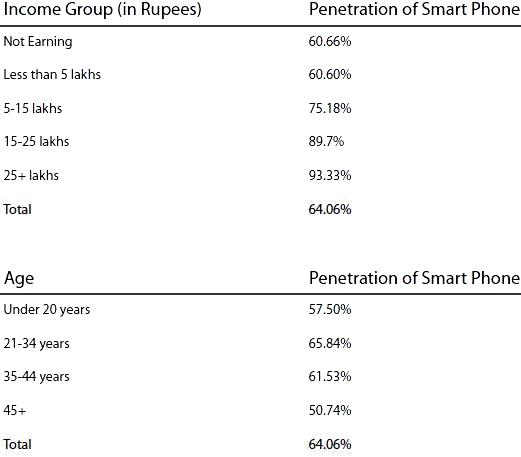 Smartphone penetration is quite low amongst non-working and low earning respondents. Breaking down to some facts, 37% of respondents were unaware with 3G services. Ironically, some smartphone users (respondents) even don't know about the 3G service.
However, cheaper smartphones have created scope for mobile service providers as well as smartphone users. People in India are likely to own cheaper smartphones. Over the last couple of years, mobile data consumption has tremendously surged in the country. Furthermore, an increasing competition in the market has forced operators to drop their tariffs.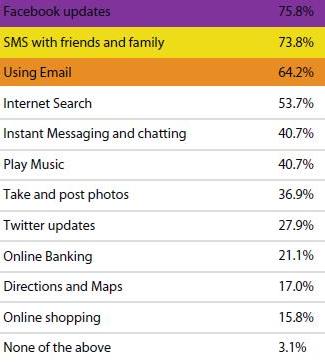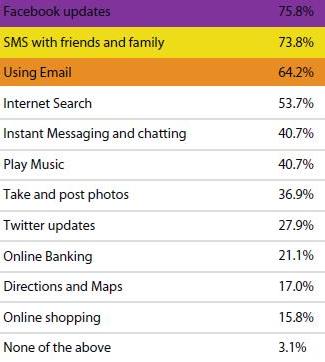 As per the research study (having 66% male and 34% female participants), gender doesn't play any role in device purchase decisions. However, it has been noticed that higher percentage of male are more comfortable in using their mobile phones for online banking and Google maps, for getting directions. In India, Facebook tops amongst all mobile activities with 75.8%, followed by SMS and Email with 73.8% and 64.2%. Smartphone owners in the country are more willing to access Facebook and Emails on their on-the-go devices. However, internet search is also among the top five activities on smartphones.
Apart from all these, smartphone owners have lots of grievances related to network coverage and internet speed; 33% and 30% users are concerned with network coverage and internet speed respectively. Besides, they are also afraid with unwanted SMS and calls (20%) and voice quality (17%) issues.
As adoption of smartphones increasing up, demand of apps has also surged to a distinct level. People in the country has encountered with number of problems related to app accessing. Almost half number of respondents admitted that they had faced problem while downloading the apps. 46% of respondents complaint that they couldn't download the apps due to slow internet speed.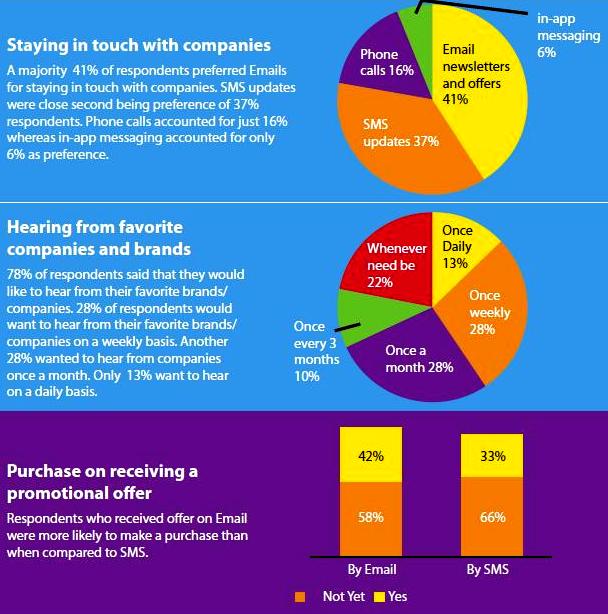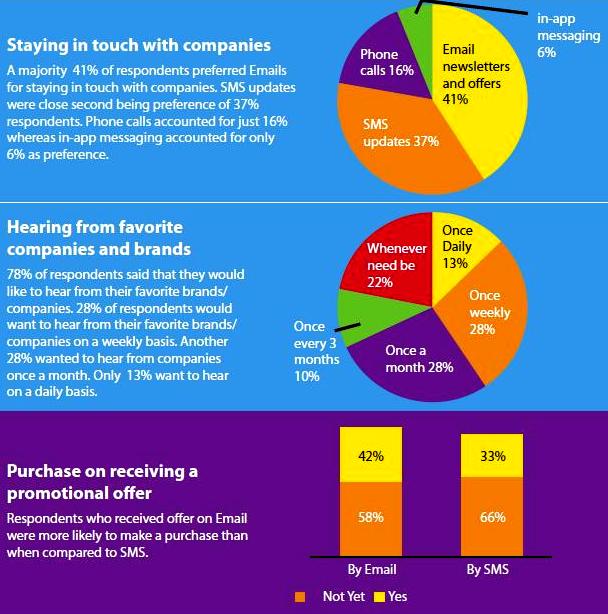 As trend of "Bring Your Own Device" (BYOD) is ramping up, smartphone users have started to use their device for both professional as well as personal purchases. 41% of mobile device owners are likely to stay connected with their respective companies via email and newsletters, while 37% wants to have SMS updates.
Overall, smartphone users in India are using their device for many purposes such as online banking, mapping and navigation and more. Social networking sites are also playing significant role in the adoption of smartphone in the country. The foremost important point, smartphone ownership in India depends on the income of people.