Facebook's Q4 2012 earnings report highlighted that, the company's revenue increased by 40% to $1.59 billion compared to the same quarter of 2011. It earned 17 cents per share and revenue. Net profit decreased by 79% to $64 million. In the fourth-quarter earnings report, Facebook announced that mobile ad revenue has grown to 23% of the company's total $1.33 billion in ad revenue, up 14% from Q3 2012. Yet mobile revenue is still less than quarter the size of the company's web revenues, which is about $305 million.
Facebook's mobile user base is increasing and is indeed becoming dominant. Mobile ad revenue is growing quickly too, especially considering that of March 2012, where it didn't even exist. Facebook's shares have risen 17% since the beginning of the year, that shows firm's bets on mobile advertising is paying off.
Facebook has two primary revenue sources — advertising and payments. Meanwhile, Facebook generated $1.33 billion in advertising revenue, which is said to be 84% of its total revenue. It made around $306 million from mobile ad revenue, as well as receiving $256 million from payments and other charges. Interestingly, Facebook's mobile revenue accounted for 23% of overall advertising revenue in Q4 while its mobile user base accounted for 50% of the total user base. Total ad revenue was also up 41% from the same quarter of previous year.
Facebook's costs and expenses increased by 67% to $849 million, excluding share-based compensation. Also, Research and development accounted for 19% of expenses in the quarter, up 11% from 2011.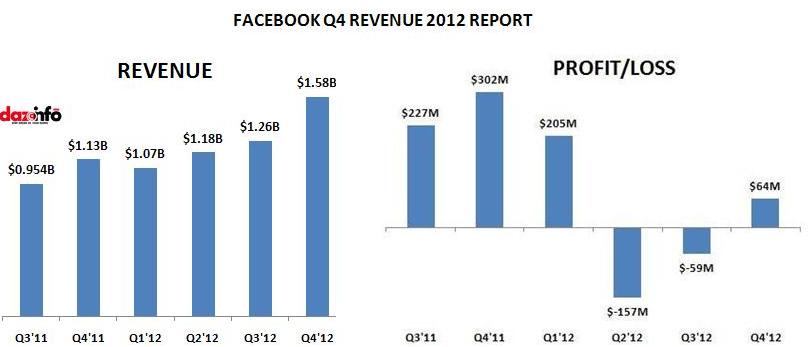 Facebook brags 1.06 billion MAUs (monthly active users) and 618 million DAUs (daily active users), which is a huge leap of 25% in both the segments, compared to same quarter of previous year (2011). Mobile MAUs increased to 680 million, up 57% year-over-year and it's the first time that Facebook's mobile DAUs exceeded web DAUs.
Facebook's user base is growing much faster outside of the U.S. than in its home market. Facebook noted in its Q4 earnings that, average revenues per user (ARPU) for the U.S. and Canada in the quarter were $4.08, compared to $1.71 in Europe, $0.69 in Asia and only $0.56 in the rest of the world. That can be marked as an uneven amount coming from the U.S. Advertising revenues per users highlighted that in the U.S. users are generating $639 in advertising revenues, with about $374 coming from Europe, $168 in Asia and $156 in the rest of the world. It can be said that U.S. and Canada accounted for about half of all of Facebook's revenues, at $2.5 billion out of $5 billion, even though it accounted for 18% of the total user base.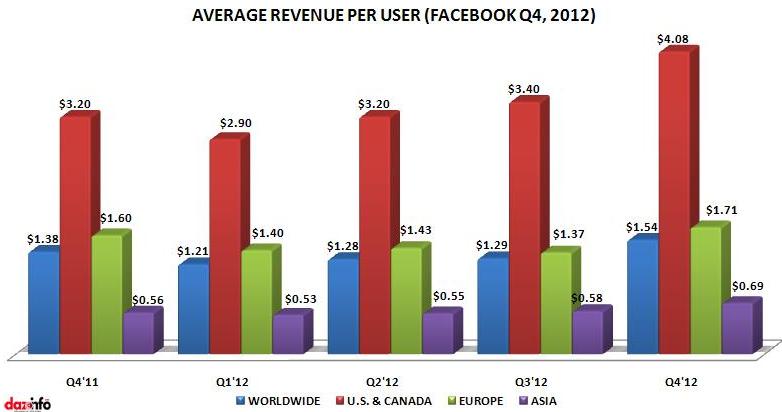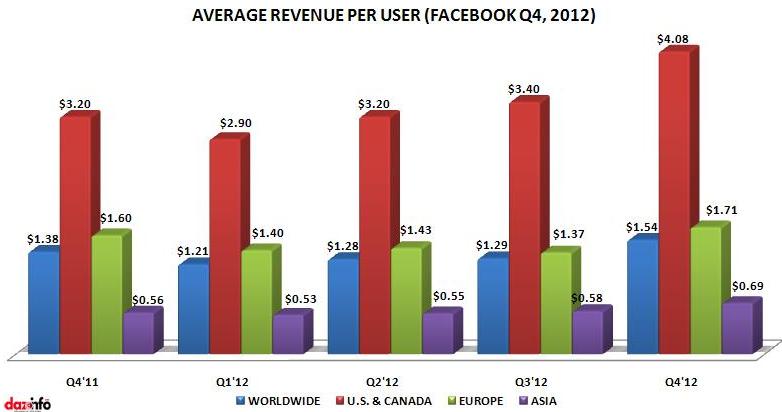 The U.S user base increased by only 4 million from the previous quarter, and only 7.8 percent on the same quarter of the previous year. From the report we get to know that, the user's growth rates are much higher outside the U.S. Europe had MAUs of 261 million – a rise of 8 million and a rise of 10.5% from the last year. Asia grew by 21 million users to 298 million over Q3 and the rest of the world grew by 40.6% on last year. Rest of the world was up 16 million on Q3 to 304 million, and 35% on last year.
Facebook's users have been changing their access point from the web to mobile, and that can be considered as a problem for its payment business. Facebook grew portly and puts 30% tax on game payments in its web canvas. But its said that few users play and pay for games on its HTML5 mobile gaming platform where it can collect the same tax. Instead, users are playing Facebook-connected iOS and Android games, where Apple and Google get to collect the tax instead.
What next? Facebook has been trying to get around this by introducing ways of making payments in its own apps more convenient and seamless to use. For example last year, the company had introduced carrier-billing into its in-app payments with the promise that this would boost the number of people buying credits in apps for virtual goods and other services but guess it's not making enough impact on the users. Facebook has since been much more forceful with putting sponsored stories into the mobile news feed and pushing app install ads. Ad platform Kenshoo had predicted earlier this month that it's now seeing 20% of all Facebook ad spend going to mobile.
Will investors get convinced to monetize on mobile ads? though it's not a considerable percent to convince investors, one cannot deny its fast-moving to which can bring a shift in consumer behaviour to mobile devices pushing away web.