At present, there're two-horse race in smartphone segment; Samsung and Apple are unilaterally dominating over other smartphone vendors. But the climax is expected to change by the end of this year. As per ABI Research's latest projection, there would be 1.4 billion and 268 million active smartphones and Tablets respectively by the end of this year. As usual, Android will lead the smartphone segment this year, while iOS will dominate tablet segment. Despite, Microsoft and BlackBerry will remain in the smartphones' battlefield. However, both of them would have meager market share, but they will succeed to draw developers' attention by the end of 2013.
It should be understood that ABI Research has focused on number of active devices, rather than total number of devices which are going to be shipped this year. However, Microsoft and BlackBerry wouldn't do any such wonder this year, but they have potential to provide stiff competition to their contenders.
The firm has predicted that there would be 45 million Windows Phone and 20 million BlackBerry 10 active smartphones by the end of this year. In addition, Windows Phone is expected to account for 3.2% of active smartphones' market share, while BlackBerry 10 would have 1.4% share. In comparison, there would be 798 million Android and 294 million iOS active smartphones by the end of this year. Android is estimated to account for 57% of overall active smartphones' market share, while iOS  would be having 21% market share.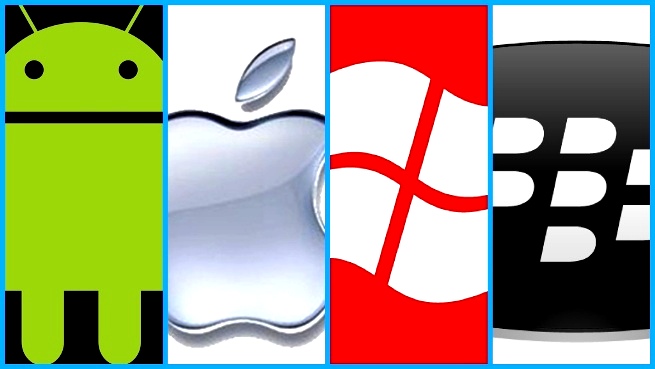 More importantly, Android and iOS have strong app ecosystem, which is sufficient to draw developers interest. It's true that the strong app ecosystem has always been one of the major driving forces to entice significant number of consumers towards the particular platform. On the other side, lackluster sales of Microsoft and BlackBerry's devices are one of the key concerns for them. Really, the sales of their devices are still disappointing to developers. In other words, poor initial sales of Windows Phone and BlackBerry devices are currently creating roadblocks for these companies. But with Windows Phone 8 and BlackBerry 10, Microsoft and BlackBerry respectively could turnaround their mobile businesses.
Nevertheless, based on the current shipment forecast, it's tough to predict whether BlackBerry or Windows Phone would reach the double digits market share over next couple of years.  As the market share of iPad dropped to 43.60% in Q4 2012, it's also tough to believe that 62 percent of active tablets will be powered Apple's iOS by the end of this year. Apple might face challenge to sustain its position in the market as a leading brand. In addition, smartphones in usages are expected to show off 44% Y/Y growth this year, while tablet would record 125% Y/Y growth.