Yesterday, Amazon Q4 2012 earnings report came out from the tunnel. Really, the company's financial earning report wasn't as much impressive as it was expected earlier. Net income of the company dropped 45% to $97 million (or $0.21 per dilute share) in Q4 2012, compared to Q4 2011's $177 million (or $0.38 per dilute share) net income. However, net sales surged 22% to $21.27 billion in the last quarter, from $17.43 billion in Q4 2011.
Amazon Q4 2012 Earnings
Amazon has reported an operating income of $405 million in Q4 2012, up 56% compared with $260 million in the same quarter of the last year. Besides, the company currently has $8 billion reserve cash. For the entire 2012, the company's revenue mounted up 27% to $61.09 billion, compared with $862 million revenues in 2011.
Undoubtedly, everyone had high expectation from the company especially due to strong sales of Kindle Fire HD tablet during the last holiday season. More importantly, the company's physical book sales experienced lowest growth over the past 17 years, representing just 5% Y/Y growth.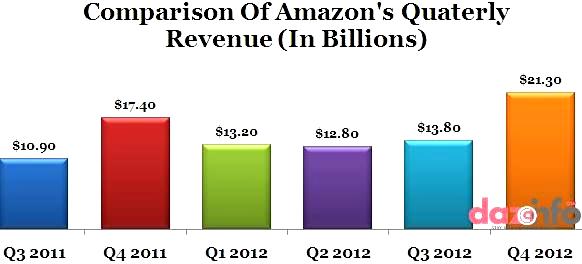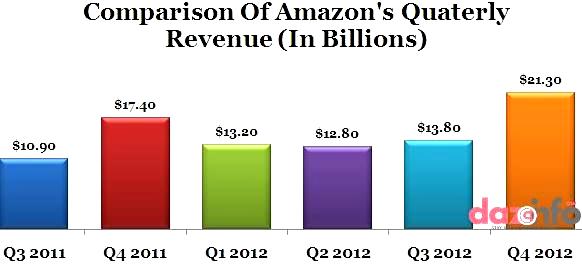 Amazon succeeded to generate benchmark revenue in Q4 2012 due to outstanding performance of its e-commerce and cloud fronts. Amazon's CEO–Jeff Bezos–has admitted that Kindle Fire HD and Paperwhite are non-profitable products for the company. In other words, Kindle Fire tablets are worthless for the company in terms of profit generation. Then the question here is why Amazon is so much worried about the sales of Kindle Fire tablets ? It's true that selling of hardware isn't the primary business of the retail giant. Despite, it's selling these products to bring more number of people to its physical retail store. This is the reason why the strong sales of the Kindle Fire HD in the holiday season couldn't rescue the company's net income decline. Last year, the company improvised its cloud drive and also, expended contents for its streaming service.
The company hasn't told anything about the actual sales of Android-based tablets so far. But Kindle Fire tablets' market share is gradually ramping up month-over-month. In the last month, Kindle Fire tablets accounted for 33% of all Android tablet sales in the U.S.. In addition, the company has also reported increases in amount of digital content available; Prime Instant Video now has 36,000 titles for subscribers and 23 million movies, TV shows, books, apps and more.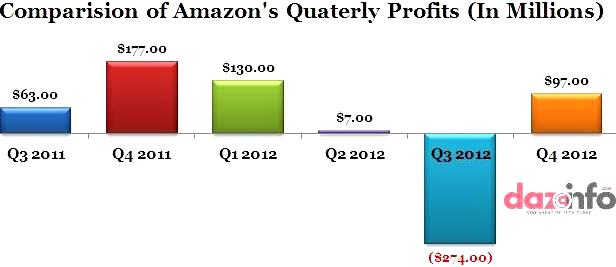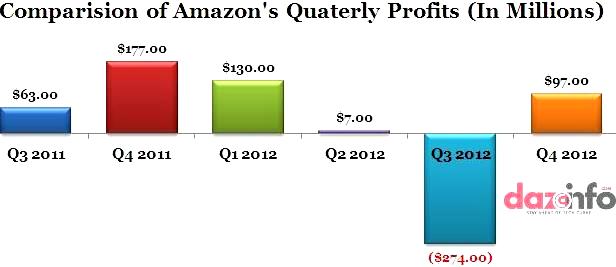 Amazon said in a statement that Kindle Fire HD, Kindle Fire, Kindle and Kindle Paperwhite were among the top four demanded-commodities on Amazon Worldwide best seller charts in Q4 2012. During the last holiday season, Kindle Fire was one of the best–selling Amazon's products.
Amazon managed to generate a dignified revenue due to increasing earnings from ebooks. On the contrary, sales of physical book dropped to 17 years lowest figure. Interestingly, according to the company, 23 Kindle Direct Publishing author sold at least 250,000 digital copies in 2012. Furthermore, Amazon has also predicted its net sales for the first quarter of 2013; which are expected to be between $15 billion and $16.6 billion.