The recent growth of Google+ and Twitter might be a trigger shocking fact for Facebook; especially when YouTube is also among the top networks and with combination of Google+, it could stand by the side of Facebook at flat space. But before you move further to read, "people who are ready with all their logical ammunition to kill the post instantly, we are talking about 'Active Users', not the overall users". Google+ has narrowed the gap with Facebook in social media space by leapfrogging many other networks only to become the second best social network with highest number of 'active' users. According to the recent report from GlobalwebIndex — Twitter, Google+ and Facebook remained the fastest growing social networks, in terms of active users, in Q4 2012. Between Q2 2012 and Q4 2012, Twitter registered the highest positive change of 40% in active users against Facebook and Google+ with 31% and 28% respectively.
However, while comparing the number of total active users against global internet users, Google+ secured the second best position with 25% market share against Facebook – impressed 51% of global internet users on monthly basis. Interestingly, YouTube and Twitter remained at the third and fourth position with 21% market share in active monthly internet users.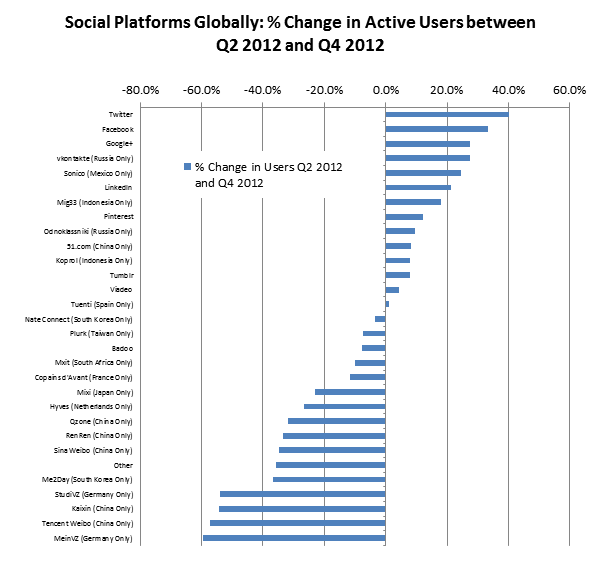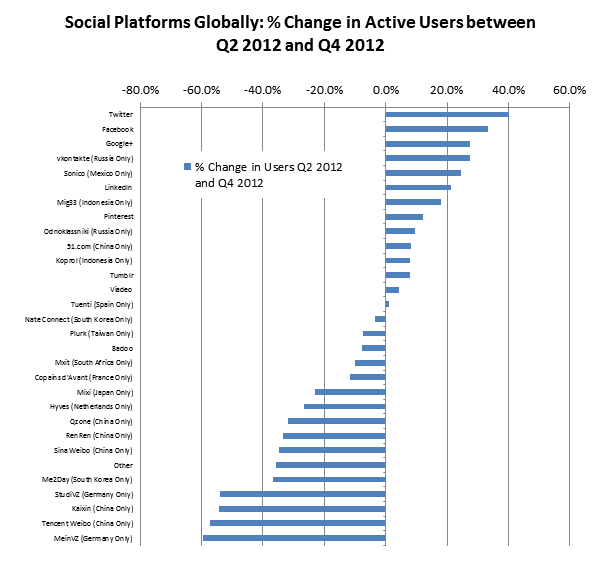 Google+ Is Catching Up
Though there is no doubt that the growth of Google+ has been astounding till now with fastest growth ratio, Google+ is still being considered as 'Ghost Town' by online social media users. Yes, one must admit that compare to Facebook, Google+ has been failed to recreate the magic till now but an intelligent integration with other popular Google services could make it the most lovable social media network in 2013.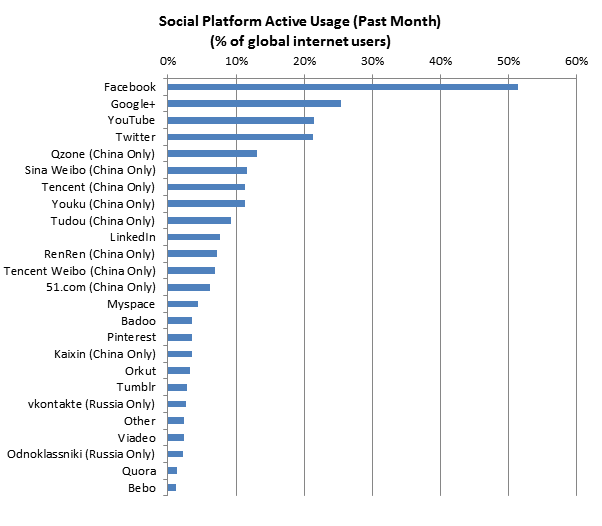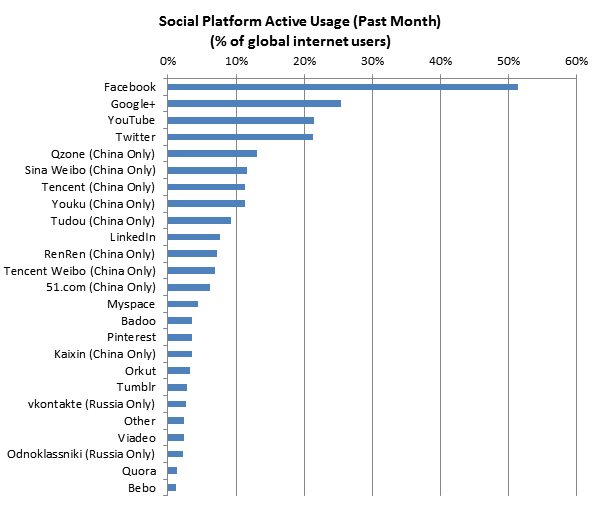 Facebook Must Watch Out
One interesting fact which came out from the report is Google's 'accumulative' position. Though, Google+ is only holding 25% of global active internet users against Facebook 51%, YouTube is the 3rd largest online service influencing 21% of global active internet users. It shouldn't be tough for Google to look out for a responsive structure that could help each of both the networks in which they leverage upon each other. If ever Google makes that possible, the overall market share of active internet users would easily reach to nearly 46% – much closer to Facebook's 51% market share.
Local Social Players Shrink
The biggest fall came to local regional players who tried to dominate in their on region or country by leveraging over domestic aspects like language, reachability etc. The emergence of Facebook, Google and Twitter in countries like China – one of the most socially active countries with highest level of local influence – is also responding to global growth now. In last quarters, China's local social networks like MeinVz and Hyves failed to replicate its own earlier growth; All thanks for proxy access and VPNs that allow access to Facebook and Google services.