After Nokia, Apple and Microsoft its time for Samsung Q4 2012 earnings report which was released last week. However, the company already unleashed some highlights of its Q4 2012 earnings at the beginning of this month. Samsung has reported a whopping $8.27 billion operating profit on $52.4 billion revenue for the quarter. Interestingly, the company showed off 18.52% Y/Y growth in revenue of Q4 2012.
Samsung Q4 2012 Earnings
Operating profit surged to 89.3% Y/Y 
One of the most eye-catching points in Samsung Q4 2012 earnings was its operating profit, which depicted an impressive 89.3% Y/Y growth in the quarter. Besides, the company also reported a net profit of 23.8 trillion won ($22.25 billion) on revenue of 201 trillion won ($187.9 billion) for the entire fiscal year 2012.
Apparently, mobile has always been in Samsung's main strategy; the company's mobile division grew 4% from the prior quarter.  Thanks to the flagship models, Galaxy SIII and Galaxy Note II, those fueled the company's smartphone shipments in the last quarter. Over 60% of its total revenue ($52.6 billion) for  Q4 2012 came from sales of Galaxy SIII and Galaxy Note 2.
Furthermore, Samsung's IT and Mobile Communications unit accounted for 5.44 trillion won ($5.09 billion) to the company's entire revenue for Q4 2012, doubled from 2.56 trillion won ($2.39 billion) in the same quarter of the prior year. In Q4 2012, Samsung Consumer Electronics and Semiconductor divisions accounted for 740 billion won ($691.6 million) and 1.42 trillion won ($1.33 billion) respectively.
Also, Samsung's chips and TV businesses played significant role in its revenue bump in Q4 2012. This time, the company is likely to saddle its efforts on mid-and-low phones in order to sustain its stronghold in mobile handset market. But the main hurdle here is that decline in profit margin; the margin on cheaper phones are quite lower compare to those on more expensive devices.
Samsung Shipped Nearly Same Number of Smartphones As Apple and Nokia Sold Combined
According to a latest report from Strategy Analytics, global smartphone shipments showed off 43% Y/Y growth in 2012; a record 700 million smartphones sold in 2012. In Q4 2012, Samsung sold 63 million smartphones, while Apple and Nokia collectively sold 63.7 million units of smartphones.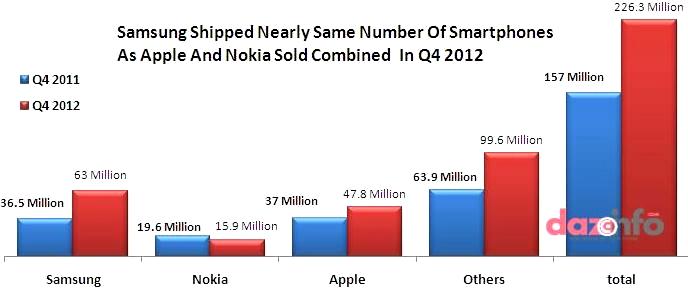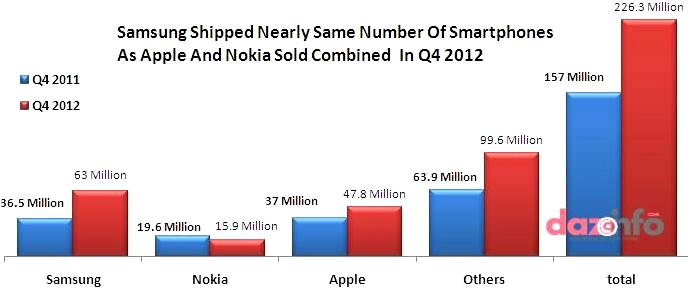 In terms of smartphone shipments, Samsung succeeded to grab 28% of overall smartphone market share in Q4 2012, up from 23.20% a year ago. Anyway, Samsung's smartphone share (in terms of shipments) was even greater than the market share of Apple and Nokia combined for the quarter.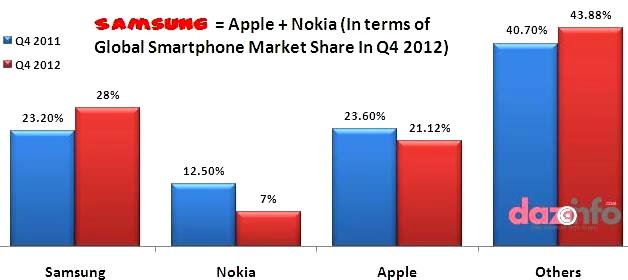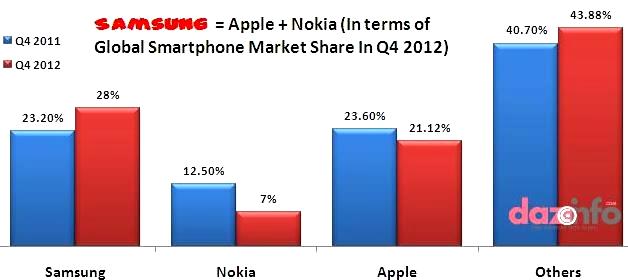 It's pretty much clear that sales of smartphone surged by 44.14%  in Q4 2012, compared to same quarter of the last year. The South Korean Company's Galaxy Note II and Galaxy SIII are still selling well. And more importantly, the company has also planned to ship 390 million smartphones this year. In other words, Samsung is going to be a big challenge for all smartphone vendors this year.