Microsoft is still struggling to draw the attention of a significant number of users towards the Windows Phone platform. With the launch of Windows Phone 8, the company has somehow succeeded to prove itself as one of the potent smartphone players. In Q4 2012, Nokia shipped 4.4 million Windows Phone running smartphones, and of course, it would be a great hearsay for Windows enthusiasts. However, last year, Android managed to hold first position in terms of smartphone shipments.
According to a recent report from Kantar Worldpanel Comtech, a firm that tracks mobile handsets sales in key markets, Apple continued shining in the U.S. and other markets like Japan last year. On the other side, Windows Phone experienced a good sign for its growth in European markets. The firm has reported that the U.K. is having highest smartphone penetration; the country currently leads with 61% of penetration, followed by Australia and France with 54% and 46% respectively.
Windows Phone Market Share
Kantar tracked sales of mobile handsets in key markets over 12 weeks period ending December 23, 2012. During the period, Android was leading; accounting for over half of all smartphones sales. Interestingly, in some markets including Spain and China, the OS witnessed nearly 87% and 72% of all smartphones sales respectively during this period.
Meanwhile, Samsung continued its supremacy in terms of smartphone sales. The South Korean company accounted for 43% of handsets sales in the top five markets in Europe (UK, Italy, Germany, France and Spain). However, the sales of the company's smartphones accounted for just 27%, 32% and 23% of overall handsets sales in the U.S., Australia and Urban China respectively.
Besides, Apple had also seen robust sales in certain markets, including the US.. During an average of 12 weeks period (ending December 23 last year), iOS took 51.2% of all smartphone sales in the U.S., up 6.3% compared to the previous year. More importantly, iPhone 5 played significant role in fueling Apple's overall smartphone shipments in the country. In Japan, Apple succeeded to widen the gap between the sales of iPhones and Android devices; where iOS accounted for 66% of all sales, while Android's reported 32% of sales. It has been noticed that Android is now approaching to the saturation level. This time, people are really seeking for next bigger thing, and definitely Microsoft could leverage on it.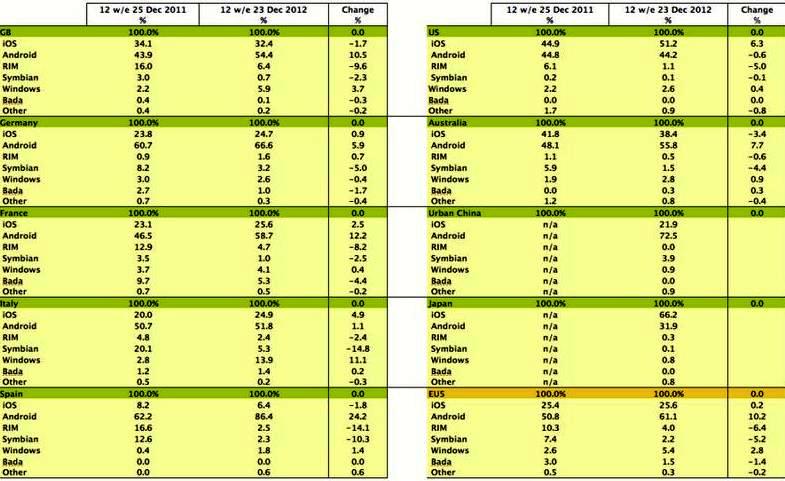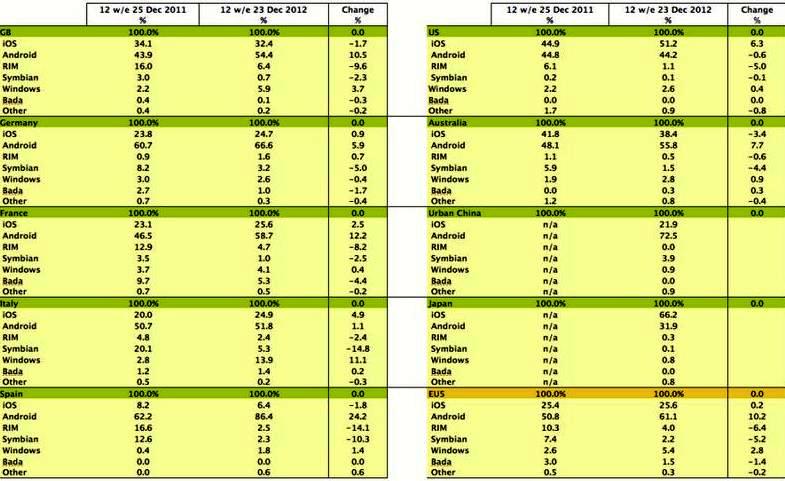 With Windows Phone, Nokia has succeeded to retain its brand value in Europe. In Europe, anyone can easily perceive a natural transition of Symbian users to Lumia devices, which are being sold at quite higher price tags. However, Windows Phone accounted for just 5.4% of smartphones sales in the region. In some other markets like the U.S. and China, where Windows Phone had seen lackluster sales; the OS accounted for 2.6% of sales in the U.S. and less than 1% of sales in China.
In the U.K, with Windows Phone and Symbian together, Nokia accounted for 6.2% of sales during 12 weeks average period ending December 23, while BlackBerry accounted for 6.4% of sales. Meanwhile, Windows Phone succeeded to grab 5.9% and 13.9% market share in terms of sales in the U.K. and Italy respectively, up from just 2.2% and 2.8% a year ago.