As number of smartphone and tablet is ramping up, we could easily predict that the mobile advertising revenue in 2013 is going to create a new history. Interestingly, the demand of smartphones and tablets has continuously been increasing since the last couple of years even in the emerging markets. Before going further, we must know the mobile ownership trend in emerging markets. According to a Nielsen's recent report, smartphone growth in BRIC regions (Brazil, Russia, India and China) is really incredible. However, majority of users in these country (except China) currently own feature phones.
Mobile Ownership Trend In BRIC Markets
More importantly, smartphone has surpassed the penetration of feature phones in China. On the other side, in India, Russia and Brazil, users are still more relying on their feature phones. In India, the world's second largest mobile market in terms of subscriber base, feature phones account for 80% of the mobile market, while in Russia, feature phones account for 51% of overall mobile market. However, in Brazil, there's no any such split between feature phone and smartphone; 36% of mobile users are having smartphones, while 44% owns feature phone. Besides, there's also a demand of third category phones–multimedia phones–in these emerging countries.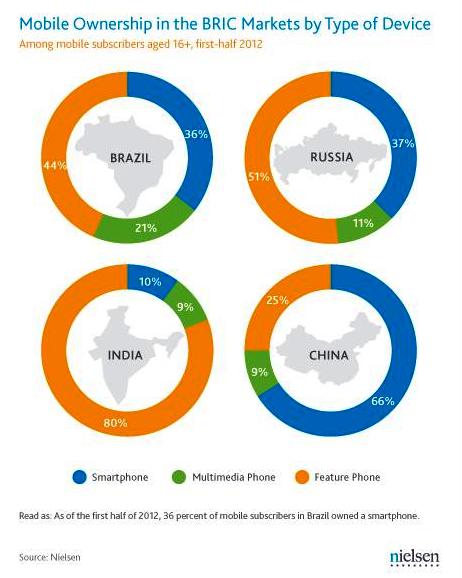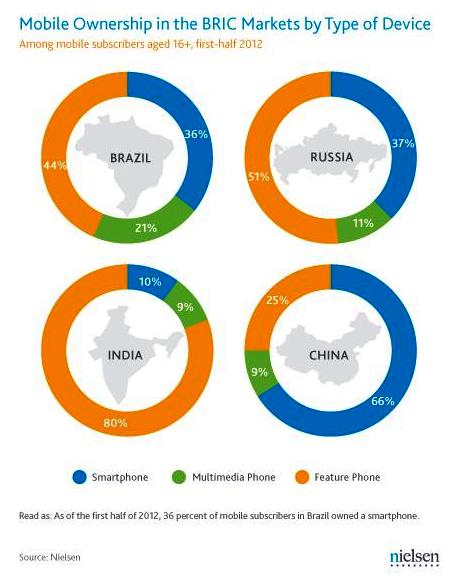 Actually, these multimedia phones feature touch screen and/or a QWERTY keypad, but don't have any installed smartphone OS. It's pretty much clear that China is on the track to leapfrog the US in terms of smartphone shipments by the end of this year.  Interestingly, China has now become one of the best markets for Apple, and it's going to be the largest market for the world's leading technology company (Apple) soon.
Mobile Advertising Revenue In 2013
It's true that the growing popularity of free mobile contents (through mobile  apps) has created a big impact on mobile advertising. At the time, a significant number of developers and publishers are currently working hard to monetize their contents on mobile. As per Gartner's latest report, worldwide mobile advertising revenue in 2013 will crossover $11.4 billion figure, up 18.75% on 2012's $9.6 billion.
In terms of ad growth,  the firm has predicted that 'Display ads' will grow faster than 'Search ads' this year. Asia-Pacific region is expected to keep its dominant position intact in mobile advertising revenue in 2013, and also in the next three years. The global mobile advertising revenue would surge 400% to $24.5 billion by 2016, in comparison to 2013.


The global mobile advertising market is growing with galloping pace due to higher uptake of smartphones and tablets.  However, the traditional advertising models (including newspaper and magazine) is continuously been declining due to rise of smart mobile gadgets. Users' engagement on mobile devices is quite high compare to other advertising media; people frequently click display ads on their smartphones or tablets.