At this time, advertisers could see a massive opportunity on mobile platform. As the number of mobile handsets are ramping up, in similar fashion, marketers are also trying to monetize their business on the platform (mobile). There are still a number of challenges for mobile advertisers such as complexities on the platform, dynamic roles played by mobile ad networks, demand side platforms, mobile ad exchanges and more.
In addition, one of the major challenges for advertising on the mobile platform is its ecosystem. The mobile advertising ecosystem is still not as strictly defined as the desktop ecosystem. On mobile platform, advertising rules change with different combination of device, operating system and even with wireless operators. The mobile advertising also lacks the technical consensus, which enables ad targeting, measurement and delivery, compare to desktop advertising. More importantly, in the last year, Google dominated the global paid search category, accounting for 62% of global mobile ad spend.
Last year, the U.S. showed off a mobile ad revenue of $1.2 billion, which was just a fraction of the country's entire ad spending. However, mobile advertisements are on the track to hit $3.2 billion figure this  year. According to a recent report, the UK topped in terms of mobile ad spending (worldwide per mobile internet users) last year. In the UK, advertisers spent $36.35 per mobile internet users, followed by Norway with $35.71 per person and the US with an average of $31.50 per mobile internet user.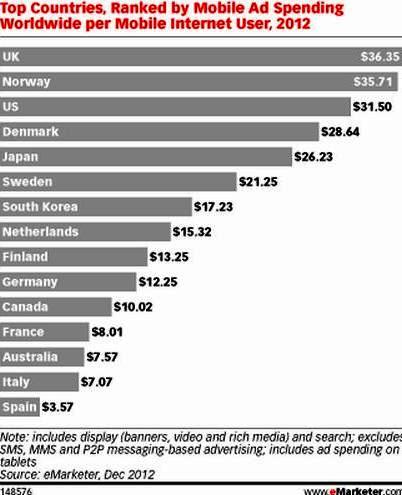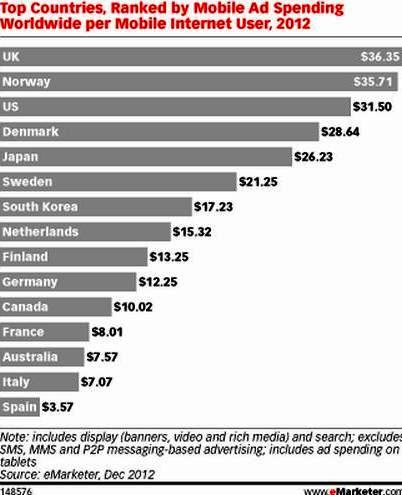 In terms of total media ad spending per person, Norway took the top spot, followed by Australia, the U.S. and Sweden. Last year, Advertisers spent $614.99 per person on advertising in Norway, followed by the U.K, where marketers spent $380.17 per person, which was lower than the $524.75 spent per person in the U.S.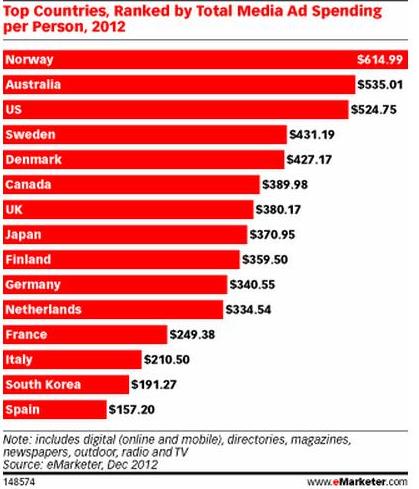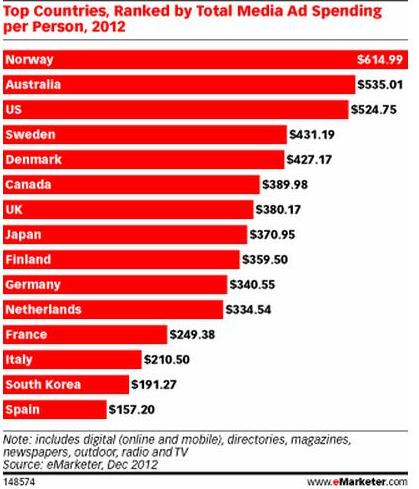 Although mobile advertising ecosystem is stuck with bundle of challenges, but it's still one of the rose-tinted-glass platforms for them. Mobile advertisers could perceive their future on the platform, and this is the reason why they are currently trying to entice more number of mobile internet users.