Yes, this could shock many but it's the moment of truth which is quite clear by the latest move of Google. Apparently, Google doesn't want to serve you without an exchange which could be in the form of your email ID. A latest job posting by Google depicts a scenario where Google may put its Search service behind the log-in wall; unless an internet user is not signed-in, he won't be able to do any search functionality on Google.
The Job posting demands a "Product Marketing Manager, Search" whose one of the key roles would be to develop plans, creative, campaigns, and programs to increase the number of users' signed-in within Search growth team. The posting was first spotted by Brian Ussery and he quickly grabbed a screen shot before it goes viral and may force Google to act against the openness.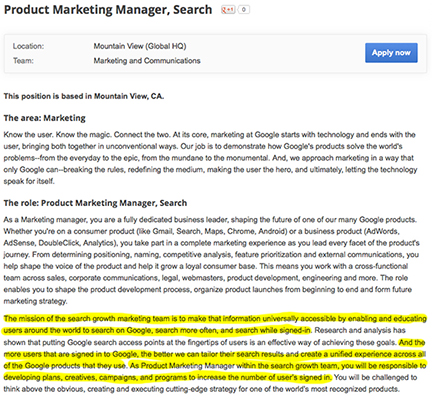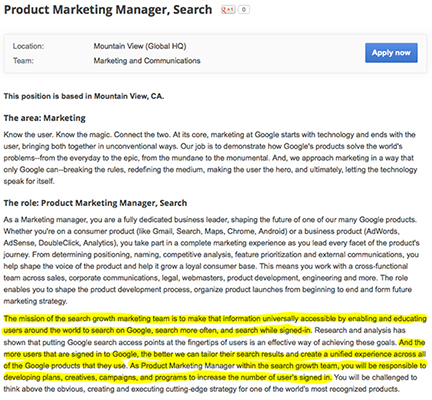 The highlighted yellow lines read as "The mission of the search growth marketing team is to make that information universally accessible by enabling and educating users around the world to search on Google, search more often, and search while signed-in. Research and analysis has shown that putting Google search access points at the fingertips of users is an effective way of achieving these goals. And the more users that are signed in to Google, the better we can tailor their search results and create a unified experience across all of the Google products that they use"
Signed-In Google Search: To Strengthen Google+
Industry Analysts are considering the move as a part of ongoing Google's effort to strengthen its presence and stake in Social Media space via Google+. Currently, Google is serving more than 4 Billion search queries each day. As the nature of Signed-In search, Google would be able to have far better understanding over the demographic of users' interest and demands and the similar information would be served via Google+ once a user logs-in intelligently.
This will help Google not only to make its Social Network much more relevant and precise to users' needs but could also help to accelerate its revenue growth by serving the ads of similar products/services satisfying the demand of his search requests. Undoubtedly, this would result in higher CTR (Click Through Rate) to help Google generate more revenue from its AdWords customers.
Signed-In Google Search: A Cash Cow
Besides above, with the access over 20 trillion web pages each day, a signed-In functionality will surely help Google to understand internet users' behavior and their current demand which could be easily monetized through various self-service products or partners' products/services by Google.
Interestingly, if you are one of the Analysts maintaining Google Analytic accounts for your site, you must have noticed that the constant increment in "not provided" section. The number is surging as Google is blocking more and more resources from Analytic to gain an edge over competitors by confining such valuable data within itself.
However, many of analysts feel that Google have all rights to demand anything against its service and its only upto internet users how they react to such slightly complex process. Last month, Google also ended up the free offering of its Apps to all internet users and as Facebook is reportedly gearing up to challenge Google in Search Space by "Facebook Search" and "Facebook Ad Network", Google is exploring options to keep its revenue growth unaffected.