It is very clear that Facebook wants to pull as many mobile users as possible to further more increase its user base. There is another study to prove this strategy. The  analysis is based on 2 million ad clicks and conversation. The conducted during November and December 2012, from clients across a various verticals, including games, retail, financial services, travel, and software.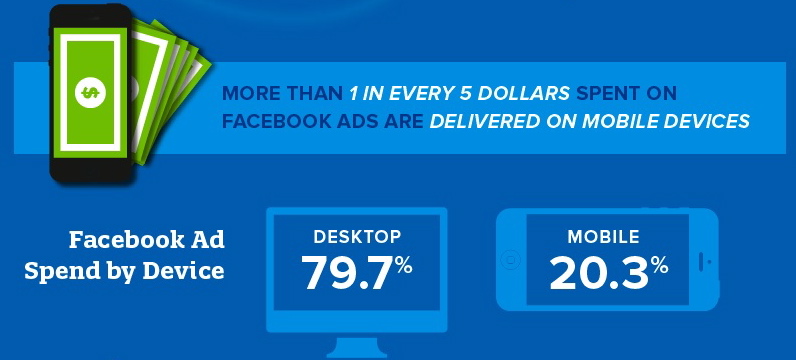 Few insights of the study:
Advertisers are spending over 20% of their Facebook budgets on mobile ads. Well, 14% of Facebook ad revenue came from mobile in October 2012, which is over 6% of boom.
Mobile ads are 70% more expensive than desktop ads. The reason is due to a relatively smaller amount of available paid inventory on mobile than on the desktop.
The study also says that the ad spends vary dramatically between Android and iOS devices. Comparing advertiser spend on iOS vs. Android Tablets, iPad contributes 97% share of Facebook advertisers ad spend for overall Tablets and Android contributes for 71% share of Facebook advertisers ad spend for overall Smartphones. The reason is said to be:
"The most significant reason is the changing landscape of install bases for mobile devices," said Herrold.  "Today, the android OS dominates market share and shipments of smartphones whereas iPad/iOS still retains the lead for install base of tablet devices."
Other advertisers especially those in the app, games, and telecom verticals, focused on specific platforms based on how compatible their apps or products and services were on that particular device.
However, Facebook started showing up ads on mobile at the beginning of March 2012 but it has proved its ability to profit in this space. surely investors may invest more on this in near future. As its user base shifts away from accessing the service from desktop to mobile, its behind the shadow of doubts that Facebook mobile user base could escalate over desktop.
However, from another analysis it shows there are 192 million monthly active users on Facebook for Android, and just 147 million on iPhone. Its more probable that Android can lead in Facebook mobile ad spending too over shadowing iPhone.
The scenario of shifting Facebook user base to mobile from Desktop is not a bad idea until the advertisements on mobile do not flood out the stories about friends'.