Demand of Smartphone has continuously been surging up since last couple of years, resulting in frequent shift of Global Smartphone OS market share. Thanks to low-priced Android Smartphones which have been fueling the penetration of the device around the world. We have endeavored to find out the Smartphone penetration country-wise. It's really interesting to see an increasing adoption of Smartphones in some emerging countries such as  China, Brazil and India. Despite of Smartphone market growth, Android is the only Smartphone OS witnessing explosive adoption at the cost of iOS (iPhone) in these emerging markets.
Worldwide Smartphone Penetration 2012
Surprisingly, Smartphone penetration in UAE was quite high in 2012, compared to some other matured markets including the U.S, U.K. and Australia. The UAE had 61% smartphone penetration in last year, followed by Australia, the U.K. and U.S. with 52%, 51% and 44% respectively. However, some emerging countries like India and China marked 4% and 33% Smartphone penetration in 2012.
It's pretty much clear that India is the world's second largest market in terms of mobile subscriber base, but the Smartphone penetration in India is still pathetic. Likewise, China has the highest mobile subscriber base in the world, but it's far more behind in terms of Smartphone penetration compare to other matured markets.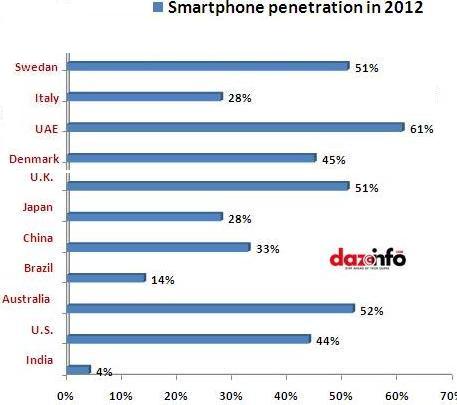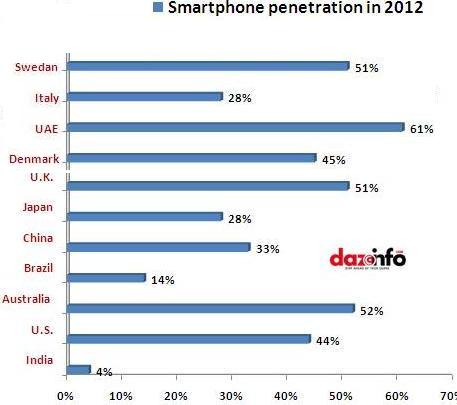 Furthermore, China has recorded highest year-over-year Smartphone adoption in 2012; the country had just 6% Smartphone penetration in 2011. The participation of local vendors such as Lenovo, ZTE, Huawei and other played a significant role in the Smartphone adoption in the country. In addition, China is the second largest market for Apple, shipped 2 million units of iPhone 5 in first weekend of its availability in the country. In 2011, the U.K. and Australia had 40% and 37% of Smartphone penetration, followed by the U.S. and Sweden with 31% and 30% penetration respectively.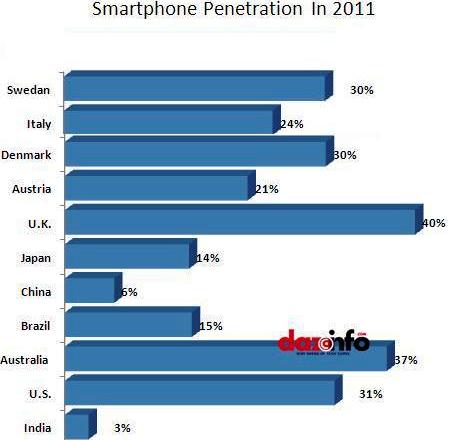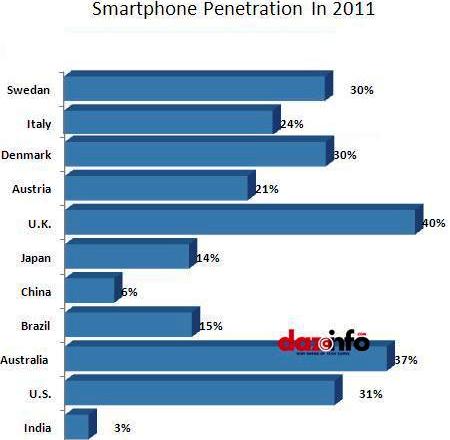 Smartphone OS Market Share 2012
In Q3 2012, 3 out of every 4 Smartphones sold were powered by Android mobile OS. In other words, Android accounted for 75% of entire Smartphones' sales in Q3 2012. At present, a wide range of Smartphone with different price tags and sizes are available across the globe. This is the main reason why Android has continuously been gaining momentum around the world. In 2012, Android succeeded to hold 55% market share in Japan, followed by 50% share in India and 38%  share in China. However, iOS was dominating over Android in terms of market share in some countries including Denmark, Australia, Austria, Sweden and UAE.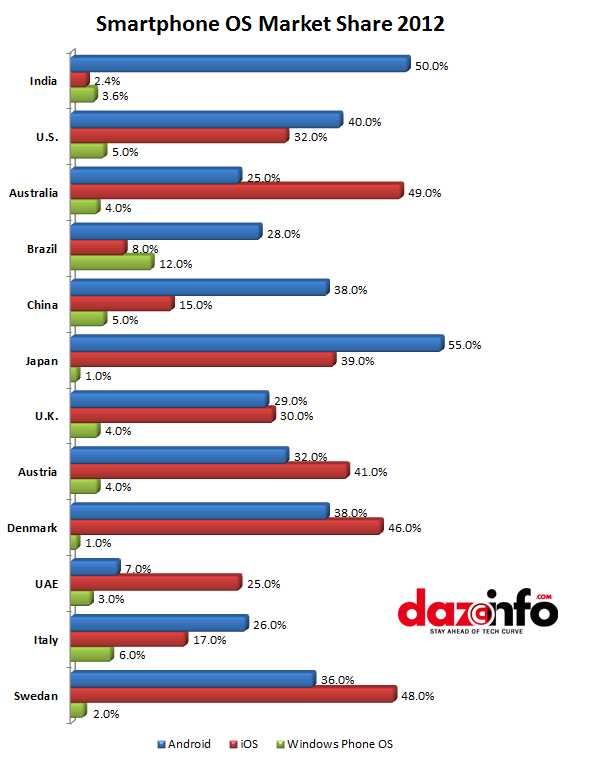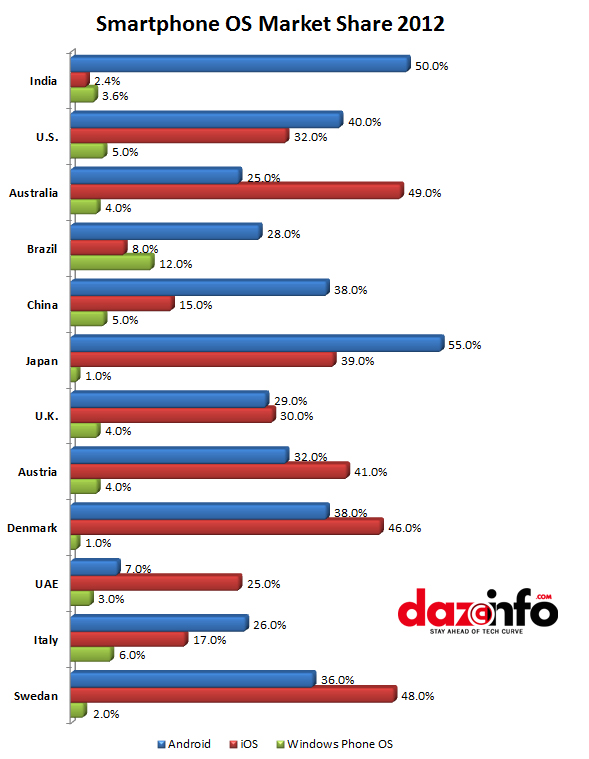 In 2011, the scenario of Smartphone OS Market share was really different than today. More importantly, in Japan, iOS (with 79%) unilaterally dominated over  Android, which had just 14% of total Smartphone OS market share. During that time, the penetration of Smartphone in the emerging market such as India was quite low, where Android managed to lead over iOS in terms of market share. On the contrary, iOS led Android in Denmark, Italy, Sweden, the U.K. and Australia.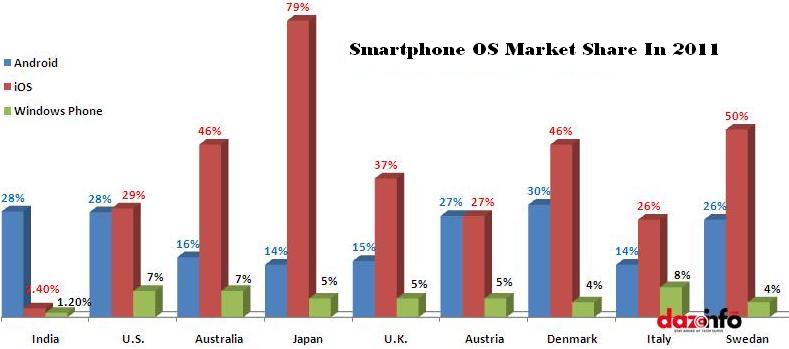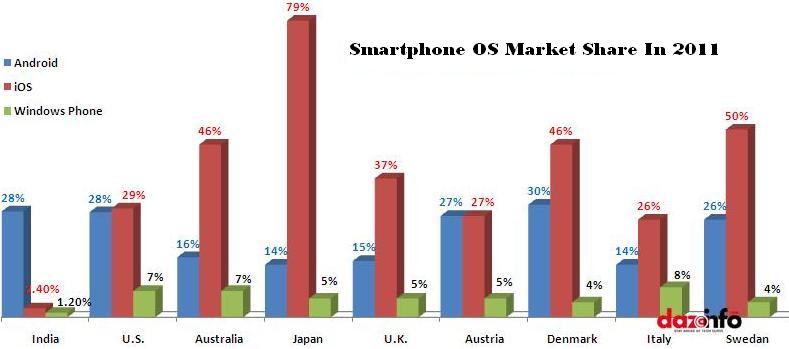 It's clear that Android has gradually been swallowing the market share of iOS worldwide. At present, Android has become a major threat for iOS. On the other side, Windows Phone is still struggling to draw the attention of users around.
Sources: Ipsos, Mobile marketing association