Mobile platform has continuously been gaining the attention of marketers. Now, a significant number of advertisers are targeting at the platform for such advertising purpose. According to a recent report from Millennial Media, containing Mobile Marketing Statistics of Q3 2012, telecommunication was at the top in terms of global advertising verticals. The term 'vertical' has been referred for the classification of advertisers by industry. Spend on the network (telecommunication) was consistent throughout the quarter in the last year.
However, among the top 10 global advertising verticals on the platform (Millennial Media), 'Travel' moved into the number five-spot, representing 430% Y/Y growth. On the other side, spend on automotive ad campaigns (on mobile platform) grew over 570% Y/Y in Q3 last year.
Mobile Marketing Statistics Q3 2012: Vertical Spending
More importantly, m-commerce showed off 24% of the post-click campaign action in Q3 2012. Basically, post-click advertising campaign on mobile platform engages website visitors after clicking on any mobile advertisements. Such campaigns drive customers on landing page, featuring contents relevant to advertisement, rather than the home page and specific to a particular cause like strengthening Social Media Community, App download, shopping etc. Even more number of traditional brick and mortar retailers were offering consumers to an m-commerce experience by deploying multiple delivery options, including in-store pickup and free shipping in the quarter through their mobile campaigns.


Of course, social Media is also an important part of global mobile vertical spending. The platform (social media) was utilized in 28% of the campaigns by advertisers in Q3 last year. Apparently, automotive brands used social media on mobile platform for their campaigns in order to access the information what shoppers were feeling about their vehicles.
Among post-click campaign action mix, 'Site Search' was at the top with 41% share, followed by Application download and Social Media with 32% and 28% respectively.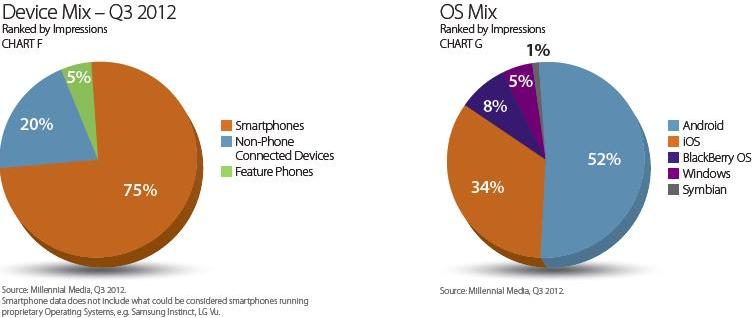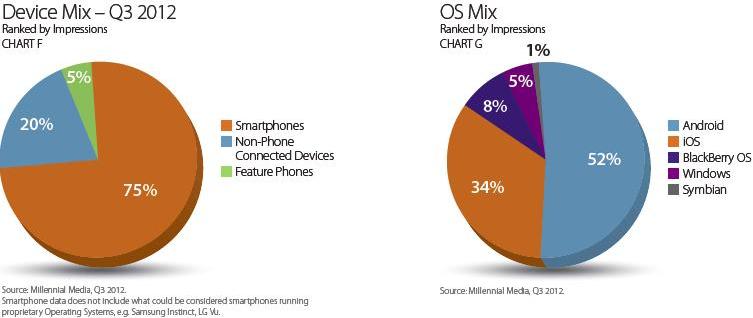 Mobile Advertisers Trends:
Mobile marketing statistics also contain vertical based spending information. While Smartphone was most preferred by advertisers in Q3 2012 with 75% campaigns, feature phone is still in the race with 5% of campaigns' impressions. Here, impression is a count of the number of times as an ad unit appears on a mobile device. In terms of impression, Android Smartphones were  at the top with 52% of impressions, followed by iOS and BlackBerry with 34% and 8% of impressions respectively.
Multiple verticals focused on 'Site Search' campaigns to drive mobile users on their mobile-optimized websites. The report, focused upon Mobile Marketing Statistics 2012, also revealed that telecom verticals, including mobile carriers, landline and cable companies,were more interested compare to others to spend on mobile vertical spending campaigns. Many consumers were more comfortable with using multiple devices for communication and entertainment purposes.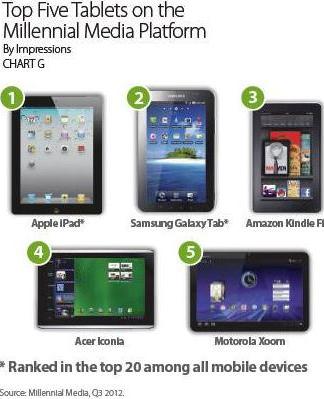 With no surprise, iPad succeeded to hold first notch in the list of targeted devices for global mobile marketing and campaigns in Q3 2012 in terms of targeted ad impressions and ad spending.  But the important point is that Samsung Galaxy Tab and Amazon's Kindle Fire were at the second and third positions respectively during the same period. In addition, Motorola Xoom managed to grab fifth rank in Q3 2012.