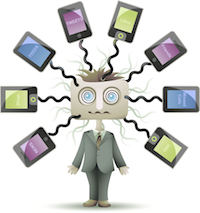 Social media has made everyone its fans. It's beyond belief to know that the average time spent by users on Facebook is 405 minutes every month which is equal to nearly 81 hrs in a year.
In a study of people aged 18 – 85 said it was irresistible to control Facebook, Twitter and other social media urges than it is to resist sleep, smoking, drinking and etc.
People love to talk about themselves. In a study, respondents gave 17 to 25% of possible earnings to talk about him or her. Basically, people spend 30 to 40% of their time talking about themselves, but ironically it mounts up to 80% on social media platforms.
56% of people said they wouldn't take up a job opportunity which didn't allow them to access social networking sites, despite of good salary package. That is one in three rejected to such opportunities.
An interesting case was registered, where a women of age 24 year has been diagnosed with "social media addiction". The women was so obsessed with the social media that  she spent 5 hrs daily on the sites. She was even fired from the job as she compulsively left her post to go to an internet cafe to access social networks. Definitely, social media has negative side effects on psyches.
We spend so much of time in comment, like,  share, retweet and etc, which are of no use in real-life but still we are addicted to it, why? Is the easy availability of social media making us more addictive than smoking and alcohol? Also, the cost accessing social media is negligible compared to buy a drink or a cigarette. social media is literally making us dopped.
Have a glance at the below Infographic further insights.