As of Q3 end last year, 3 out of every 4 smartphones sold were powered by Android mobile OS. In smartphone space, there's a wind of Android platform. Google has already released seven major updates– Donut, Éclair, Froyo, Gingerbread, Honeycomb, Ice Cream Sandwich and Jelly Bean–for their Android users since 2007. But due to fragmentation, majority of app developers are still less willing to work on Android platform compare to iOS.
Both Android 4.1 and 4.2, which are known as Jelly Bean, have apparently been installed on 9.0% and 1.2% of devices respectively since their launch. In other words, 1 out of every 10 Android users have installed the latest versions of the OS on their devices. Interestingly, Android Jelly Bean, being launched six month before, now holds 10% of overall market share.
The eye-catching thing that Google has revealed that Gingerbread market share has dropped down to less than 50%. But don't worry, Gingerbread is still available on majority of Android phones. However, the number has been shrinking with dizzying pace. The problem for app developers here is that they need to build same apps for different versions. The reason is quite obvious that Gingerbread version of Android supports Smartphone (however some tablets are also running on the same version), while Honeycomb supports Tablet version. On the other hand, Android ICS and jelly version could run both Smartphone and Tablet.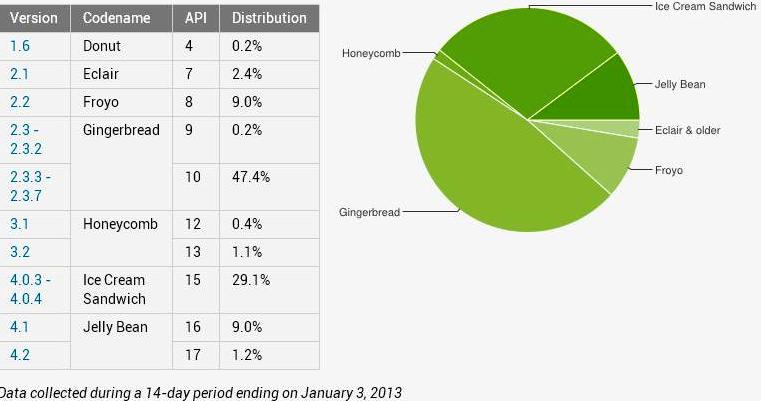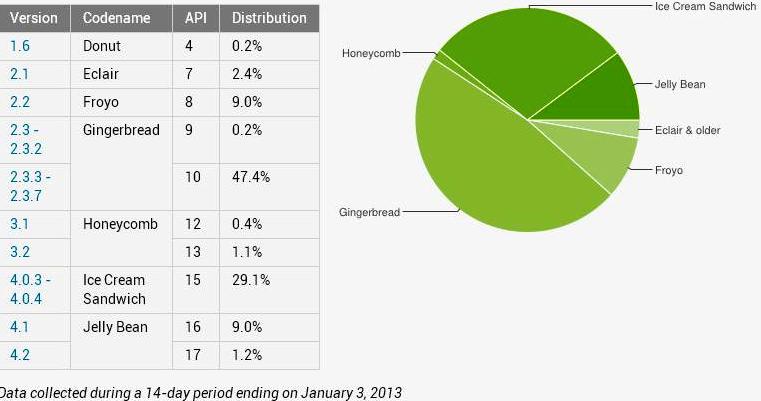 Until the launch of Jelly Bean, Gingerbread unilaterally dominated over other versions. The benefit for developers was that they had to only focus on Gingerbread version, as it had wider audience reachability. The graph (above) clearly depicts that Android users are less willing to update their device. This is the reason why just 29% of Android devices are currently running on Ice Cream Sandwich, while just 10% of users have installed Jelly Bean on their devices.
The situation is somewhat different in case of iOS platform. However, Apple has also launched six iterations of iOS, and now it's working on iOS 7. Despite, fragmentation on iOS platform is quite low in terms of versions. Furthermore, iOS users are more willing to get new updates. Till December 14, 2012, more than 72% of iOS users updated their device with iOS 6. In other words, iOS 6 adoption proportion had bumped to the mark what Android Jelly Bean had achieved in six months.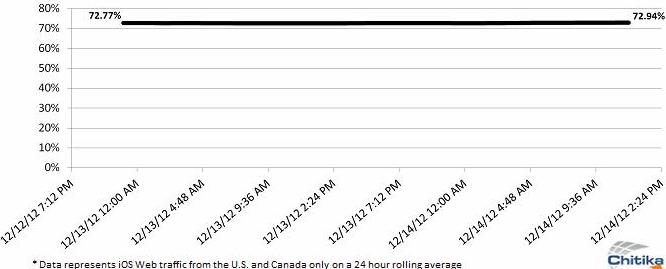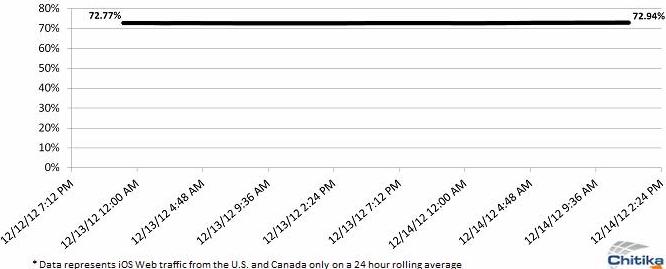 Besides of fragmentation (due to number of versions), the app developers are also worried with the different screen size of Android devices. According to Google's latest release, it's pretty much clear that the demand of high screen resolution Android devices has surged over the past year. Just take a look at mobile devices market share based on screen resolution.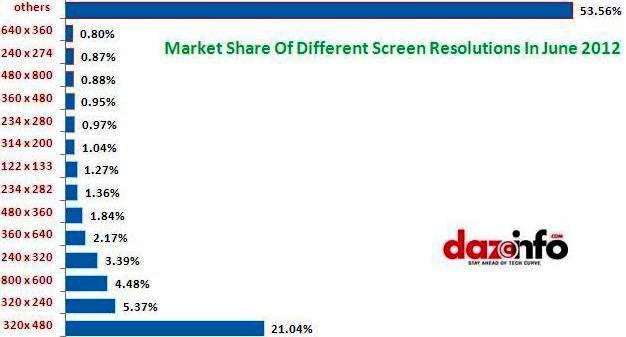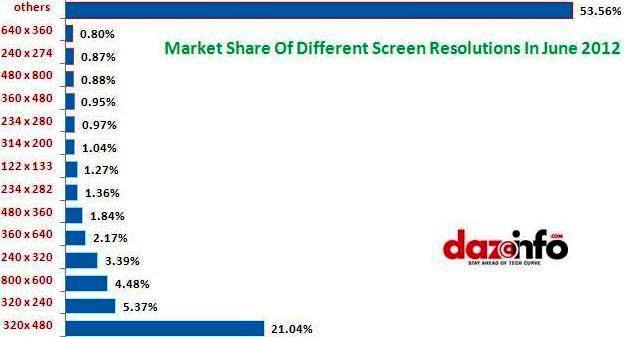 However, Google has divided Android devices into four segments–small (2-3.5 inch), normal (3.5-inch to 5-inch), large (5-inch to 7-inch) and extra large (7-inch to 10-inch). Similarly, the company has also divided devices on the basis of density–low density pixel per inch (<100 ppi and > 150 ppi ), mid density pixels per inch (<150 ppi and > 200 ppi), high density pixels per inch (<=200 ppi and >250 ppi) and extra density pixels per inch (<250 ppi and >300 ppi).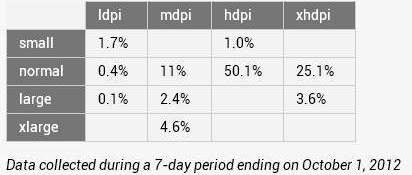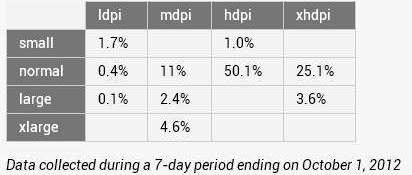 Overall, it's clear that Gingerbread is still most lucrative version for Android app developers. They need to focus more on the normal screen size (3.5-inch to 5-inch) rather than all sizes. However, screen resolution is also responsible for proper performance of apps, and they need to focus on high density pixels per inch devices (hdpi).
Image Courtesy: Google Developers, Chitika