Really, 2012 was one of the golden years for Apple and Samsung, but the year was a nightmare for some OEMs such as Nokia and RIM. Despite, we could expect better upshots from these mobile manufacturers (Nokia and RIM) in 2013. This year, we could see major phone releases from Apple, Samsung and other manufacturers. Samsung Galaxy S4 is now in the row to be launched and also, there's a rumor about iPhone 6.
This year, manufacturers are expected to introduce number of hardware and software upgrades. Interestingly, Amazon and Microsoft could also introduce their Smartphones in the market. On the other hand, Google has committed with its hardware partners for Nexus lineups. It introduced Nexus Smartphone in conjunction with HTC, later released its iterations with Samsung, and now it's working with LG for Nexus 4. Besides, the company (Google) could also leverage on acquisition of Motorola Mobility to produce its first fully in-sourced mobile device–X Phone. However, we have already discussed how X Phone could be fatal for Android partners such as Samsung, HTC, LG and more.
Microsoft has already jumped into hardware business, and it could introduce its own Smartphone, displaying deep integration with the new Xbox and other Windows features, this year. Furthermore, Amazon is also planning to launch its own low-priced Smartphone without any contracts (independent from carriers) this year.
But our discussion here is about Nokia's mobile business. Just few days before, Tristan Louis, a contributor on Forbes, predicted that Nokia could abandon its mobile business. Of course, it's one of the most controversial predictions this time. He predicted that the company could sell its mobile operation and infrastructure division to Huawei in order to focus on its software and services.
Is Nokia Really Going In Downward Spiral?
It's really tough to say that the company's bet on Windows Phone 8 has been unethical in the marketplace so far. However, Nokia's market valuation has been declining since last couple of years, and the company has also seen six straight quarterly losses. As the company is passing through rough patches, it's easy for someone to predict that the Finnish handset manufacturer could sell its mobile device business to Microsoft and Huawei, those are  competing for the division.
It's true that Microsoft (with $232.46 billion market capitalization) could be potent merger for Nokia. Today, Nokia's market capitalization is $15.39 billion, up from $9.3 billion in mid of June last year. It's pretty much clear from the graph (below) that the company's stock value has surged over the past few months. Today, the company's stock value has reached to $4.11, up from $1.69 in July last year. In other words, Nokia's stock value is uniformly moving up, and it could gain a prestigious mark by the end of this year.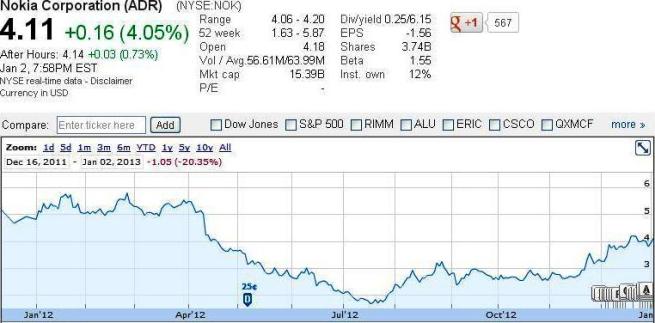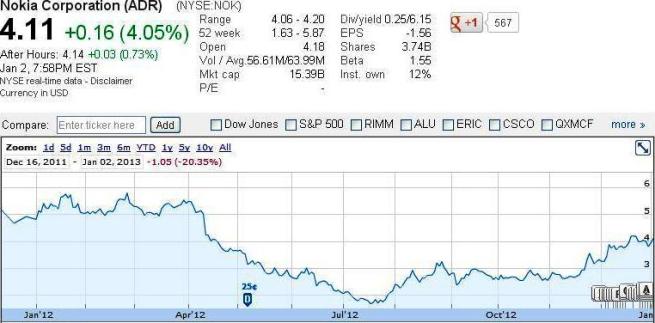 Nokia appears to turnaround its market share with the Lumia 920, which is seemingly selling quite well after string of early flop of its siblings. In November last year, Nokia Lumia 920 was among top three Smartphones in the U.S. Besides, in November last year, the  device was running short of supply in several region of the country.
Apparently, the device is no way vulnerable than any other high-end devices around the world. This is the reason why the demand of Nokia's Lumia 920 is ramping up day-over-day, and it could be one of the best weapons for the company's success in the near future.
Image Courtesy: Google Finance