Just a few days before, Samsung withdrew its FRAND patent-based cases against Apple in Europe. It was speculated that both Apple and Samsung were willing to continue their relationship in near future, but now, it has turned out to be wrong. Meanwhile, the Guardian has reported that the South Korean company could face a hefty fine up to 10% of the company's worldwide turnover for 2011, as European Commission is investigating its standard essential patents use against Apple in several lawsuits regions.
Samsung Could Face A Fine Up To $15 Billion In Europe
In other words, as Samsung generated $148.9 billion of revenues in 2011, it would have to pay $15 billion in fine. Of course, it would be a huge bluster, which is even significantly more than Apple's $1.05 billion win in late August, for the Galaxy maker.
However, Samsung is not only the company which is going to face such serious penalty, but some other Android hardware partners such as Motorola could also be affected. Besides, the U.S. court has ordered Samsung to post a bond equal to 88% of the value of Smartphones and 37.6% of the values of Tablets, those are infringing Apple's patents. The court has found that more than a dozen models of Samsung mobile phones, Tablets and media players are infringing Apple's patent.
Everlasting battle between Apple and Samsung has sparked a discussion whether or not Apple and Samsung will continue their friendly chip-partnership in near future. As Apple has continuously been decreasing the number of chip orders from Samsung, it seems that Apple wants to discontinue its relationship with Samsung.
It's pretty much clear that Samsung was once one of the biggest component suppliers for Apple's iPhone and iPad. However, the potential orders from Apple for its application processors (APs) have had a significant impact on Samsung's logic IC operation. Apparently, in 2011, Samsung was able to produce about 32% of APs, which are required for its Smartphone devices.
Will Apple's Decision Impact On Samsung's Processor Business?
The false myth (Samsung processor business will be affected by Apple's decision) has finally been divulged by DigiTimes. The firm has estimated that Apple's decision (dropping Samsung Processors) could not have any adverse impact on Samsung business. If Apple withdraws orders, of course, Samsung could produce more volume of chips for its own branded Smartphone and Tablets in forthcoming years.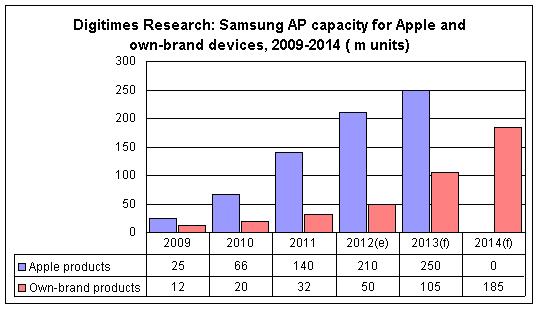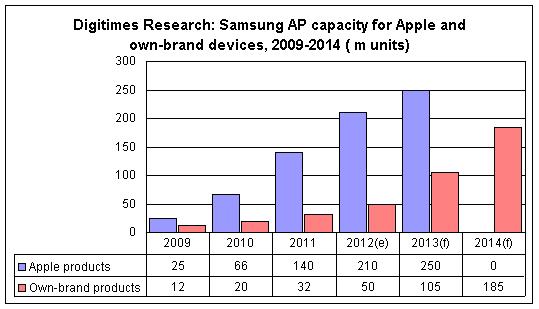 At present, Samsung produces application processors (AP) mainly for its flagships including Galaxy S3, S2 and Note 2—the production of APs is expected to hit 40-50 million units by the end of this year. On the other hand, its in-house produced AP shipments (for its own smartphones and tablets) will reach to about 105 million units in 2013. In other words, Samsung will be able to produce chips for 50% of its own device.