Businesses and organizations worldwide are showing more confidence in advertising. Despite of economic slowdown in many countries the advertising industry is expected to grow at blooming rate for coming years. This flourishing growth is driven by high growth in internet Ad spending and increased investment in emerging markets. Global advertising spend in 2012 has grown to $518.78 Billion as compared to $492.25 Billion in 2011(5.4% change).
Latest report from e-Marketer reveals that Ad spending is expected to rise at the same blooming pace till 2016. With an average rate of 5.02 %, by the end of 2016 it is expected to reach $628 Billion.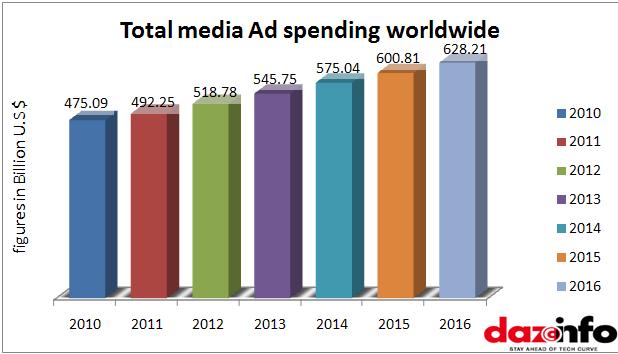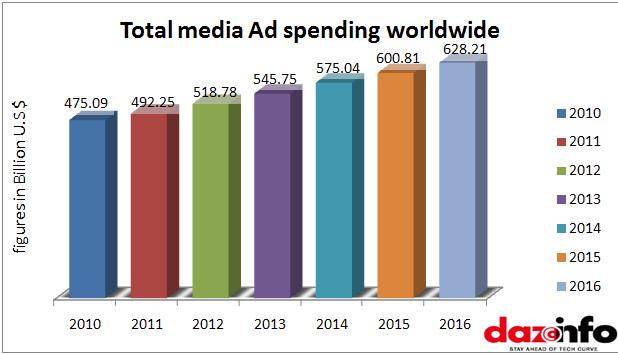 Global Advertising spending trend
As per the reports of 2012(in the first half), internet Ad industry is the fastest growing among all type of Ad industry, followed by Radio, Cinema and Outdoor Ad industries growing with 6.6%, 5.9% and 4.7% YOY growth rate respectively. Interestingly, Television is still the hot favorite among the ad industry as it contributed 
61.4%
share in global Ad industry in first-half of 2012. Internet Ad spending in spite of 7.2% growth (in first half of 2012) has a negligible contribution of just 2.6% in Global ad Spending.
It clearly indicates that despite of being the fastest growing 'Ad type', Internet Advertising industry is still far behind than maturity. A very big chunk of advertisers and marketers still don't hold confidence in Online Ads.This could be due to the fact that top sectors – ranked upon percentage of spend – are mostly unmeasured e-markets and their online business penetration is either negligible or very low.
World-wide growth of Global Ad spending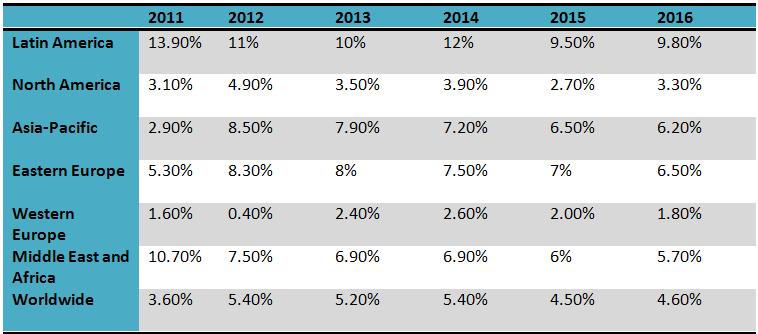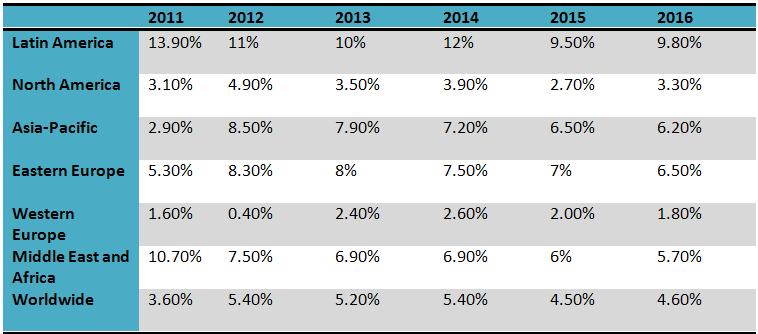 Latin America showed the fastest growth where Ad spending this year is $34.66 Billion, up by11%. Ad spending in Latin America is expected to reach $51.33 Billion by 2016. Asia Pacific, Middle East and Africa, are showing promising growth, while North America and Western Europe will experience a sluggish growth. The growth in emerging markets like Asia, Africa and Latin America is in conjunction to investors, who are looking to invest more in emerging markets. Even the economy reformation in these emerging markets  is just another important factor behind strengthen Ad spending capabilities. Unfortunately, western Europe and U.S. are still going through tough time and advertisers are, apparently, not ready to open up to market aggressively