Every website has only a window of time frame to impress users towards their business, which signifies the importance of GUI which also suggests that websites with very high page loading time do not attract users. Website of a company acts as mirror, which reflects company's overview to the customer. Especially the companies in e-commerce domain, which generate significant revenue through their websites, pay their due attention in development of their websites.
Global E-Commerce industry is expected to touch 1 Trillion Dollars in 2013 and Asia has got a larger contribution in the growth. While Mobile commerce is also exploding due to aggressive adoption of Smartphone, businesses are seriously considering to set up their E-Shops as quickly as possible. Undoubtedly $3 Billion a day online sales figure of an E-Shop is the best case study for any business to replicate again. However, time-consuming process of design-development, tedious process of setting up online payment gateway – especially in India and MEA region – are here only to shoot up the cost to launch its own E-Store for any business.
Zepo – once a small t-shirt manufacturing firm – now allows business owners to build complete e-store, using pre-build platform provided over the cloud, in no time. Zepo's SAAS model helps small businesses in their e-commerce activities; they help business owners to set up their online shop so that they can leverage the power of the Internet & e-commerce to take their brand, and therefore, sales and profits to the next level. Top of that, the benefits of SAAS allows business owners to launch their E-Store by ditching the traditional pre-launch hurdles like Development of CMS, Billing and tedious process of getting online payment gateway.
A Business model to allure SMEs
They especially concentrate on a small-time SME that manufactures awesome products, be it like web designer creating some awesome stuff or the aunty in your neighbourhood who makes mouth-watering home-made chocolates. But the beauty of Zepo lies in hosted model of E-Store, satisfying all the forms of online shopping.
Zepo provides you with different layouts, online payment gateway, offline payment options (cash on delivery, direct account transfers) and almost all the features currently available on other e-stores. Team Zepo has definitely done thorough research about the services available (for Ex in the payment options; owner can select any of the given payment gateways, cash on delivery option, PayPal, GharPay and even directly specify company's account number. All the possibilities pertaining to payment options are made available to the owner).
Zepo took all content management, billing software, payment gateways, store management etc on cloud. So being an owner of an e-store you neither have to worry about billing, server cost, and maintenance and bug fixing. All the owner has to do is manage the stock, check orders (delivered, incomplete, dispatched) and manage footer and slides on your website.
 Growing business and Brands would find it difficult to embrace
Though the concept is not the first of its kind as there are already few players in the ground who are aggressively chasing novices of internet to adopt E-Store SAAS model. But Zepo's few small features which no one else offers, like tie-up with the logistic partners and hosted infra at world's best Data Center Rackspace, could make it lead than others. Features like own domain mapping – users can access E-Store by Top level domain www.yourdomain.com – and white label policy could be more convincing for SMEs to go for SAAS E-Store than building their own.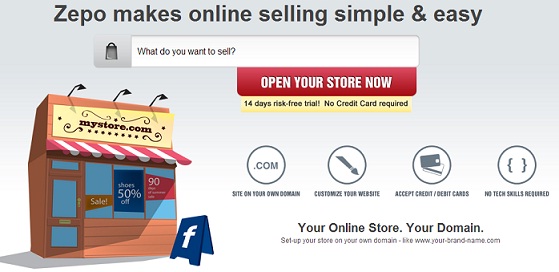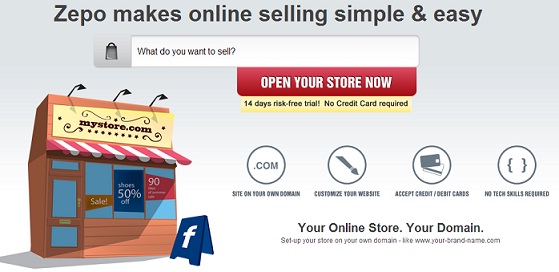 Certainly, like every other model, the SAAS E-Store has got it own challenges too. For e-store businesses which have grown and have become brand, would find it difficult to embrace. Brands find it difficult to convince itself to leave their business critical applications such as billing software, to others mercy. What if Zepo's server goes down or get hack because it's not you who designed the security procedures under your surveillance ? Owners can't take such risks, because once you have grown into a brand, your customers as well as transactions increase and so do your competitors. To be a market leader, you need to come up with innovative ideas, and definitely provide the customer with best service. And, to do all this, you should have a dedicated team having out-of-the box ideas to execute. However, being on cloud all the development of your digital marketing strategy will ride on rented cart.
So while the Startups' would like to embrace Zepo, because it reduces the required initial capital and also hurts less on pocket month on month as maintenance, they should also pay attention to all pros and cons of any hosted model business or aspect. However, maturing Brands or growing business will have to shift the gear to set up their self-controlled E-Shop one day or another. And, how far the migration would be easy or difficult with heavy database, is a scenario to pre-visualize.