Last year, Google's purchase of Motorola was considered as a one of the controversial moves. However, the intention of Google was quite clear. The search giant acquired Motorola Mobility for $12.5 billion to create a strong integrated hardware and software ecosystem around, which could be a big threat for its rival – Samsung. Recently, Google's chief executive–Larry Page– told to Motorola team to look beyond the box.
Just a few days before, Wall Street Journal revealed that Motorola's engineers were working hard on a sophisticated handset—X Phone. However, the new hardware division (Motorola's) has been facing challenges related to supply chain management since the purchase of Motorola Mobility by Google. Of course, the recent endeavor of Google will fuel Motorola to rethink about its plan for the X Phone, using a bendable screen.
It's said that Motorola is primarily working on two spaces—Droid line of Smartphones and X phone. And also, the company is expected to work on an "X Tablet" after its phone's success. If the rumor goes all right, then Google is likely to face a stiff challenge to manage complex relationship with its hardware partners especially Samsung, which is biggest rival of Motorola Mobility this time. Undoubtedly, Google's Android has played a pivotal role to make Samsung a number one player in Smartphone segment.
Motorola is going to invest behemoth on its Smartphone team and technology in order to achieve great status in the Smartphone segment. At present, the company is struggling to meet demand of bendable screens and materials involved in X phone. The phone (X phone) is expected to be more stress resistant, use more colors and mold into different shapes.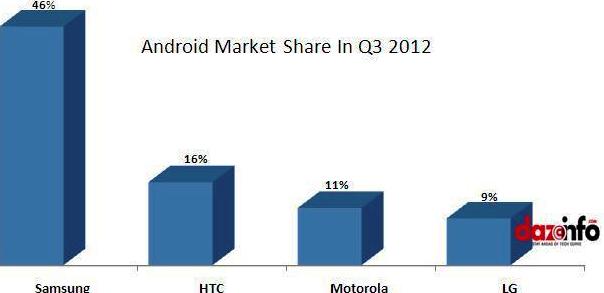 In addition, Motorola also plans to enhance the X phone with its recent acquisition of an imaging and gesture-recognition software developers—Viewdle. In Q3 2012, Motorola accounted for just 11% of Android phone shipments. More importantly, Google has recently hived off 4,000 Motorola's workers (say 20% of its staff) in order to reduce its operating cost. Besides, the search company has also sold Motorola's set-top box division to a cable equipment maker (Arris Group Inc.) in a deal, valued at nearly $2.35 billion.
Furthermore, "Google  Now" is considered as Google's one of the underrated projects this year. Although the project has not yet shown any impressive effect around, but it would be one of the killer mobile products in forthcoming years. Apparently, 'Google Now' is one of the best features with Android 4.1 (Jelly Bean), showing information about daily commute such as appointments, upcoming flight, local weather and hotel reservations. Over past few months, Google has added number of functionality. However, this is the just beginning; we could see more innovations in coming days.
httpv://youtu.be/9c6W4CCU9M4
With project glass, the company is going to start a new chapter of Google Now. You might have surprised; what would be the connection of the 'Project Glass' with 'Google Now' ? It's pretty much clear from the above video that Google is going to do some extraordinary with its Project Glass.
Beyond Google Now, the company has also launched several projects like conspiracy-themed augmented reality game "Ingress" and "Field Trip". Both of these projects came out from the same Lab–Google's Niantic Labs. Anyway, it seems that Google is currently involved in several mobile related projects, and it's trying to create a strong mobile ecosystem around.