At the time, we could easily perceive a digital revolution even in emerging country like India. However, the country is on the way to achieve the cusp of the revolution, but it has still some sorts of obstacles. Internet penetration in the country is quite low compare to developed countries. Despite, the country is expected to attain a benchmark penetration in forthcoming years. In last couples of years, the penetration in rural India has mounted up to 4.6%, from 2.6% in 2010. In other words, the rural sector of the country has shown off a compound annual growth rate (CAGR) of 73% over last two years.
Increasing number of smartphone in the country has fueled to internet adoption. We could see an effect of internet-enabled mobile handset even in rural in India. As of Q2 2012, there were 3.65 million mobile internet users in the country, representing 7.2 times growth compared to the same quarter of 2010. We have already discussed that almost half of the web traffic in the country is being generated by internet-enabled mobile handsets. According to a recent report from KPCB, mobile internet usages in the country first time surpassed desktop internet usages in May this year.
Internet And Mobile Association of India (IAMAI) reported in June this year that 71% of active internet users (80 million) resided in urban region of the country. On the other side, rural areas accounted for just 31 million active internet users. Besides, the research firm also predicted that internet users in rural areas will surge by 7 million during June-December this year. In simple words, active internet users in rural India will reach to 38 million by the end of this year. However, the growth of active users in cities is expected to be 4 million during the same period.
This time, mobile devices have become a primary source for internet access, followed by desktops. In a recent report, Federation of India chamber of commerce and industry (FICCI) and KPMG International in March 2012 estimated that internet-enabled smartphone in India will hit 24 million units figure by the end of this year, and it will reach 264 million in 2016.
Apparently, increasing number of smartphone In India has boosted to 3G adoptions in the country. It's true that smartphone users are data-appetite compare to high-end feature phone users. As number of smartphone figure ramping up, it's tough for the telcos to meet the users' data consumption—due to extensive video and audio streaming and large size file sharing. 3G penetration in the country is still quite below of the benchmark level.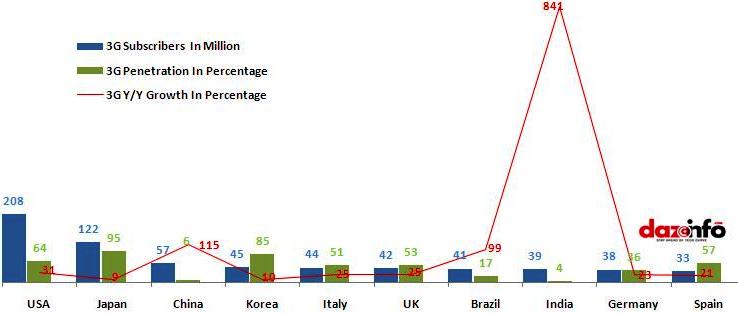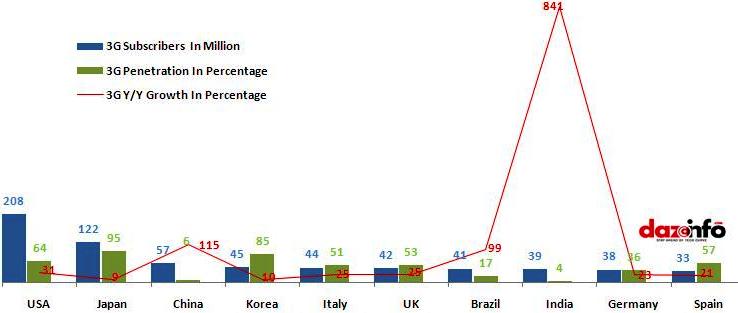 Mobile internet will touch a milestone of 392 million connections in 2016, followed by just 51 million fixed connections in the same year. In addition, the year-over-year growth of 3G subscriber base in the country is really awe-inspiring. However, the country is currently looking to deploy 4G services to meet the demand of users data consumption. Of course, deployment of 4G services will encourage users to own smartphones for internet access.